Save the Date!
Saturday, March 4: Hannaford Kidz Expo 2017 at the Empire State Plaza, Albany, NY.
Saturday, March 4: Free Learn-to-Skate Clinic at the Rink at Empire State Plaza.
Saturday, March 4: Old Songs Community Dance with the Walker Family Band.
Sunday, March 5: Schenectady Symphony Orchestra: Fresh Voices at Proctors.
Thursday, March 9: Purim & Camp Carnival at Albany Jewish Community Center (JCC).
Saturday, March 11: Maple Sugar Full Moon Hike at Grafton Lakes State Park.
Saturday, March 18: Reptile Adventure w/ Jessica Shea at Schenectady County Public Library.
Sunday, March 26: Sleeping Beauty with New York Theatre Ballet at The Egg (Nelson Rockefeller Center for the Performing Arts).
Friday, March 31: Into the Woods opens at Palace Theatre.
Tuesday, April 4: The Sound of Music opens at Proctors.
Friday, May 5: Baby Animal Days begin at Indian Ladder Farms.
Saturday, May 6: Fort Ticonderoga is Open for 2017 Season!
Saturday, May 13: Winter Raptor Fest 2017.
Saturday, May 13 - Sunday, May 14: Tulip Festival in Albany.

Dear KidsOutAndAbout readers:

If I had to choose between words and pictures, there is no question about it: I am a word person. I love books, I love reading, I love abstract ideas. In general, this has had a positive influence on my parenting over the years. But when Ella was about 7, it led me to one really misguided conclusion.

My first child, Madison, was a very early reader. But my second, Ella, was later than average to the reading game. So when she finally started moving beyond picture books, I was thrilled. Boy, did I want that kid to be happy with words! So I brought home piles of easy-reader chapter books from the library. When we talked, I focused on the plots and characters. And when we did flip through picture books together, I made sure Ella was reading the words, even though she would have preferred to linger on the artwork.


An honest mistake, sure, but a Spotted Atrocious Parenting Fail nonetheless.

Fortunately, a visit to a children's writer's conference when Ella was 8 opened my eyes to how I'd been shortchanging us both: I suddenly understood just how profoundly the artwork in a picture book stimulates the mind and imagination. Even though right here in my weekly column I had spent years advocating for exposing kids to art, I had been ignoring the amazing art under our very noses!

Today, March 2, is Dr. Seuss's birthday, which is celebrated every year by bookstores and libraries around the country. So I'm taking the opportunity as a good excuse to highlight my own ridiculousness remind parents that no one is ever too old to enjoy a great picture book. Art matters. And it's easy to find.

Now that I think about it, my misguided decision to move Ella away from picture books would probably make a perfect plot for a Dr. Seuss book. He'd cast me as a well-meaning but bumbling grownup who thinks she knows better than a kid what makes a good book. My kids always say Dr. Seuss would have drawn me like a bippo-no-bungus from If I Ran the Zoo. (You think she looks like me? I dunno. At least she looks pretty cheerful, not at all like an evil caster-aside of beautiful artwork.)


So in honor of the 20th century's master craftsman of words and images, I encourage you to head to the library, the bookstore, or your very own shelves and pull out some Dr. Seuss books this week. Leaf through them with your kids and ask them which of his characters looks or acts like you. Just hope they don't say "Yertle" or "Zax," or, good heavens, "Chief Yookeroo."

—Debra Ross, publisher
The Albany JCC will host a free Purim & Camp Carnvial on Thursday, March 9, 5:30-8 pm!
This event will be fun for the whole family! Just $5/child gets you into Bounce Houses, Andy the Music Man show, SEANO Circus workshop, a costume contest, photo booth, and more!

Learn all about the Albany JCC's summer camps for kids ages 3-15, which will be held June 26-September 1. Early Bird Pricing starts at this event, and there will be a drawing to win a free week of camp.

This event will be open to all, and VAAD Kosher Food will be available for purchase. For more info, contact Drew Katz at AndrewK@albanyjcc.org.

Mark your calendars now!
---
Visit M
apleland Farms During Open House Weekends
Learn first hand how pure maple syrup is made at one of New York's largest maple farms - visit a working sugarhouse, tour the sugarbush, and then taste fresh maple syrup hot off the evaporator and other delicious pure maple products at Mapleland Farms'

Maple Open House Weekends are March 11-12, March 18-19, and March 25-26. All you can eat pancake breakfast each day 9 am - 1 pm ($7.50 adults, kids $3.50, and under 5 - free). Tours and tastings 10 am - 4 pm.
---
The USS Slater will be opening in April
Spring will be here soon and that means USS SLATER will be re-opening. 2017 marks the ships 20th season open to the public in Albany. If you've never visited, or if it's been a while, consider planning a trip to tour the last Destroyer Escort afloat in America.

If you usually visit more than once per season, now is a good time to purchase a Museum family membership. Visit our website at www.ussslater.org and download a membership application. Public hours are April through November, Wednesday through Sunday, 10 am to 4 pm.
---
The Hannaford Kidz Expo is Coming Up!
The 12th Annual Hannaford Kidz Expo

takes over the Empire State

Plaza from 10 am to 5 pm on Saturday, March 4 for a day chock

full of entertainment and activities to keep your kids happy and on

the go. Admission is FREE and there's something for everyone! Find

activities galore, from meet and greets with beloved characters, theater

performances, bounce rides, arts and crafts, mini-golf, and even reptiles. For the

parents, you'll appreciate finding information on everything you and your kids

need all in one convenient location: college savings, summer camps, health care,

sports clubs, photographers, dance studios, and vacation planning, just to name a few. Don't forget to stop by and say "hi" to your friends from KidsOutAndAbout! We can't wait to see you!
---
Even More Adventure in 2017!
Ramblewild is excited to announce new programs added to our list of activities. Bring the family and come explore the largest aerial adventure park in New England! If you are looking for something more grounded, be sure to look at our hiking trails, low ropes team adventures, and a new 3D archery course! With all the equipment and safety on us, you can be sure the whole family is slated for some serious outdoor fun.

Please reach out to Sarah@Ramblewild.com for additional information!
---
Tips for Helping Your Baby Transition to Solid Foods
We all know that eventually, every baby will manage to eat solid foods. But the transition can be a tough for some babies and their parents! If you're a parent to an infant who's already experienced challenges like reflux, food allergies, and/or developmental delays, or if your child just seems to love the breast or bottle more than anything offered at the table, you might need some help! Stacia Paganelli, a speech pathologist who works with an occupational therapist and a nutritionist to offer pediatric feeding therapy, put together a list of tips to help transition infants to eating solid foods.
Click here for the tips.
---
Great Coaching Tips to Start Your Spring Sports Season Off Right
With spring sports just around the corner, families have all sorts of decisions to make. Should you sign your child up for a new sport? What should you do if your child wants to quit? What kind of coaching is best for your child? Coach Chris McConnell has over a decade of experience coaching youth soccer, and his insights on common issues in youth sports can provide parents with a new perspective as they think about how to grow a love of sport in the family.
---
Maple Sugaring Events Around Us
Due to the cold temperatures, maple sugaring season has been delayed. Be sure to call ahead and confirm that an event is still taking place before heading out.

Maple sugaring, maple syrup, sugaring-off parties, and the science of tapping maple trees are great family activities in late winter.

Find out where to enjoy this unique late-winter activity here.
---
Family-Friendly St. Patrick's Day Celebrations
There's a saying that goes, There are two types of people in the world - those who are Irish and those who wish they were. Luckily for the latter, everyone's Irish on St. Patrick's Day!

Parades, family swim events, crafts, and festivals - there are dozens of ways to celebrate this festive holiday in our area.

Here is KidsOutAndAbout's Master Guide to St. Patrick's Day.
---
Spring Break Camps and Activities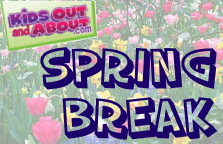 Spring Break is approaching and it's time to start filling in your calendar. Check out dozens of camps and activities taking place during Spring Break week.

Find out how countries around the world celebrate Spring here:
Songkran Water Festival in Thailand (playing with elephants)
Holi Color Festival in India (throwing colored powder)
Cooper's Hill Cheese Rolling Festival (grand prize - a giant cheese wheel)
. . . Happy Spring!
From your editor, Katie Beltramo:
It's March, and that means it's time for the Hannaford Kidz Expo 2017 this Saturday at the Empire State Plaza, Albany, NY. Debra Ross and I will be there once again, so please stop by and say hi! This event is always a hugely busy day jam-packed with tons of free fun for little ones.

We have some terrific theater happening in the area right now.

First, there's Wicked at Proctors. Venture back Into The Woods as the Dodgers (Jersey Boys, Matilda) team up with Networks (Phantom, War Horse, South Pacific) to present the acclaimed Fiasco Theater production that became New Yorks surprise hit of this season. Unanimously acclaimed, extended twice at the Roundabouts Laura Pels Theater, the Tony Award-winning musical classic by Stephen Sondheim and James Lapine has been mounted with boundless imagination. This witty and wildly theatrical re-invention is Into The Woods like youve never seen it before!

You can also catch The Lion, the Witch, and the Wardrobe at Steamer No. 10 Theatre. Why is The Lion, the Witch and the Wardrobe so popular? Because C.S. Lewis is a wonderful storyteller whos not afraid of humor or ashamed of emotion. Because at the heart of this story, although it was written at a time when the world was both bitter and weary, there is joy.

Meanwhile, there's I Never Saw Another Butterfly at Theatre Institute at Sage. This play got a terrific review in the Daily Gazette. Based upon a true story, the play follows Raja Englanderova's experience as a young girl during the Holocaust. The play was inspired by the book, I Never Saw Another ButterflyChildrens Drawings and Poems from Terezin Concentration Camp.

Speaking of butterflies, it's the season for Butterflies @ miSci. Butterflies are back at miSci! Escape winters chill and discover brilliantly colored native butterflies at miScis indoor butterfly house. Watch Butterflies at every stage of life - from egg to the Chrysalis chamber to adulthood. Learn about different species of butterflies from the area, what butterflies eat, and how scientists use butterflies as examples for new technology.

Friday, March 3:

Music and Movement at Schenectady County Public Library. Join us for music and movement time for little ones, every Friday in March!

Story Art at New York State Museum. Children are invited to enjoy the Museum by listening to a story, exploring objects from the teaching collection and creating a fun art project. Themes will be announced on the day of the program.

First Friday at Albany Institute of History and Art . Our galleries are open free from 5-8 pm as part of First Friday.

Parent's Night Out at My Place to Play. Hosted on the first Friday of the month,October through June. Drop the kids off for some wholesome fun, while you get a night out!

Saturday, March 4:

Old Songs Community Dance with the Walker Family Band at Old Songs. Fun, simple dances from the U.S. and around the world. For every age and ability. All dances will be taught and will include circles, contras and squares. Yummy desert potluck during intermission.

The Bremen Town Musicians - presented by Opera Saratoga at Opera Saratoga and Opera to Go for children. In a world where the default forms of entertainment for children are primarily television, video games and the Internet, Opera Saratoga's Opera-to-Go program provides youth with an all-too-rare opportunity to experience the visceral thrill of the live performing arts, up close and personal!

Woodpecker Walk at Grafton Lakes State Park. Have you ever wondered why woodpeckers dont get headaches? Join us at the park office to learn all about our local woodpeckers and hit the trails in search for these unique birds.

Hannaford Kidz Expo 2017 at the Empire State Plaza, Albany, NY. From toddler to teen, theres something for kids of all ages at the FREE annual Hannaford Kidz Expo at the Empire State Plaza in Albany, NY! KidsOutAndAbout's listing includes a full schedule of activities so you don't miss a thing!

Sunday, March 5:

Sugaring Off Sundays at The Farmers' Museum. Join friends and family on Sundays this March for another season of Sugaring Off Sundays at The Farmers Museum in Cooperstown, New York.

Open House for Summer Day Camp in Saratoga at Schenectady Jewish Community Center (JCC). Learn about our Saratoga County Outreach Initiative!

Meet the Instruments Kids Brunch at Reel Seafood Company. Meet the Instrument Kids Brunch featuring Maestro David Alan Miller of the Albany Symphony. Kids will get to experience instruments in a "petting zoo" environment. Sunday, March 5th from 11am-2pm at Reel Seafood Co. in Albany, NY.

Pancakes at the Sugarhouse at Garnet Hill Lodge and Ski Center. Well be serving up pancakes hot off the grill with fresh, local Maple Syrup when you arrive by ski or snowshoe from11:00am to 2:00pm.



Have a wonderful weekend!
Now, it's your turn! Create YOUR newsletter!
Use the form below to select the events YOU want to see for the next four days:
Katie Beltramo
Editor, KidsOutAndAbout.com
Mom of Maddie (14) and Josie (12)


Debra Ross
Publisher, KidsOutAndAbout.com
Mom of Madison (16) and Ella (15)
---
You voted! We crunched! And the numbers spoke for themselves.
Below we have the Top 10 winners. To see ALL winners (and get lots of ideas for what to do with your kids this summer), click through to the New 2016 Top 20 Places to Take Kids in the Capital District Area!


Top 10 winners:



1.

Funplex Fun Park




2.

Great Escape and Splashwater Kingdom




3.

Cartwheels Gymnastics




4.

New York State Museum




5.

Flight Trampoline Park




6.

The Music Studio




7.

World Class Gymnastics




8. TreePaad Fun Center




9.

Indian Ladder Farms




10.

Adirondack Animal Land



Category winners:
Inside fun:

Flight

Trampoline Park


Outside fun:

Great Escape


Kid-friendly museum:

miSci


Nature center:

Thacher

Park


Performing Arts:

Proctors Theatre


Kid-friendly farm:

Indian Ladder


Sports team:

Tri-City ValleyCats


Arts Education:

The Music Studio


Sports Education:

Cartwheels Gymnastics


Family-Friendly Festival:

Tulip Festival


Mini-golf:

Funplex

Fun Park