---
Save the Date
Fri, May 20:
Wildflower Arts & Music Festival
at
Galatyn Park Urban Center
Sat, May 28:
Memorial Day Celebration
at
Veterans Park
Mon, May 30:
Memorial Day Celebration in Grand Prairie
Fri, Jun 3:
Taste Addison
at
Addison Circle Park
Sat, Jun 18:
Juneteenth Celebration in Irving
at
Jackie Townsell Bear Creek Heritage Center
Sat, Jun 18:
Juneteenth Parade and Celebration in Grand Prairie
Sat, Jun 18:
2022 MLK Juneteenth 3K Walk & Festival
at
Martin Luther King, Jr. Community Center
Fri, Jun 24:
Clue: On Stage
at
Art Centre Theatre
Fri, Jun 24:
Toy Story – Live in Concert
at
Dallas Symphony
Thu, Jun 30:
Outcry Theatre: The Spongebob Musical
at
Courtyard Theater
Mon, Jul 4:
Independence Fest
at
Bakersfield Park- Flower Mound
Mon, Jul 4:
Dallas Winds | Star-Spangled Spectacular
at
Dallas Symphony
Dear KidsOutAndAbout.com readers:

I hate snakes, except when I'm with my friend Linda Bender.

When I say hate, of course, I really mean fear: I don't know the difference between snakes that will hurt me and snakes that won't, so when I encounter them in the wild, especially when I'm with my kids, the fight-or-flight instinct baked into my DNA by a thousand generations of mothers kicks in. [Question: If a mom screams in the woods and only her kids are there to hear, does it count?] But when we're with Linda, who is a professional naturalist, her knowledge gets between me and my fear. Linda loves snakes, and she knows everything about the ones who live in our neck of the woods. If Linda tells us it's safe, my fear becomes fascination—made possible by Linda's confidence and by some deep breaths to calm my racing pulse.

I hate pain, except when I'm with my friend Matt Dorsey.

I also hate the saying "No pain, no gain"—I always want to replace it with "No pain, NO PAIN!"—but it's sometimes necessary if you want to get fit. I can know this in my head, but it doesn't translate to my body: When I exercise alone, my instinct is to stay squarely in my comfort zone. But Sensei Matt's 40 years of experience teaching karate and fitness gets between me and my fear: He tells me what to do, and I know that means I'm safe, so I can push my limits and make progress.


Linda and Matt are my tour guides to the unknown, to things that I couldn't do without their guidance. I trust them in exactly the same way that my kids trust me: not as a replacement for my judgment, but as a supplier of information I lack. I can't be my own kids' tour guide to everything—I don't know everything—so I keep my eye open for those who have expertise I don't, who can add their knowledge to my kids' toolkit of facts as they step into their futures. After all, some of the snakes on the path are actually friends rather than foes. I recommend finding a Linda for your life to tell you which are which.

—Debra Ross, publisher
If you like my publisher's column, you can easily scroll through past columns in the "Notes from Deb" section of our site.
---
Summer Camp at Guidepost Montessori: Legacy and Stonebriar
You'll love Guidepost Montessori's Summer Camps for campers ages 6 to 12! Kids will have an amazing time doing tons of hands-on crafts, creative experiments, and outdoor games while learning every day. Sign up for one week or all summer. With weekly themes, whether your camper wants to shoot off rockets, make a movie, learn sign language, or tie dye, there's something for everyone!

Located at Guidepost Montessori Legacy and Stonebriar, camps are Monday to Friday, with flexible pick up and drop off, so your camper's day can run from as short as 8 am to 3 pm or as long as 7 am to 6 pm.

For more information and a list of themes, click here.
---
Your Shell Phone Is Ringing…the Mermaids Are Calling!
Pick up your shell phone, the mermaids are waiting for you at SEA LIFE Grapevine! Become a mermaid when you book a one-of-a-kind mermaid makeover, complete with your own mermaid tail, face paint, goodie bag and one-on-one meet and greet with a mermaid. Head on over to the ocean display to see a majestic mermaid swimming in the ocean display among the sharks, sea turtles and sting rays! Come enjoy mermaids at SEA LIFE Grapevine every Friday – Sunday in May!

Purchase your ticket and mermaid makeover today on our website!
---
Build A Better Summer with Brooklyn Robot Foundry!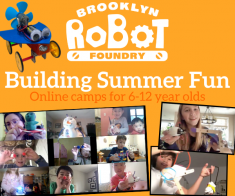 Brooklyn Robot Foundry's Summer Circuits is what you and your child have been looking for this summer!
Each day, children will build an awesome new robot during this STEAMtastic online camp. Robots that light up, dance, spin, drive, or something else that kids love. But that's just the beginning of the fun, as children tap into their creativity and have a blast with a ton of other cool activities!

And it couldn't be easier - we'll send you the materials and then see you at the drop-off line online.

Click here to learn more.
---
Virtual Summer Camps from Guidepost Montessori: Half-day experiences throughout the summer in a fun variety of topics!
Guidepost Montessori is offering half-day virtual summer camp experiences for Elementary age students 6-12 all summer long, with different themes each week. With Guidepost Virtual Summer Camp, your child will have the chance to grow skills in science, art, and creative thinking, with daily live programming guided by our team. Families will need to source some general household products and supplies; we will share a materials list in advance.
Available in two time zones: 9 am -12 pm EST / 9:30 am - 12:30 pm PST. COST: $150/week
Summer camps are open to current Guidepost students and non-students alike! Registration is now open: sign up here to secure your spot. If you have questions, email inquiries@guidepostmontessori.com or call (636) 445-5360. We're ready to have some fun in summer 2022!
---
In-person camps are also available at Guidepost Montessori campuses at Legacy and Stonebriar!
What are your kids doing this summer? We've got your week-by-week guide to day camps, overnight camps, and specialty subjects like music, theater, technology, science, history, sports, and fitness! There are in-person camps and virtual options, too. Our summer camps page lets you search by week, by subject, or by audience, and camps are adding new listings all the time. You're sure to find something amazing for your kids, whether they're trying something new, honing their skills, or just having fun outside!

Click here for our Guide to Summer Camps.
---
Local Day Trips and Staycations
Looking for a new place to explore that's still close to home? Kids Out And About has tons of ideas for local family travel, with places to explore, learn, and have fun! Find free activities and splurges that are worth it. We've collected the coolest stuff for a staycation in town and road trips for less than a tank of gas from here.
Click here for more information
.
---
How to Choose a Preschool That's Right for Your Family

Did you know that most preschools and nursery schools are registering students in January and February for the new academic year in the fall? Preschools vary widely in their educational philosophy and day-to-day routines, and the school that's a perfect fit for your neighbor or friend might not be just right for you. But how can you navigate through the preschool search process to find a place that will be best for you and your child? KidsOutAndAbout offers a list of specific factors to ponder and ask about as you attend open houses and school visits.

Click here for advice on How to Choose a Preschool That's Right for Your Family.

We have a list of local preschools to help you as you search for the perfect place for you and your child to start this new adventure.
---
This Year's KidsOutAndAbout Top 20 Winners

Once again, our readers have spoken! Thousands of parents voted in the KidsOutAndAbout survey of the Top 20 Places to Take Kids. Our Top 20 results page includes a list of your top picks as well as winners in special categories like favorite sports education and favorite arts education! Check out your fellow readers' favorites, and enjoy exploring the best of the region!

Click here for the Top 20 list.
---
Are you a member of an organization that offers events, camps, or classes?


Organizations that offer family and kid-friendly activities in the Dallas area can receive a FREE listing on KidsOutAndAbout.com, manage it easily, and post events to our extensive online calendars at no cost.

For more information about listing your organization

,

click here

.


Boost your visibility to our readers with low-cost paragraphs in our newsletter or ads on our site see our local advertising page. Boost your visibility to our readers with low-cost paragraphs in our newsletter or ads on our site. Contact Angela, your Dallas customer care representative, at angela@kidsoutandabout.com for suggestions.

Debra Ross
Publisher, KidsOutAndAbout.com
Mom to Madison and Ella