KidsOutAndAbout

Capital District Newsletter
September 3, 2020
Dear KidsOutAndAbout readers:
"Pre-COVID, my garbage disposal ate really well."
—my friend Annette
Remember when it was so easy to drop into the grocery store or get takeout on the way home from work? It feels like a fond, distant memory to me. But one of COVID's silver linings has been that the disruption of our normal routines has forced all of us to find more efficient ways to do practically everything. My friend Annette says shopping for groceries so much less frequently means she now plans ahead for meals much more thoughtfully than she did in the pre-COVID days. She's spending less, no longer tossing leftover food into the disposal, and feels better about her footprint in the world.

Another of my friends, Candace, has taken meal planning one step further these last few months: She actually has found a simple way to glamorize leftovers. Back in March, she bought a bunch of tiny decorated porcelain bowls to use for mini side dishes at dinnertime: Each evening's dinner includes the artfully-presented side dishes from last night's meal. Her kids actually fight over who gets to eat which leftovers, and Candace feels like a genius. I'm guessing her garbage disposal is going hungry these days, just like Annette's.


Doing something the same way we did it yesterday is easier than trying new methods all the time. But the year 2020 is making us re-examine our routines and re-evaluate our priorities. "Easy" is oh-so-2019; 2020 is forcing us to see possibilities around corners that we didn't know were in our way. I miss "easy" as much as anyone, but we're discovering that we're up to the challenge of reinvention, aren't we? So I'm betting that when "easy" returns, many of our new habits will be here to stay. Annette's garbage disposal will have to get by on scraps.

—Debra Ross, publisher
---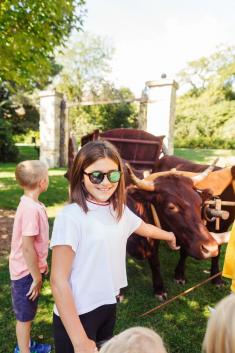 Your adventure awaits! Bring the family to Fort Ticonderoga this weekend and experience history come alive!
Centrally located and nestled between Lake George and Lake Champlain, Fort Ticonderoga offers breathtaking views of both the Adirondack and Green Mountains. Enjoy special programming this Labor Day Weekend featuring maritime trades, exciting weapons demos, friendly heritage breed animals and more! Stroll through lush gardens or get lost in the six-acre Heroic Corn Maze! Pack a picnic or grab lunch to-go from the onsite café and make it a fun day trip. Tickets are limited so buy yours today!
---
The Altamont Fair Food Fest & Farm Frenzy September 4th-6th!
Celebrate the end of summer and get your fair food fix! The Altamont Fair is hosting a Fair Food & Farm Frenzy drive-through on September 4, 5, & 6 (Friday 4 - 8 pm, Saturday 10 am - 6 pm, Sunday 10 am - 6 pm). $5 per vehicle admission. Rain or shine!
The 4-H kids will have their projects on display Saturday and Sunday. We'll have lambs, chickens, calves, rabbits and goats along with Crackers, the emu and his companion turkey, Ritz! We're hosting kid's games they can do from the vehicle. Be sure to bring some change for the coin toss through Old Mother Hubbard's boot to win a goodie bag sponsored by Stewarts, go fishing in the pond, and ball toss to Peter Peter Pumpkin Eater's pumpkin. Check out all that 4-H can offer! We'll have giveaways too!

Visit our website for more details!
---
Visit Ellms Family Farm!
Ellms Family Farm will be opening for the 2020 Fall season on September 19th! Offering all the fun fall activities including the Corn Maze, Pick Your Own Pumpkin Patch, Trolley Rides, and so much more outdoor and spacious amusement! With limited capacity this season, tickets are available online for pre-purchase and we recommend buying ahead. Visit www.ellmsfarms.com for more details!
Ellms Family Farm is also hosting a brand new evening event this year: The Pumpkin Glow & Light Show Drive Thru Experience! Immerse yourself in all the Halloween magic by enjoying over 1,000 glowing Jack o'lanterns and light displays all from the comfort and safety of your own vehicle. Ellms Family Farm has partnered with master carvers and artists to create this 1.25 mile stretch of Fall fun. Pre purchase your tickets now, and choose from additional packages that offer tasty fall treats to enjoyed in the car while you marvel at the show. Great event for all ages, families and friends! Please visit https://www.ellmsfarms.com/pumpkin-glow-and-light-show/ for more information and tickets!
---
Pick Your Own Apples & Pumpkins at Mead Orchards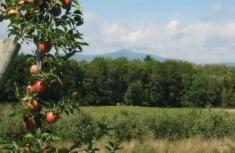 Weekends in late August, September and October, you may come to the farm and pick your own juicy apples! Many varieties are available as they ripen throughout the harvest season. Starting in mid-September, we have several varieties of pumpkins. Before heading into our fields, here's a few general reminders to help ensure individual and food safety. Our picking areas are designated with careful consideration for the ripeness of the fruit. We ask that you only pick what has been identified as ready. We will provide picking containers and accept multiple forms of payment. Please be sure to wear weather appropriate clothing and close-toed shoes. Grab your sunblock and hats - especially for the little ones. We have a family sized porta-potty near our farm stand and 2 standard porta-potties in the field with hand washing sinks on the back. We ask that before you begin picking, you wash or sanitize your hands. We happily permit leashed dogs on our property as long as they are walked outside of growing areas and cleaned up after. Additionally, we have picnic tables throughout the orchard for visitors to use. We will bleach the tables after each group, please sit with only your group at the tables. You are welcome to to bring your own picnic blanket, just ask a staff member where the best spots to set up your picnic are!
Click here for more information
.
---
Open Studio at the Park
Friday Open Studios are going outdoors! Join us at Riverside Park on Friday mornings for a different project of the day. Project: Watercolor & Ink. We will be using watercolor to paint our surroundings (or imagination) and drawing over the water color to add details, figures, or anything we can envision! All CREATE programs and events will be held outside throughout the summer months as weather allows. Attendees (and parents) must wear masks upon arrival and departure and unless appropriately physically distant (6-ft apart). We will provide appropriately physically distant seating. Please only attend programs if you are symptom free. Please stay home if you are feeling sick. Hand sanitizer that contains at least 60% alcohol will be available at all programs, and must be used upon arrival. We will be minimizing sharing of art materials and provide individualized bins of materials at all classes. Please check in with CREATE instructor/volunteer upon arrival. We will ask attendee full name and contact ph#. This is recommended practice so if there is a case, we can alert DOH if necessary for contact tracing purposes.
Click here for more information
.
---
Outdoor Movie Night
We know times are tough and that's particularly true for our small businesses, Scotia Cinema and Empire State Aerosciences Museum. We'll have four movie nights that are limited to just 50 people each. Every dollar goes to support these two iconic community businesses that have been without revenue for six months! Bring a lawn chair for each person. Popcorn and refreshments for sale. You MUST pre-purchase tickets at Glenville Town Hall.
Click here for more information
.
VIRTUAL / ONLINE-ONLY EXPERIENCES, EVENTS, and CAMPS
---
The Ultimate Parent Survival Guide to 2020-2021

Back to school season is looking a lot different this year. Some schools have gone online, some are forging ahead with reopening, and others are attempting a combination of remote and in-person learning. The uncertainty surrounding your children's education is stressful! What do they need to know? How can they learn it in this strange new "COVID-19 normal"?

KidsOutAndAbout is here to help you survive this year and help your child thrive academically: We've created a compilation of online resources that review everything you need to survive the uncertainty of this year: In-person and virtual learning resources, a Parent Community Bulletin Board, and lots more!

Click here for the KidsOutAndAbout portal to all you need to know.

---
Highlighted online events for Friday, September 4
Click here to see ALL of Friday's online events
!
Fri, Sep 4, 6 pm EDT:
Free Online Salsa Class for Kids w/ Ava, Every Friday at 3pm PST
Fri, Sep 4, 7 pm EDT:
September 4 VIRTUAL CONCERT! The Zolla Boys LIVE from the Activity Shed
Fri, Sep 4, 7 pm EDT:
Family Campfire Sing Along at 4pm Pacific with City of Redmond
---
Highlighted online events for Saturday, September 5
Click here to see ALL of Saturday's online events
!
Sat, Sep 5, 10 am EDT:
Virtual Hoppy Hour Livestream with Tiny Tails
Sat, Sep 5, 12:30 pm EDT:
Free Zoom Demo Class of Music Together
Sat, Sep 5, 7 pm EDT:
Virtual Event: King Lear: Free Shakespeare at Home - 4pm Pacific
---
Highlighted online events for Sunday, September 6
Click here to see ALL of Sunday's online events
!
Sun, Sep 6 4 pm EDT:
Virtual Event: Sunday Seaside Crafts 1pm PDT
Sun, Sep 6 5 pm EDT:
The Maverick Hour- Online- 5pm Eastern
Sun, Sep 6:
Register For Online Fall Gardening Classes with Cornell Cooperative Extension
on 9/15
---
Today's featured 24/7 ACTIVITIES
*Click here for hundreds more 24/7 activities, tours, etc.

---
Today's featured online CLASSES
*Click here to search for online classes by subject & age.

---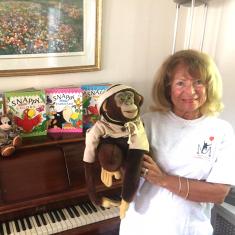 Museum Minis at 10:30am Eastern TODAY from Westchester Children's Museum

Join us for singing, finger plays, movement exercises, and silly fun in this online adaptation of one of our most beloved drop in programs, Museum Minis. This 'mommy and me' class is ideal for toddlers age 18 months to 24 months, accompanied by a caregiver.

Click here for more information.

---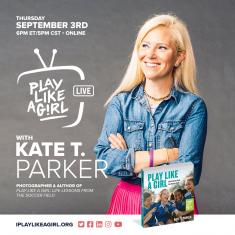 Kate T. Parker on Play Like a Girl LIVE - 6pm Eastern TONIGHT!

It's more important than ever to be inspired, empowered and connected. In our run up to International Day of the Girl (October 11), we introduce Play Like a Girl LIVE – a free, interactive virtual experience to inspire, empower and keep us connected during this unprecedented time of social distancing. Kate T. Parker, photographer and best-selling author of Play Like a Girl: Life Lessons from the Soccer Field, kicks off the series celebrating the power of team and what it means to play like a girl.
.
Click here for more information.
---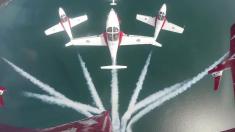 Virtual Airshow Hosted by Canadian International Air Show- 12 pm Eastern Saturday, September 5

The Toronto Airshow will be hosting our online event over Labour Day weekend with never before seen footage from your favourite performers of the last 70 years. Join us for fabulous flying videos, walk around of aircraft and special greetings from across the globe. This will be a free online event. Link will be provided.

Click here for more information.

---
What's Re-Opening?
While we've been doing all we can to come up with ways to have fun from home, we know everyone's curious about what places around here are opening now or soon. So we've got a list of opening events and organizations that are either opening already or planning to open soon. Check out our list and be sure to click through to their sites for details about social distancing guidelines.

Here's the list.

Your family could really use a fun outing, but you're committed to social distancing. Many popular nature trails and lake beaches seem like a good idea until you realize that many others had the same idea, making some of these destinations too crowded for comfort. Luckily, there are new and interesting places to explore while staying a safe distance for others. Here are a few suggestions you may not have considered, and all of them are in the Albany, Schenectady, and Troy area.
Click here for more information
.
There are so many reasons why now is a great time to hike. It offers an activity outside of the house and a chance to explore someplace new while still staying safely away from big crowds. Hiking is great exercise, and spending time in nature is a terrific stress reliever (just on the off chance you've experienced any stress lately). If you're avid hikers, choose a new place or make a list of your top picks. If your family includes new or reluctant hikers, follow our tips and pick a spot with a water feature or try geocaching to amp up the fun.

Click here for a list of local hikes.
---
Are you a member of an organization that offers events, camps, or classes?
Organizations that offer family and kid-friendly activities in the Capital District area can receive a FREE listing on KidsOutAndAbout.com, manage it easily, and post events to our extensive online calendars at no cost.
For more information about listing your organization
, click here.
Boost your visibility to our readers with low-cost paragraphs in our newsletter or ads on our site; contact Michael, your Capital District customer care representative, at
michael@kidsoutandabout.com
, for suggestions.
Katie Beltramo
Editor, KidsOutAndAbout.com
Mom of Maddie and Josie


Debra Ross
Publisher, KidsOutAndAbout.com
Mom of Madison and Ella