---
BREWDOG - TEQUILA TUESDAYS - DRINK OF THE YEAR - ALFRED - PARCEL COLLECTION
---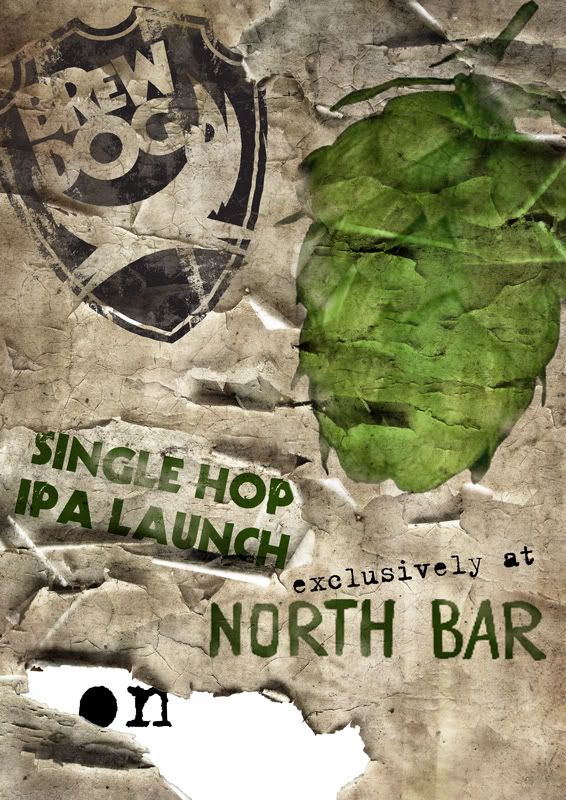 BREWDOG SINGLE HOP RANGE!
On Wednesday 16th February, North will be holding a very special event in conjunction with Brewdow to launch their single hopped IPA range. Using the same base 7.5% beer, Brewdog have created 4 IPAs to show off their favourite hops from 4 corners of the planet. Each IPA contains the same malt backbone and is brewed to be 75 IBU and is enthusiastically kettle hopped and dry hopped with Citra, Bramling Cross, Nelson Sauvin or Sorachi Ace.



In a very special event North Bar will be showcasing all 4 of the beers on draught for one night only, and we'll be doing a special tasting plate including all four beers, so get down on Wednesday 16th February for a Single Hop Party.

Also without giving too much away, there is an exciting British brewery who are delving into the realms of draught ale, and you can expect North to be involved in the launch of their range too.
---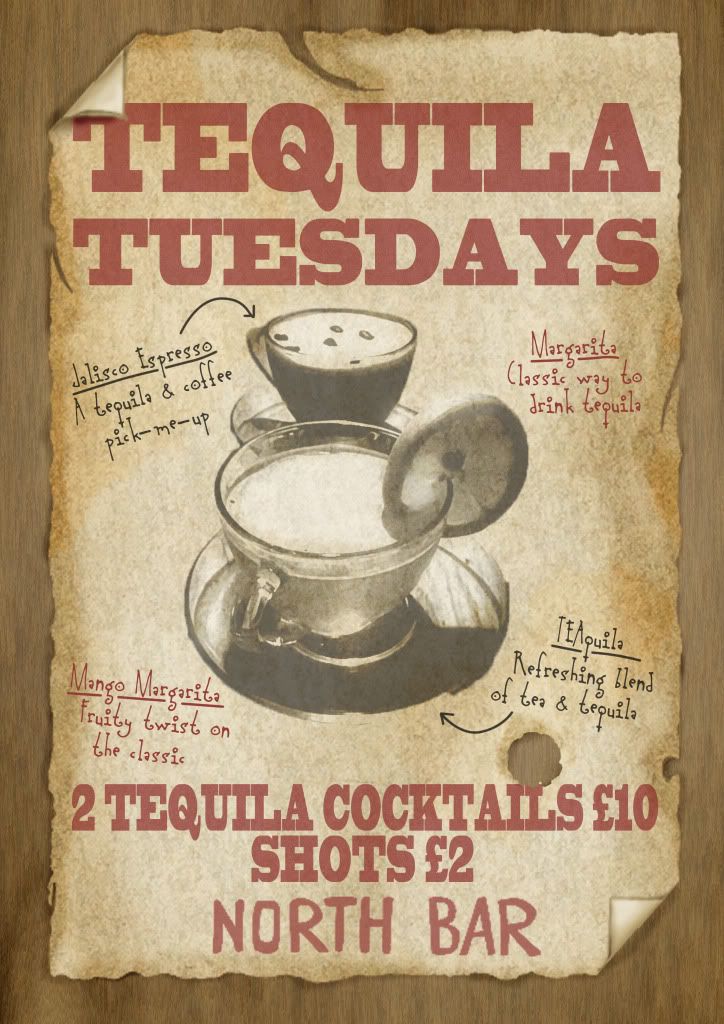 TEQUILA TUESDAYS!

Why did the Mexican push his wife off a cliff? Tequila!

Anyhoo...

With all this beer we drink we thought we'd have pretty good palates, so we thought we'd put them to use and create a very special North original cocktail. It started as a bit of a pun on a lazy weekday afternoon, it was created by Mark then developed and perfected by the whole team. This cocktail is TEAquila, a special blend of, you guessed it, tea and tequila, with a few other bits in the mix to create a surprisingly refreshing drink.

We've also got some other great tequila cocktails on offer (including a coffee based one) so to celebrate we're holding Tequila Tuesdays, 2 tequila cocktails for £10, and tequila shots for just £2. Whilst in the spirit of tequila why not have a go on some of our lovely sipping tequila or very enjoyable tequila liqueur. Its on all day every Tuesday so get down and enjoy the tequila goodness.
---

DRINK OF THE YEAR 2010!

The votes are in and have been verified and we can announce the results of our drink of 2010 as follows:


1. Brewdog Hardcore IPA
2. Marble Dobber
3. Brewdog Alice Porter

The winner of our special prize draw has been notified and they won some lovely beer! So now we'll start our drink of the month contest to find out what y'all are enjoying supping. So vote for your favourite by sending an e-mail through to us with your vote, titled Drink of the Month: info@northbar.com

1. Harviestoun - Ola Dubh 16 Year
2. Sierra Nevada - Celebration
3. Creole Cosmopolitan
4. Benromach - Organic Whisky
5. Ellesezoise - Quintine Amber
6. Black Rat Cider
7. Schlosse Alt
8. Winter De Koninck
9. Crown - Brooklyn Black
10. Summer Wine Brewery - Boreas
---
ALFRED!
In case you missed it, Alfred has now officially opened, there's a great selection of quality beers and wines available as well as cheese or meat & bread platters. Alfred opened to some great reviews from Leeds Guide, Yorkshire Evening Post,Reet Good, and The Beer Prole you can keep up to date with happenings at Alfred on twitter.
---

PARCEL MINDING!

Have you ever noticed that all the sorting offices in Leeds are miles away, and are open really silly hours? Have you also noticed that the postie can never seem to catch you when you're in? We did, so we've done something about it. Our parcel collection is free for all to use, just get your mail sent to the bar, and we'll look after it until you're free to pick it up. You can even have a cheeky pint whilst you're doing so, you can't get that at the Post Office! Although we don't sell holiday insurance...sorry.