Does Your Bike Need a Facelift or Just A Makeover?
Spring is just around the corner and so are longer days inviting us out there to cycle more. We're ready, but what about our bikes???
Don't be left on the side of the road during your next group ride with a broken cable or slipping chain. All it takes is a call to our shop to schedule one of the following services that will have your bike in top shape ready for Spring and improve its' lifespan. As a special offer we are offering a FREE "Frame and Fork Cleaning" (a $10 value) for the first 20 people who schedule a service at the shop. What a deal, bring in your bike for servicing and you will get it back running great and looking even better. Here are our service options and don't forget to check out the specials we have on winter tires and wheel sets!
A Quickie (aka Quick Tune) - Recently taken a tumble and need things checked over? Planning a long ride out King Ridge or where there are few services and need the basics given a once over? The Quick Tune should do the job. At $40 this servicing includes adjusting your brakes and derailleur, a complete safety inspection of frame and fork and lubing your drive train.
Back in the Saddle (aka Basic Tune) - It happens, the bike sits out Fall and Winter in the corner of the garage and accumulates spider webs and dust. The cables get coated with grit from the dust and air temp changes and the tires and tubes go flabby. Don't despair, bring it in to the shop and ask for the Basic Tune. For $70 your bike will get wheels trued; hubs, brakes, derailleurs, bottom bracket and head set adjusted; lubrication of all moving parts and a full bolt check. Plus if you buy a new set of tires from the shop we will install them FREE!
Makeover (aka Drivetrain Tune) - Put lots of miles on and demanded a lot of your bike this winter? Bike gunky and things just don't work like they used to? Then we recommend the Drivetrain Tune. At $125, this service includes everything in the Basic Tune above plus we will remove front and rear tires; remove, clean, reinstall and lube chain, crank, chain rings, cassette, front and rear derailleurs. Plus if you buy a new set of tires from the shop we will install them FREE!
Facelift (aka Complete Overhaul) - Been a few years since your bike has had some real TLC? Can't afford a new bike this season??? Call the shop and schedule the Complete Overhaul to make your existing bike feel more comfortable, safe and smooth riding. At $190 this servicing includes everything in the Drivetrain Tune above plus round and tension wheels; inspect spokes; a bearing overhaul that includes bottom bracket, head set and front and rear hub; new derailleur and brake cables plus, we'll offer you a discount on new drivetrain components. After this servicing you will get on your bike and it will feel almost as good as the day you bought it! Maybe better!
Did You Know It's Raining Outside?
We all do but during the deluge that we will be experiencing over the next two to three weeks, most of our riding will take place inside on the trainer or rollers.
Is your bike properly outfitted for all the inside training ahead??? First off, you are going to need orange tires.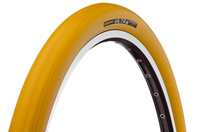 Sorry, they don't look sexy with any color bike; but they will save your road tires from excess wear and tear. We carry the UltraSport Hometrainer tire by Continental for this specific purpose as it is made with a special cold-running compound that doesn't experience the heat buildup of a road tire. These tires are made specially for performing under the extreme loads occurring when cycling and braking on rollers and trainers. Normally these tires run $43 but we are offering them at 15% off or if you are taking the trainer class or a Team Revolution member your price will be 20% off.
These tires are not made to be ridden on the road so to make your training experience easier; we are offering a special on the whole enchilada. Sorry, I was just getting hungry for lunch. We have put together a Special Indoor Training Wheel Package that includes wheel, cassette, trainer tire and labor. This package normally retails for $263 but we are offering it at $224 or if you are a member of the trainer class or a Team Revolution member your price is $210.
Don't forget to also prepare yourself to prevent the Wintertime Saddle Blues. Riding on the trainer means sweat soaked shorts which means softened skin and abrasion. This all leads to the bain of cyclists-saddle sores. To help prevent these we recommend always riding in clean shorts, alternating the brand/make of shorts you wear, alternating the saddle you use and increasing the amount of chamois cream used. At the shop we carry Beljum Budder, an all natural paraben-free skin lubricant which works great for all types of chamois.
Okay, now that we have the inside wheels, body and tires taken care of, have you prepared your bike for those days when you just cannot stand riding inside any longer and venture out into the drizzle? We have just what you need starting with the Continental Ultra Gatorskin tires that will give you better traction and more rubber on the pavement thus keeping you safer while cornering and stopping. Their modern tread design collects less debris and their puncture protection system keeps you riding longer without having to stop to fix a flat in the rain which is no fun. These tires normally retail for $54.99but we are offering them to you for $46.75 or if you are a member of the trainer class or a Team Revolution member your price is $43.99.
Next we have the problem of having to switch tires, orange one for inside, Gatorskins for outside. We have that covered too!!! We've several slightly used white DT Swiss wheelsets (total weight 1850 grams) in the shop that fit the bill. They are sexy white, made of the finest DT Swiss components and hand built by specialists. A pair of these normally retail for $895 and we are offering them for $500 with a Campy free hub or $550 with a Shimano free hub. If you are a Team Revolution member, take $85 off these prices. This is a great deal and will make your ride smoother and more efficient all year round.
Buy the wheels and the tires, we'll throw in the tubes and mount'em up for ya!
Only One Week Left
We talked to our Sidi shoe rep and pleaded to hold the offer of 20% off a select group of their shoes for one more week. What with the holidays and travel and school and on and on things kinda slipped for many of us. If you missed our first post about this special offer, click here for the original e mail listing all the shoes available for this promotion.
These are not close outs but 2010 models! Check out VeloNews 2010 Buyer's Guide for their article about Sidi shoes as one of the 10 pioneering products that remain industry giants 25 years later. You cannot find a pair of cycling shoes more comfortable then Sidi. Use the order form that you click to on the original article or call the shop at 707-829-2192 to order your pair or pairs. You will not find these at a lower price anywhere. Your feet will rejoice when you slide them into your new Sidi shoes.
Team Revolution
Did you notice all the benefits of joining Team Revolution in the various promotions this week? Well if you missed our announcement last week of the creation of Team Revolution, then you want to check this out. Last weeks annoucement discusses all of the benefits of joining our team and if you are interested in joining you can complete the registration form by clicking here.
Soup Spoons & Carbon Forks January Ride
We had a beautiful ride this past Saturday. Mother Nature held back the storm so we could have a great ride and then a wonderful lunch at Rosso. Thanks to everyone for coming.
One of our group leaders filmed a video of the ride and we have attached the link to YouTube here, please enjoy by clicking on the image below!
The turnout was outstanding, we combined the Appetizer and Entree courses because of the pending rain and we had a great Dessert Course group, with 8 adults and 3 children. We are so excited to see this group continue to evolve as we believe that cycling starts young and want to help encourage young cyclists.
Don't forget the next Soup Spoons & Carbon Forks ride is scheduled for the 20th of February. We will be having lunch after the ride at Bistro 29, so be prepared for another epic ride and a truly French Bistro lunch afterwards.