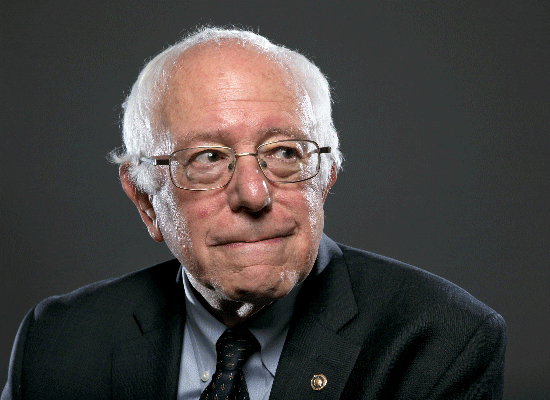 "Bernie Sanders made folks like me eat a stack of humble pie on Tuesday night," admits CNN's Eugene Scott, and he's not the only one. "On the Dem side, you can read about ... how many humble pies (not pies) I had to eat here. (A lot)," similarly observes FiveThirtyEight's Harry Enten, sharing his piece "What The Stunning Bernie Sanders Win In Michigan Means" (at 37,000+ shares so far). 
So, yeah, about that: Senator Bernie Sanders won the Michigan primary over rival Hillary Clinton 50 percent to 48 percent, despite the fact that not a single poll taken recently showed him winning. "Polling is dead," declares Bloomberg's Max Nisen. With his win, Sanders broke the previous record for a candidate's greatest upset of a final polling average, meaning polling predictions for Sanders in Michigan are now considered among the greatest polling errors in primary history. "Probably coming to a Sanders $ pitch soon," predicts Politico's Gabriel Debenedetti. "Not sure if I trust @NateSilver538 anymore but he says last night's win was biggest primary upset since NH in '84," shares Marcus Baram at Fast Company. At the St. Louis Post-Dispatch, Roland Klose similarly wonders, "Does this mean the polls are off in other Midwestern states that are holding open primaries?" Meanwhile, Guardian's Ellie Mae O'Hagan announces, "Just gonna pour myself a glass of bourbon and read about the Michigan primary." Here are 5 more takeaways from Bernie's Michigan miracle.
In the GOP race, Donald Trump easily took the Michigan and Mississippi primaries by double digits over closest contender Ted Cruz, and he won in Hawaii, too. Still, Cruz took Idaho, supporting the growing impression he's the only Republican opponent who comes close to threatening Trump's lead. And although a joint Wall Street Journal/NBC News poll data shows Trump holding a three-point lead over Cruz in the race, signs of wavering support may shrink that gap. "In states that haven't voted -- Trump 27, Cruz 25, Kasich 24, Rubio 23. Tight as a tick," points out National Journal's Josh Kraushaar. Looking ahead, so far a CNN poll shows Donald Trump beating Senator Marco Rubio in Florida and Governor John Kasich in Ohio less than a week before the March 15 primaries in those states (as well as Illinois, North Carolina and Missouri). For now Clinton also leads Sanders in both Ohio and Florida. Also, Trump's campaign manager forcibly yanked a female Breitbart reporter out of the way after she asked a question, marking the second time a journalist reportedly has been roughed up at a Trump stump. "Somebody is going to get killed at a Trump rally. Now [even Breitbart] reporters are being attacked," concludes Clara Jeffery at Mother Jones. Or Trump could just ... fire these people? Isn't firing his "thing?"