April 2022 Newsletter
"In a racist society, it is not enough to be non-racist. We must be anti-racist."
—Angela Davis, academic and political activist
DOING THE WORK
Race, Labour and Transformative Justice
"As Canadians, we are often invited to join in the national exercise of glorifying Canada," writes 吳玨穎 Karine Ng, Vancouver teacher and member of AOEC's Executive Committee in the current issue of Our Times.

"But we should first carefully consider that many of our preconceptions may be influenced by nationalist narratives," she continues. "Without using a critical lens to understand concepts like nationhood and citizenship, or state and newcomer, those of us who are racialized settlers may unwittingly perpetuate the same oppression already meted out to us and to our forebears."

She then goes on to say: "Those of us who see ourselves as beneficiaries of the settler-colonial state have the responsibility of doing the deep, hard work to decolonize. That work requires a redistribution of power and resources, with Indigenous struggles and calls to action always in the foreground. If we occupy any position of power and leadership at all, we must use our power and lead the struggle towards liberation. Being in the boardroom, though, as the token Asian or as a proxy to white power is a lonely and soul-crushing place to be."

Read the full, thought-provoking article here, and please share with your networks.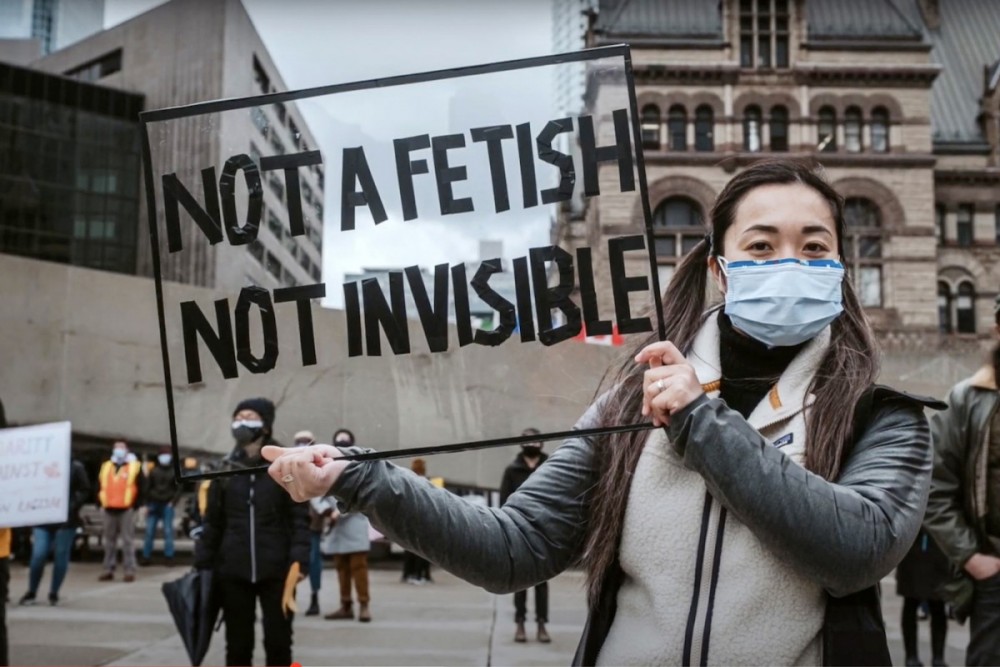 AOEC Delivers VSB's First Anti-Oppression Pro-D Workshop For Educators
In collaboration with the Vancouver School Board's District Mentorship Support Teachers, AOEC executive members delivered the first anti-oppression workshop designed specifically for educators. On
February 18
, almost 40 teachers, education assistants and administrators convened to learn, share, reflect and plan actions to infuse transformative justice into their practice in the classroom and in school communities.
Although the experience and knowledge base of participants are varied, discussions were productive and respectful. There was a genuine desire to connect with each other, and to further our efforts through future training. AOEC is honoured to begin this journey with our VSB colleagues, and looks forward to continuing to build capacity with them.
We welcome inquiries for workshop to be delivered in your school district or local union! Here is a link to
the story
.
BC's Desirée Dawson and Alexander Farah win award at SXSW for music video
For your consideration, a bittersweet and heartfelt portrait of a young woman and her diabetic father. Performed by Ishaval Gill and her father Kamaldevinder Gill.
Winner: Grand Jury Prize *and* Audience Choice Award, Best Music Video - SXSW 2022
Winner: Audience Choice Award, Best Music Video - SXSW 2022
Winner: Grand Prix & Best Music Video - Kinsale Shark Awards 2022
With Harinder Saini, Balinder Johal and Shrey Vyas. Featuring Alisa Lindley, Katrina Kwan, Ruvarashe Marikano, JP Padda, and Ameliya Jagpal. Produced with the co-operation of the Union of B.C. Performers.
BC Solutions:
News and commentary from the CCPA's BC Office
Many AOEC members will be interested in checking-out the newsletter from the BC office of the Canadian Centre of Policy Alternatives. It is published every couple of months, and its latest issue covers a number of BC-themed topics and analysis.
BC is subsidizing logging for pulp and pellet mills
CCPA in the news in 2021
LNG exports and GHG reduction goals
Updated CleanBC plan falls short
BC's horrific wildfire season
How to be fiscally responsible
Recent and upcoming publications
Living wage rises across BC
BC's human rights inquiry into hate incidents better late than never
Robust wealth tax could raise $363B
Almost everything CCPA publishes is available free on its website. And CCPA welcomes you to use it. Please feel free to copy articles or whole publications for use in classrooms, show videos in workshops or seminars, use our facts and information in letters to the editor or politicians, etc.
Webinar on Land Acknowledgments


Although it's now the norm to begin speeches and events with land acknowledgements, not everyone may understand the significance of these formalities.

Interested in learning more? At this webinar hosted by UBC, participants will be invited to deepen their understanding by listening to panelists who will discuss the purpose and meaning of these important customary statements. A short Q&A session will also be held.

More information about this event (and registration) can be found here.
Organizers Kelly Hayes & Harsha Walia talk about "how we remake the world."
"I think we can reframe and re-understand the immigrant rights movement, not just as one of many movements, but something that is fundamentally connected to how we remake the world," says Harsha Walia in this episode of "Movement Memos."

If you haven't checked out this podcast before, in this episode, Kelly Hayes and Border & Rule author Harsha Walia talk about the plight of Black students fleeing Ukraine, borders, the climate crisis, and taking action in these times.

The link will take you both an audio file and transcript of this episode.


Apply to join a BCTF advisory committee!
Every spring, the BCTF advertises the many spots that are available on various advisory committees, which are groups of members to advise the BCTF provincial Executive Committee on a wide range of issues. There are also opportunities for advisory committee members to participate in a number of BCTF events around the province, along with teachers from other locals.

If you are a BCTF member, you are encouraged to check out what is available currently, and to consider putting your name forward. All the postings are here, where you will find details about each advisory committee and also how to apply online.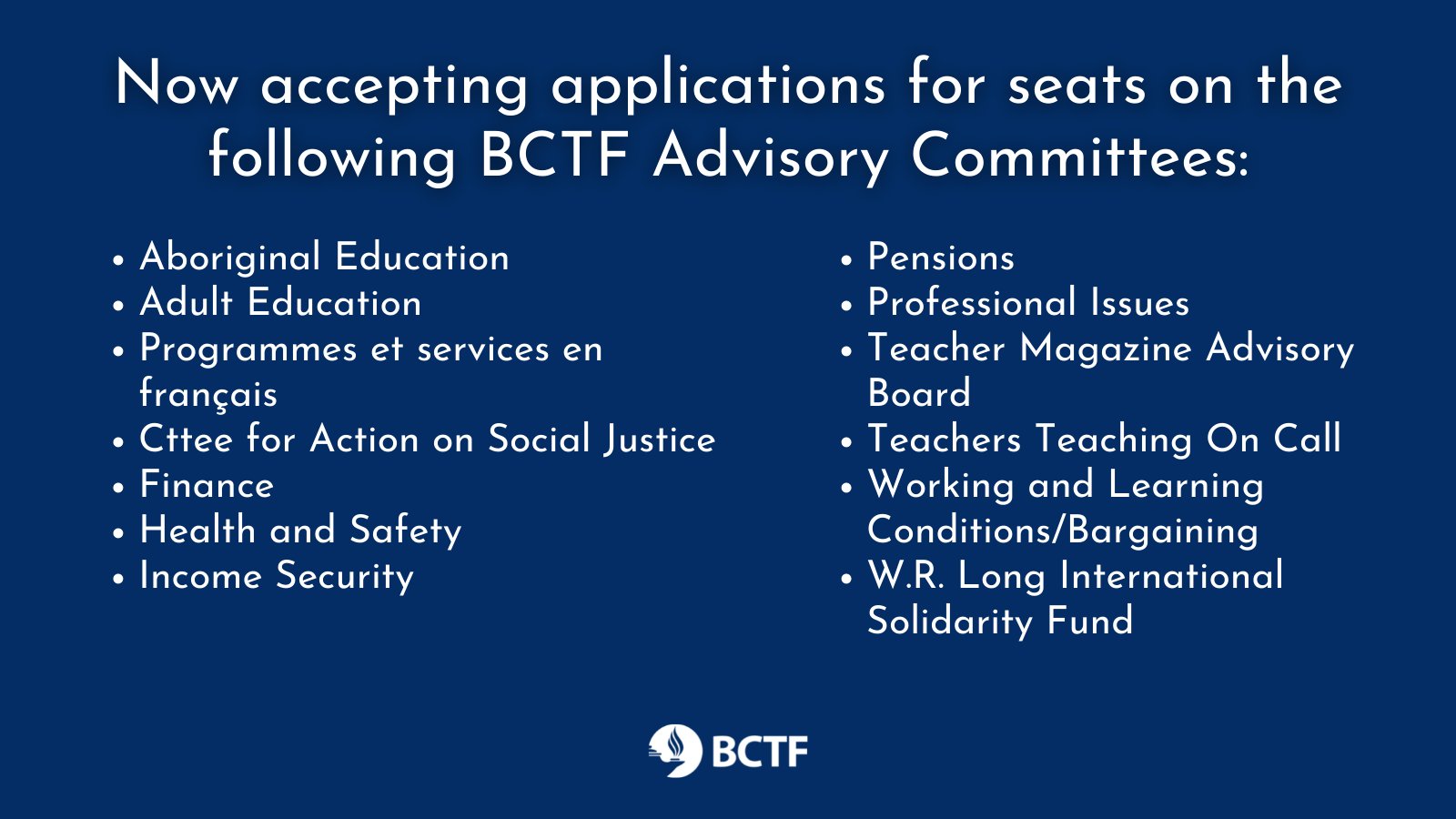 Survivors share their stories in webinar this week


On Thursday, April 7, check out the webinar entitled Conversion "Therapy" Survivors Have Spoken! Findings from CBRC's SOGIECE/CT Survivor Support Project. More than 270 survivors of conversion "therapy" (CT) and other sexual orientation and gender identity and expression change efforts (SOGIECE) participated in recent study by the Community-Based Research Centre. The study was conducted to better understand the barriers experienced in recovering from harm, what helped recovery, and what supports are still needed. As a result of this research, CBRC and its partners will explore opportunities to advocate for increased access to supports survivors need. Click here to read the report, and then join the webinar here.