King Maximo and the Number Knights

Written by Howard Schrager,
Illustrated by Malin Lager


The King's Question:
There never was a braver king, a wiser king, a kinder king, than King Maximo. So it is little wonder that twelve of the world's best knights, in one way or another, had found their way to King Maximo's court. One evening he summoned them to the throne room. The knights leaned forward eagerly.

"My question for you is," the King said excitedly, "WHICH IS THE GREATEST OF ALL THE NUMBERS?"

And so begins King Maximo and the Number Knights by Howard Schrager. This is an imaginative and enchanting tale about the qualities of each of the numbers from One to Twelve. Once I started it I couldn't put it down. The combination of the story and the breathtaking illustrations is magical.



The Number Quest begins.

Each chapter explores the inner and outer quality of a number in a most imaginative way. The chapter ends with a verse for each number. The verses would be eminently suitable for first grade.

As we move up through the numbers and each knight reveals the result of a one year quest to find the greatest of all numbers, each number becomes a living picture. How is one number greater than another?

Howard Schrager has done a wonderful deed for Waldorf children with his book. The book itself is a substantial edition in hardcover with over 80 pages. The illustrations, rendered exquisitely in colored pencil, by Malin Lager complement Howard's text perfectly.

King Maximo and the Number Knights is a essential part of the first grade Numbers block for any teacher or parent. It will become a treasured part of your classroom or family library.

King Maximo and the Number Knights
Written by Howard Schrager
Illustrated by Malin Lager
Published by Lemon Tree Press, 2018, 82pp.
Full color

Learn more here and buy a copy at Lemon Tree Press.


---

Artwork: Maud Tousey Fangel
from Garden of Bright Images



---
Editor's note:

This week's issue focuses on Rewilding, reestablishing biodiversity in woodlands and fields. The three articles come from the Guardian in the UK. The articles come from their ongoing series The Age of Extinction: Reporting on our catastrophic species loss, and ways to tackle the biodiversity crisis.

Schools are ideal sites for Rewilding, both on the school grounds and on land to which school communities have regular access. Hopefully these articles can serves as an inspiration for the near future. Gotta love those beavers, storks and wildcats. -Ed.


---
Farmers hatch plan to return area the size of Dorset to wild nature
WildEast aims to convince farmers, councils and others across East Anglia to pledge land to wildlife
By Patrick Barkham

Returning an area the size of Dorset, England (the size of Rhode Island) to wild nature, reintroducing extinct lynx, pelicans and beavers and championing regenerative farming to restore soil health are the radical aims of a new charitable foundation.
But the most revolutionary feature of WildEast may be that it is founded by three farmers in the most intensively farmed region of Britain.
Hugh Somerleyton, Argus Hardy and Olly Birkbeck, who own more than 3,200 hectares (8,000 acres) on their family farms in Suffolk and Norfolk, are seeking to persuade farmers and also councils, businesses, schools and ordinary people across East Anglia to pledge a fifth of their land to wildlife.
WildEast aims to dedicate 250,000 hectares of East Anglia to wildlife over the next 50 years while also working with schools to enhance children's knowledge of farming and wildlife and creating an accreditation system to boost wildlife-friendly farmers.
"We want to wake up the regional collective consciousness," said Lord Somerleyton. "If you're prepared to rewild 20% of your backyard, that humbles the farmer because you're not getting a grant for it. We in the east want to do it together and not wait for the government."
WildEast has already gathered support from farmers of all sizes from across East Anglia including vicars, teachers, grassroots conservation projects and industrial estate owners.
According to Somerleyton, who is creating a 400-hectare fenced enclosure of wood pasture, restored grassland and heathland with free-roaming large black pigs and Exmoor ponies on his 2,000-hectare estate, the old EU subsidy system in effect paid farmers to give about 4% of their land to wildlife.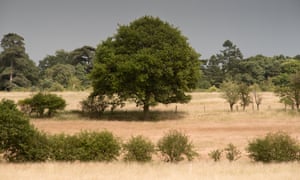 View over the Somerleyton estate. Photograph: Si Barber/The Guardian
The government's new post-Brexit support system of "public money for public goods" could support farmers to turn 10% of their holdings over to wildlife but Somerleyton said farmers needed to reverse postwar losses in biodiversity without subsidies.
Somerleyton said farmers had remained relatively unscathed while manufacturing endured huge upheavals in recent decades. "We've been driving around in Range Rovers and going on skiing holidays. In East Anglia it's been very rewarding being in agriculture. I sound like I'm biting the hand that feeds me but we have been very protected from the troubles of other industries. The awful thing is that protection, not deliberately, has accelerated nature decline. Farmers have become pretty grant-dependent. This movement is about trying to move the needle."
Hardy said WildEast was not about chastising farmers but seeking nature restoration in "churchyards, barnyards and backyards" and nurturing dialogue and change across society, including consumers who buy cheap meat that is farmed indoors. Britain slaughters nearly 1 billion chickens each year.
Hardy said: "There's a lot of blame put on farmers. They are seen as the people who need to make the change. WildEast is about broadening the focus – it's about all of us, our gardens, how people are eating, what people are eating, and local food markets."
Restoring wildlife is "not stopping farming, it's fitting farming systems into natural systems so we can restore biodiversity", added Hardy. "It's not rewilding, it's making things wilder – not to create space for nature but to find out how we live inside the ecosystem. We don't want anyone to visit a nature reserve, we want you to live in one."
Despite being a sheep farmer, Hardy said he would be happy to farm alongside reintroduced lynx. "We have to accept what's here and what was here," he said. "Far more sheep are killed by parasites than lynx, where they are present in natural ecosystems. Worms are a much greater threat."
According to Somerleyton, many farmers have been inspired by Isabella Tree's book Wilding, which tells how she and her husband, Charlie Burrell, returned Knepp, their 1,400-hectare farm to nature, farming organic meat from free-ranging deer, cows and pigs.
Although their West Sussex farm has since benefited from a surge in tourism, Somerleyton said the Knepp model was not applicable to every farmer.
Somerleyton, who founded the restaurant chain Dish Dash before returning to his family estate, said he was "very aware" that smaller farmers did not share his willingness to devote large tracts of less fertile soils to wildlife, or diversify his income with tourism and gastropubs, but said a region-wide WildEast accreditation system could help small, eco-friendly producers.
WildEast hopes that its new accreditation system will help East Anglian farmers using restorative agriculture – with long rotations that revive soil and micro-organisms – or high-welfare, natural outdoor grazing find markets and obtain higher prices for their food.
Somerleyton said his 100 herd of outdoor, free-living cattle produced too much meat for his pubs "but far too [little] to satisfy Waitrose. If there's a growing band of WildEast producers, together we can feed a market".
Somerleyton said there had been "a lot of head-scratching" by farmers responding to WildEast. According to Hardy, who is also an architect, many have a cautious attitude of "we'll just watch and see what comes out of your harvest".
But Birkbeck, who has restored a 200-hectare heathland that was ploughed up during the second world war on his west Norfolk farm, said a younger generation of farmers was increasingly aware that they needed to move away from chemical-dependent farming, with protection for soils and predatory insects that regulate pests.
He said: "Farmers are beginning to realise that they have a moral duty to protect the countryside that they are dependent on – that we have to work with nature rather than shut it out, because it will find you out in the end. We've tidied nature up and swept it away in the last 40 years. If we can only get back to accepting mess again we'd be getting somewhere. We've started WildEast to make that conversation public."
WildEast supporters include the Chet Valley B-line, a more than 10-mile (17km) corridor of pollinator-friendly habitat, and the Suffolk pig farmers Dingley Dell, who sow wildflower strips alongside their outdoor pig pens, creating a habitat for more than a million bees. "Get 1,000 people to do that and it's a billion-bee project," said Hardy.
The new charity is developing an app so people can add their wilding pledges to "a map of dreams", whether it is restoring an old pond or creating a hedgehog- and slug-friendly garden. WildEast hopes councils will get involved: for instance, derelict land earmarked for industrial estates in towns such as Lowestoft could be given planning consent with 20% set aside for natural ecosystems.
WildEast is also devising an education programme for interested schools, and is encouraging dialogue via #mywildeast on social media, even producing a TikTok video.
"We're trying to reach out on various platforms, however clumsily," said Hardy. "It's not about rewilding nature, it's about rewilding ourselves."
from theguardian.com
---
'It's good for the soul': the mini rewilders restoring UK woodland
By buying and managing small wooded plots, enthusiasts are bringing biodiversity back to the countryside

By Patrick Greenfield and Phoebe Weston



Tamara and Steve Davey's woodland, on the fringes of Dartmoor national park. Photograph: Courtesy of Woodland Wildlife
Tamara and Steve Davey cannot help but grin at the suggestion they are "miniature rewilders". Standing proudly in the weak sunlight on the fringes of Dartmoor national park, the full-time grandmother and taxi company owner delight in their eight-acre woodland.
Robins, tits and siskins chortle in the trees. Nightjars are welcome visitors in the summer. Seven bat species have been recorded in their small plot. There's a badger's sett somewhere in the hillside scrub. And the couple feel at peace.
"It's good for the soul," says Tamara, speaking before the coronavirus lockdown. "It's one of the best things we've ever done," Steve agrees. "If we can make a difference and help what's here, I'll be happy."



Woodland owners Steve and Tamara Davey. Photograph: Patrick Greenfield/The Guardian
The Daveys are not wealthy landowners planning to rewild vast parts of the countryside. But the couple, along with thousands of small do-it-yourself woodland owners, could play a vital role in restoring parts of the UK to nature and increasing the rare forests that cover just 13% of the country.
Nearly three-quarters of the 3.19m hectares (7.88m acres) of remaining woodland in the UK is privately owned, with more than 90% of plots in England smaller than 10 hectares (about 25 acres). Standing in the Daveys' small wood, it is hard not to get carried away by visions of what might happen if a nation of gardeners turned their hands to forestry.
"Being among it and just listening to the sounds of nature is priceless, really. And you're expanding your knowledge. You're learning about different things all the time," Steve says, expressing his love for summer evenings in the forest after a day driving his taxi. "We didn't have any formal qualifications in land management or forestry. I've had a keen interest in wildlife all my life but, yeah, it's enriching."



The Daveys, like many woodland owners, are replacing fast-growing conifer trees with diverse native species to support wildlife. Photograph: Courtesy of Woodland Wildlife Advertisement
The couple bought their piece of land through Woodlands.co.uk, which sells all kinds of plots – from one acre to more than 20 – at about £10,000 an acre, from the Highlands to rural Cornwall. Many owners buy their land to help promote biodiversity and reverse the effects of poor woodland management. The Daveys are no different.
Six years before they purchased their plot in 2018, the woodland was clear-felled and replaced with more than 2,000 non-native Sitka spruce, which are commonly grown in commercial plantations in the UK and are poor for biodiversity. Tamara and Steve have begun the daunting task of replacing the fast-growing conifer with sweet chestnuts, birches, oaks and native hedging to support wildlife, adding the occasional pool and clearing for bats and amphibians.



Introducing ponds to woodland areas can help bring new wildlife to the area. Photograph: Courtesy of Woodland Wildlife
"In providing new habitats and new species, I think that's achievable. The insects, the invertebrates, they've got to be catered for. If you haven't got those, then the whole ecosystem is not so healthy. Having the grass areas, the ponds, they'll create a huge amount of wildlife," says Steve.
After the second world war, agriculture became more intensive and the widespread availability of plastic meant that less wood was needed to make furniture and tools. Many woodlands that were previously looked after were left to their own devices and now it is estimated that just over 40% of UK woodland is either unmanaged or undermanaged.
Management often mimics natural processes such as storm damage, which creates areas of wildlife-rich dead wood. Coppicing – cutting back trees to ground level on a five- to 20-year cycle – allows light to reach the forest floor. Before humans, large grazing animals such as bison would have browsed forests to maintain areas of low growth. This mix of dead wood, healthy trees, saplings and open spaces creates a rich mosaic of habitats.
We're not owners, we're custodians of this bit
of ground and these trees. -Tony Upson
"A well-managed woodland is more likely to have greater biodiversity than an unmanaged woodland. The basic principle is that allowing light in attracts all sorts of tiers of biodiversity," says author Robert Penn, who bought a cottage enclosed by trees on the edge of the Black Mountains in Wales 17 years ago.
The 2.5-acre wood was previously owned by a couple who had little interest in woodland management and it had grown dark and unwieldy. Unlike the Daveys' wood, Penn's plot was mainly native trees that had been left to run wild.
He opened up his tiny woodland by coppicing and thinning out weaker trees to let in the light. Woodland flowers – which can lie dormant for decades – started to flourish and the plot is now peppered with wood anemones, stitchwort, celandine, primroses and wild garlic.



A well-managed woodland is more likely to have great biodiversity than an unmanaged woodland, says owner and author Robert Penn. Photograph: Courtesy of Woodland Wildlife
These spaces also provide sanctuary from the modern world. "The woodland is absolutely fundamental to my existence," says Penn, who is patron of the Small Woods Association. "This morning, for instance, I was in my woodland and it was incredibly beautiful – wildflowers are just starting to come up, trees are about to bud, the wood is absolutely packed with birds. It's splendid."

Several wildlife trusts in the UK have reported increased interest in people wanting to buy land for tree planting, landowners wanting advice on carbon offsetting and communities starting tree-planting schemes. Aside from the wildlife benefits, small woods provide important ecosystem services such as reducing air pollution, locking carbon into the soil and temperature regulation. These benefits are worth hundreds of millions of pounds, according to analysis by the Office for National Statistics.
Penn's one tip to fellow forest owners is to be patient, because managing woodland is a long-term project. "It was five years before I felt the wood was genuinely my own … and a decade later I'm absolutely confident I'm doing the right thing and I take immeasurable pleasure out of the whole thing."
Julie and Tony Upson, who own 4.5 acres of ancient semi-natural woodland in West Sussex. Photograph: Courtesy of Julie and Tony Upson
In Tortington, West Sussex, Julie and Tony Upson manage 4.5 acres of ancient semi-natural woodland. Hazel trees dominate but a majestic veteran yew stands proudly and the former palliative care nurse and city law firm facilities manager are trying to encourage the heather back on a former heath.
The couple adore the dormice that live in their woodland and credit their small forest with giving them a vibrant retirement where they spend lots of time together and bond with a community of other foresters.
"We do wish we'd done this earlier but we didn't have the money," Julie says, adding that the forest helped her cope with cancer treatment.

The ancient semi-natural woodland owned by Julie and Tony Upson following its first coppice season under their management. Photograph: Courtesy of Julie and Tony Upson
"It does give you the opportunity for unusual birthday presents. I bought Julie an axe one year and her friend thought it was a really bizarre present!" says Tony.
To others who might want to turn their hands to managing woodland for biodiversity, the couple have one message: "Go for it."
"We're not owners, we're custodians of this bit of ground and these trees. Everything we do is not for us, it's for future generations and for the planet," says Tony.
from theguardian.com
---
'It's going to be our way now': the guerrilla rewilder shaking up British farming
Derek Gow is winning over doubters in his bid to reintroduce storks, beavers, wildcats, water voles and much, much more

By Phoebe Weston



Rewilder Derek Gow at his farm in Upcott Grange, Devon. Photograph: Jonny Weeks/The Guardian
I am sleeping in a shepherd's hut 30 metres from a dozen wildcats. It's an unusual way to spend a Monday night, especially in rural Devon, England. In the valley are the familiar sounds of dogs barking and foxes shrieking, as well as the unfamiliar sounds of storks clapping their beaks together, a noise that has been absent from Britain for 600 years. Beavers, iron age pigs, mouflon (wild sheep), Heck cattle and Exmoor ponies also live on this 120-hectare farm near Lifton, owned by rewilding specialist and farmer Derek Gow.
This unassuming old dairy farm with its small whitewashed barns is a hub for covert species reintroductions. In 1995, Gow started working with water voles – his first species of interest – after buying a batch from a fish farm in Hampshire. Then he noticed restored wetlands were naturally silting up and realised another keystone species was missing: beavers. Bereft of beavers, ponds require huge amounts of management to keep them open, so in 1997 he drove to Poland to get some.
Already, the 55-year-old has released 25,000 water voles and dozens of beavers, two keystone species he has worked with for a quarter of a century. "Beavers are the creators of life – without beavers there is no life. The other animals are stock cubes, which you put into the stew, spreading richness and flavour to everything," says Gow, who is blunt, observant and determined. To many ecologists he's a visionary; to government officials he's a pain.



Beavers on the River Otter in Devon. Photograph: Devon Wildlife Trust/Reuters

His new book, Bringing Back the Beaver, documents his 25-year struggle to rewild Britain's waterways and the people who made this happen. Gow won't take no for an answer. "I'm doing this because it's a good idea, and I'm not having the ending any other way. It's going to be our way, now, at this time. I'll have my way when beavers are everywhere," he says.
If we keep on course with this we'll be left living
on a planet full of pigeons and dogs on the beaten-down
crust of our own excrement. -Derek Gow
These large rodents are back after an absence of 400 years because of mavericks like Gow. The UK is under international obligation to reintroduce missing species but in practice government rules are too restrictive and complex, says Gow. "What's driven the beaver stuff and the free-roaming wild boar stuff is just people letting them go. Just saying, enough. Just do it."
Gow is best known for his beaver work but over the years his eclectic collection of animals has grown – in 2010 he got wildcats from a British zoo and in 2017 he obtained storks from Warsaw zoo (the same batch that went to the rewilded Knepp estate). Next year he will start releasing storks and the following year he plans to let the wildcats go. A feasibility study found that Devon is one of the best habitats for wildcats, which like well-hedged farmland and mainly eat rabbits and rodents. A licence is currently not required to release these two species.



White storks at Derek Gow's farm in Upcott Grange, Devon. Photograph: Jonny Weeks/The Guardian
"There will be a lot of people out there who are not going to like this," says Gow. "They like to do things very slowly and consider every option, have another cup of tea, have another Kipling cake, have another wee chat in four months' time. If we keep on course with this we'll be left living on a planet full of pigeons and dogs on the beaten-down crust of our own excrement."
Advocates of rewilding agree that we need to be bolder when it comes to species reintroductions. Dr Christopher Sandom, a senior lecturer in biology at the University of Sussex, says the assumption should be that we will reintroduce lost native species unless there is a good reason not to. "I think the burden of responsibility is wrong," he says. "The starting point should be we expect these species to come back. If someone has a really, really good reason why that's going to be a massive problem for a particular area, they should be making the case to say why it shouldn't be happening."

Gow, who bought his current farm in 2006, used to be a conventional farmer. At one point he had 1,500 breeding ewes and 300 cattle but wasn't making any money and heavy clay meant the land was always boggy. Generations of farmers had struggled with the conditions. Soon after he bought his farm, Gow started fencing the wettest areas off and digging ponds. The transformation from unproductive land to rewilding safari park began.
In the coming decades, his aim is to get rid of all commercial livestock and remove all fences from the farm, apart from the one around the edge. The speed with which nature recolonises the land delights Gow – stone chats have nested for the first time in two decades, while meadow pipits, reed buntings, marbled white butterflies are all becoming more plentiful. Trees are starting to fold into the land and patches of scrub are spreading like chickenpox. "I don't know what it's going to look like but there will be a shit tonne more life," says Gow, with characteristic frankness.

He knows the land well – while driving around in his 4x4, dodging Heck cattle (a hardy breed closely related to the extinct aurochs), swearing and scratching the odd pig, he spots a salad burnet for the first time. It is a small, unremarkable plant to me, but to Gow it's a delight. "That is astounding. Well, hallelujah!" It's a small change, but it suggests the farm's unusual inhabitants are doing their job: they are here to give life to the landscape and it's working.

Aside from the daily grind, there is a romanticism to rewilding and Gow wants to tap into this market, which is why he is setting up a wildlife safari to fund his work. His three shepherd's huts were meant to be open for bookings this year, but coronavirus has pushed things back to next summer. When I ask him what visitors will see, he poetically describes a panoply of big animals wandering around, storks flying down to flush out grasshoppers and crickets, beavers playing at night and wildcat kittens playing in the pens. As at Knepp, this is a mimic, or recreation, of what might have been here – showing an abundance of wildlife is normal, natural and right.



Wildcat kittens at the farm, which hopes to run safaris. Photograph: Jonny Weeks/The Guardian
Gow does not have reserves of cash to fall back on and the transition between farm and wildlife safari centre has been slow. He makes around £150,000 profit a year from his wildlife consultancy business, wildlife photography courses, building film sets, writing and training, he tells me. He gets £23,000 in farm subsidies. Profits are ploughed back into his rewilding project, which costs hundreds of thousands a year to run.
Defra board member and multimillionaire Ben Goldsmith has financially supported Gow for more than a decade. Goldsmith says that the public mood is changing when it comes to species reintroductions. "I think we're going to see more and more of this as the years go by," he says. Durrell Wildlife Conservation Trust and the Vincent Wildlife Trust are also involved in Gow's species reintroduction work.

On the farm there are 150 cages for water voles (Gow can release 3,000 animals a year) and 10 cages for wildcats (he says the UK should produce 150 wildcat kittens annually). There are around 30 free-living beavers and three enclosures for black and white storks, of which he has around 30.
Gow is very supportive of the Amphibian and Reptile Conservation Trust's push to release pool frogs. As with most things, species reintroduction works most effectively when done at scale. "We don't just bring back a pansy six or seven of them, with little earnest graduates with thick glasses breeding them in test tubes," he says. "What we do is we maybe employ farmers and breed bucket loads of the bastards and we put them back in huge numbers, so by the time we've finished they're waking up every kid through the night with the incessant croaking of their calls."



The changing landscape at Derek Gow's rewilded farm. Photograph: Jonny Weeks/The Guardian
UK famers receive around £3bn in subsidies every year and Britain's departure from the EU is causing the most significant shake-up to farming in decades. Under the new environmental land management scheme (ELMS), which will take over from the EU's common agricultural policy (CAP), Gow wants subsidies to move away from supporting conventional farming to paying people who want to reintroduce animals like wildcats, storks and water voles. "We can't do this for ever, on the basis that it's one or two of us who can afford to do it and everybody else just can't," he says.

There are signs this is happening. In August, the environment minister Rebecca Pow said that beavers could be considered a "public good" so farmers might be paid to have them. Gow's neighbour Derek Bambury, an intensive dairy farmer, says he could see himself farming beavers. "I've been farming for so long you get in a rut, but if the incentives change then you change. If they make it worthwhile and pay you to keep beavers, why not?"

Antagonism between farmers and conservationists is a common feature of the British countryside and Gow is an interesting bridge between the two. He gets on well with his farming neighbours, and admires them for just getting on and trying things, instead of engaging in "cheap talk". He thinks the country's guild of rewilding professionals are its farmers because they know how to make things happen at scale.



A water vole ready for release. Photograph: Jonny Weeks/The Guardian
American farmer and poet Wendell Berry has described farming as a conversation with nature, but the modern farming system is broken. Many farmers are victims of a system that has become a race to the bottom in which the environment, livestock and people pay a heavy price for the consumer's cheap food. Gow believes farmers should farm in a way that respects nature. In some areas this will be growing cereals or grazing traditional livestock, and in other parts – less suited to agriculture – there should be beavers, wildcats and storks.

To many, rewilding may seem like a pipe dream, but Gow proves this type of fanciful thinking can become a reality.

The 6A bus back to Exeter takes me winding through a tapestry of fields and hedgerows. I imagine this landscape recreated à la Gow: stork nests on people's chimneys, networks of beaver dens along rivers and occasional wildcat sightings.

This vision is not created despite farmers, but by farmers, who are paid for their efforts. Gow reinvents what it means to be a guardian of the countryside and wants others to follow suit. "At the end of the day, we're farming a different kind of life. The skills, the mindset and the thinking is the same," he says.
from theguardian.com