Renewal of Literacy: Ways to Get Students Caught Up in Reading and Spelling
Jennifer Militzer-Kopperl
Now that students have returned to full-time, in-class instruction, do you have students who are behind in reading and spelling?
The Problem
Not all students responded equally well to distance learning. When students returned to full-time in-class instruction, they arrived with reading and spelling skills that were literally all over the map. As a result, more and more Waldorf teachers are realizing that a one-size-fits-all approach to reading and spelling instruction fails too many students.

Teachers are aware of the need to change tactics to meet the academic needs of all the students in the class, but some are unsure how to do so—or whether such a change would align with Waldorf education.
A Solution
"Renewal of Literacy: Ways to Get Students Caught up in Reading and Spelling [. . .]" can help. It is a free online, on-demand course that outlines a simple seven-step solution to the problem and extensive proof that the steps align with Rudolf Steiner's indications.

The course is based on an article I wrote for Research Bulletin's current issue, an issue which explores new directions in Waldorf education and ways to revisit old practices. The article is entitled "Differentiating Reading Instruction by Phase" (Spring/Summer 2022, Volume XXVII Number 1, 50-59) which in turn is inspired by my new edition of The Roadmap to Literacy: Renewal of Literacy® Edition (coming soon).
Overview of the Course
This course outlines a seven-step process to differentiating reading and spelling instruction in order to meet the academic needs of all the students in a class. The seven steps are as follows:
Acknowledge the Elephant in the Room (i.e., Some Waldorf traditions make it hard to teach reading and spelling)
Recognize the Phases of Learning to Read and Spell
Assess
Group by Phase
Teach to the Phases in Your Class
Re-Assess
Begin a Remedial Process for Students Who are Still Struggling
Each step gets its own section that includes one or more short videos. The videos present Rudolf Steiner's indications and introduce modern best practices. A special highlight is two literacy capacities that Steiner asks teachers to train (i.e., phonemic awareness and symbol imagery).

Direct instruction in these two capacities is key to helping students catch up if they fall behind. The videos challenge prominent sacred nothings and traditions in Waldorf education so that teachers have the confidence to take the steps necessary to meet the academic needs of all the students in the class.

Two Literacy Capacities Steiner Recommends Teachers Train
Teachers can use the material presented in this course to inform their teaching and their assessing. Links to pertinent resources are included. In addition, one or more videos from this course can be used in faculty study or in a study group to initiate a discussion about how to teach literacy in Waldorf education and ways to chart new directions in Waldorf education.
Sign up at Renewal of Literacy®. Go to renewalofliteracy.teachable.com/ or go to renewalofliteracy.com/ and select "courses" on the navigation bar. Scroll down until you see the course thumbnail.
"Renewal of Literacy: Ways to Get Students Caught up in Reading and Spelling" shows teachers what they can do when they have a diverse range of student literacy skills and capacities in one classroom. It gives teachers the information they need to chart new directions in Waldorf literacy education—and the moxie to pull it off.
Join me in renewing literacy—for the 21st century and beyond.

Jennifer Militzer-Kopperl is the creator of Renewal of Literacy® and author of The Roadmap to Literacy Books. She brings the best of Steiner's indications together with the best of modern research to renew Waldorf education, starting with a renewal of literacy.
---
Intelligence. Knowledge. Wisdom: AI and the Waldorf School

A Webinar with Eugene Schwartz and Andrew Linnell

March 14, 2023, at 8:00 pm ET

From iWaldorf

The launch of the chatbot system ChatGPT in November 2022 has taken much of the world by storm.

Its speed, clarity, and writing skills appear to be harbingers of a new stage of artificial intelligence that may transform almost every field of human endeavor. Its disruptive power was recognized within weeks of its release when the New York City public school system blocked its use, even as myriad academics spoke strongly for or against its pedagogical value.

And what about Waldorf schools? It is likely that some enterprising Waldorf high school students are already using ChatGPT to assist them with history essay assignments or mastering concepts in science, and there are certainly teachers contemplating its possibilities in lesson preparation and composing end-of-year reports.

Given the Waldorf schools' track record with TV, computers, and iPhones, it is likely to be damned in school newsletters and prohibited as a tool for students and teachers.

In this lecture Eugene Schwartz contends that whether ChatGPT and its progeny are banned or beloved, the most important task facing Waldorf educators and parents is to understand the ramifications of artificial intelligence and acknowledge the role that it is already playing in the lives of our students.

Eugene will begin with an explanation of how a chatbot works (he promises that it will be comprehensible to even the most technophobic listener). He will then explore the ways in which our own approach to "intelligence" in the Waldorf movement has been influenced by modern technology, altering our relationship to knowledge and wisdom.

And he will illuminate how the Waldorf approach is needed, more than ever, to empower teachers, parents, and students in counterbalancing AI's nebulous counter-image of human cognition.

Sponsored by MysTech

Suggested Donation: $10.00

To register, visit iwaldorf.net/chatbot.html



***Click here to see all jobs at waldorftoday.com***


Kindergarten Teacher
Woodland Charter School – Grants Pass, OR

Grade 4 Class Teacher 2023-24
Portland Waldorf School – Milwaukie, OR

Kindergarten Teacher for the 2023-2024 School year
Davis Waldorf School – Davis, CA

Grade 1 Class Teacher
Sunrise School of Miami – Miami, FL

High School Humanities Teacher
PORTLAND WALDORF SCHOOL – Milwaukie, OR

First Grade Class Teacher 2023-24
PORTLAND WALDORF SCHOOL – Milwaukie, OR

Kindergarten Teacher
Heartwood Charter – Fairfax, CA

Spanish Teacher
Marin Waldorf School – San Rafael, CA

First Grade Teacher
Marin Waldorf School – San Rafael, CA

Classroom Assistant (immediate)
Heartwood Charter – Fairfax, CA

$50k - $60k Lead Grades Teacher * 23/24 Year
The Waldorf School of Tampa Bay – Tampa Bay, Florida

$50K - $60K Mixed-age Kindergarten Lead Teacher
The Waldorf School of Tampa Bay – Tampa Bay, Florida

Seeking Lead Teachers - School that Honors Freedoms & Philosophies
Running River School – Sedona, AZ

Early Childhood lead teachers
Wishing Well School – California's Central Coast (Los Osos)

Class Teacher
Rudolf Steiner School – New York, NY

Class Teacher
Green Meadow Waldorf School, Chestnut Ridge, NY

First Grade Class Teacher 2023-24
Green Meadow Waldorf School, Chestnut Ridge, NY

Certificated Class Teacher grades 1-8 2023-24 SY
Novato Charter School – Novato, CA

Pedagogical Director
Santa Fe Waldorf – Santa Fe, NM

First Grade Class Teacher
Lake Champlain Waldorf School – Shelburne, VT

Founding Class Teacher, Primary School
Gecko Garden School – Phnom Penh, Cambodia

1st Grade Teacher
Wildcat Canyon Community School – El Sobrante, CA

Grades Teacher
Wildcat Canyon Community School – El Sobrante, CA

Administrator
Desert Sky Community School – Tucson, AZ

First Grade Teacher
Waldorf School of Palm Beach – Boca Raton, FL

Spanish/World Language Teacher
Berkshire Waldorf School – Great Barrington, MA

Middle School Class Teachers
Berkshire Waldorf School – Great Barrington, MA

Middle Grades Teacher: Grade 7
Sanderling Waldorf School – Vista, North San Diego County

High School Director
Austin Waldorf School – Austin, TX

Mixed-Age Kindergarten Lead Teacher 2023-2024
Potomac Crescent Waldorf School – Alexandria, VA

First Grade Teacher 2023-2024
Potomac Crescent Waldorf School – Alexandria, VA

***Click here to see all jobs at waldorftoday.com***
---
Art of Teaching Summer 2023 at Sacramento Waldorf School




Click here for more information and course info.


---
Edible Engineering: Whose Pasta Will Prevail?
The annual Tower of Power competition at Johns Hopkins pairs spaghetti and marshmallows for feats of strength during National Engineers Week
By Jonathan Deutschman

Bulldozers, cranes, and hardhats are familiar sights around the Homewood campus these days. But inside the Glass Pavilion, another construction project—this one involving dry spaghetti and bags of marshmallows—unfolded earlier this week: the Tower of Power competition.

The signature event of National Engineers Week, this annual contest challenges teams of university undergraduate and graduate students, faculty, and staff, as well as students from area middle schools, to construct the tallest tower possible out of dry spaghetti and marshmallows. This year's contest was hosted by the Society of Women Engineers (SWE), and 17 teams competed.

Before the event began, Ed Schlesinger, dean of the Whiting School of Engineering, gave a short talk in which he referenced Tastee Tape, a biodegradable adhesive invented by Johns Hopkins engineering students to keep burritos from spilling their contents. "It helps you avoid the catastrophe of it falling apart," he said. A few of the teams taking part in the event may have liked to avail themselves of that invention, as more than one promising-looking edifice succumbed to gravity and met a premature end during the competition.

In fact, the team that won SWE's Choice Award, dubbing themselves the Leaning Tower of Erikeeeeeza, saw its 31-inch high creation collapse just minutes after the clock stopped. It wasn't the only one: A particularly promising-looking edifice broke its architects' hearts when it crumbled moments before it was officially measured.

With only 10 minutes left, three teams were neck-and-neck for the top spot. But when the clock stopped, a team comprising three students from the Waldorf School of Baltimore came away with the victory at 53 inches.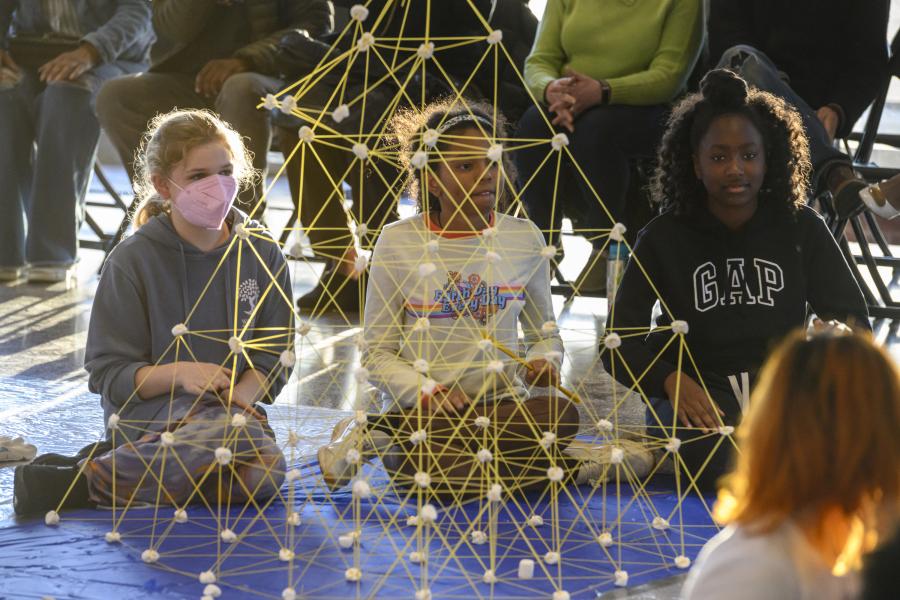 "Our strategy was 6 by 6," said team member Kayden, alluding to the hexagonal design the team employed. It worked for them in the qualifying match, she said, and again at the main event. Post-victory, her teammates Ala and Elia were short on words but long on prizes, as each team member received a gift bag containing a variety of items from Barnes & Noble Johns Hopkins.

Second place went to a team of middle schoolers from Our Lady of Hope/Saint Luke School, whose tower measured 50 inches. Height decided the winner, but style was a factor as well, with the team from The Summit School earning the coveted Dean's Choice award for most creative design.
from Johns Hopkins U


---
Winners of snow sculpture contest showcase creations at Anchorage Fur Rondy





Anchorage Waldorf School's entry tops school category



By Alena Naiden



Anchorage Waldorf Schools winning entry "The World Is in Our Hands"

Shapes of aliens, penguins, dragons and otters glistered in the sun on Sunday morning as carvers added the last touches to their snow sculptures.

As a part of the Anchorage Fur Rendezvous 2023, the Alaska State Snow Sculpture Competition started on Feb. 18 and brought together 21 carvers, as well as hundreds of people admiring the pieces of snow art along Ship Creek Avenue. With five divisions in the competition — individual, family, schools, corporate and three-person — there was a winner in each. But only the winning three-person team will go to the U.S. National Snow Sculpting Championship at Lake Geneva Winterfest in Wisconsin next year.

The 2022 champions, the Alaska Department of Snow, won first place in the three-person division this year as well. Artist Paul Hanis said that the team spent almost 80 hours carving their "Seward's Icebox" sculpture — otters sitting on the ice and water slide.

After winning in 2022, the team went to the national competition, for the fifth time, and brought back second place two weeks ago.



"Seward's Icebox"

Eight kids from the Anchorage Waldorf School came up with the idea for the winning sculpture in the schools' category, "The World Is In Our Hands" and carved hands holding planet Earth almost levitating above.
"One of my eighth graders came with the idea of the world," class teacher Shenandoah Herda said. "The whole world is something that they are responsible for and will be responsible for as they grow older."
During the awards ceremony, the Fur Rondy Royalty was cheering the winners.
"Because I am a sculptor myself, my favorite part is standing down here at 3 a.m. on Saturday before judging and hearing everybody complain about how they will never do it again," said Princess Dakoma, or Dakoma Epperly-May. "And then they show up again next year after that, carving.
"You can feel the love of the sculpting family here."

From the Anchorage Daily News





---
Waldorf Job Openings

Just click here to see all the current job postings.


---
Forwarding the newsletter



Thanks for forwarding the newsletter to your friends and colleagues. Just click on the star when you think of someone you'd like to forward this to.