EMMA PLUNKETT ART
OCTOBER NEWSLETTER
Contemporary Fine Art, Video & Design
Before And After Art
Dear Art Lover



This is a painting of a little girl that I am very fond of. When she posed for me, for a photo, she stood still, behaving well but when I said, "Thank you, you can go now." She came to life and did her little turn and walked off like this. So cute, so vigorous. She was five at the time. So merry and so innocent. So, I made an extra effort to capture all that in this painting, which is about the spirit of a little girl, painted entirely with a palette knife.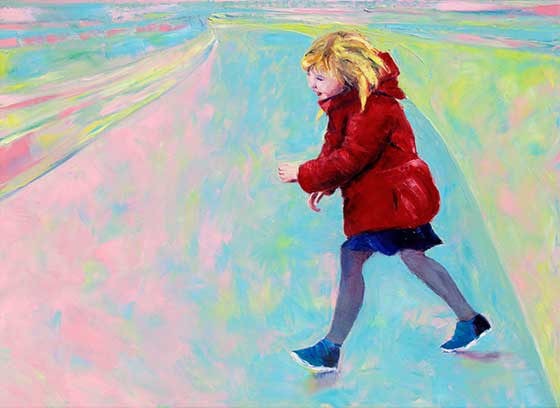 Girlhood
It could have just stayed a photo but I felt compelled to take that moment in time and make it into something much bigger, something to be considered and I knew I could do that by painting it. This painting naturally elevates her as a person because people will be curious to know what the painting is about and who she is. If you knew her though, you'd know she doesn't actually need any help being elevated!

This a 100cm x 73cm oil painting. See her on my webshop
Conclusion
It is funny how we just accept art when it is presented to us, never questioning it's existence at all. In my initial creative process, I worry about whether an idea is even worth embodying or not. I am never sure but I go ahead anyway and put all that energy into making a piece become real. Then once it exists, life just seems to suck it up and it gets appreciated at exhibitions like it was always meant to be and then we can't imagine a life without it.

For example, my brother didn't want any art on his walls but his wife did. She got her way and chose one of my large pink and yellow abstract watercolours. When it was framed and hung above the sofa, my brother said, "It's like it's always been there".

It's all too easy to take art for granted but remember every little tiny piece of design and decoration has come from someones soul and they deliberated over it to bring it into existence.