EMMA PLUNKETT ART
AUGUST NEWSLETTER
Contemporary Fine Art, Video & Design
Painting in Oils
Dear Art Lover
I really am just starting to value my art school education, about things such as planning an oil painting by making preliminary sketches. I used to think my tutors were crazy to make me create the preliminary sketches after I had completed the main piece, just in order to give me extra marks and for me to illustrate that I understood how other artists' arrived at an end piece.
Now days, I consider my paintings more deeply and I understand how important preliminary sketches are – what with putting the price of art materials into consideration and the obvious mistakes which can occur from working blind. To be honest, I even sketched this piece out using photoshop, to help decide upon a colour scheme. Working the whole piece out first makes the end result so much cleaner looking.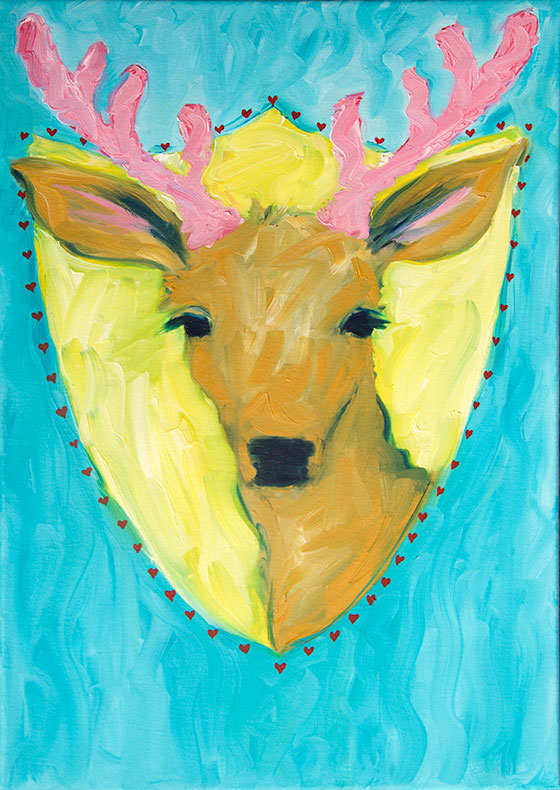 Fabulous Dear
This is a 46 cm x 33 cm oil painting on canvas of a young buck with fury pink antlers. I was inspired by a recent trip to visit a friend at the Royal Veterinary College in London. There were tons of interesting skulls in the museum and the cafe there, such as a giraffe, a rhino, a walrus and one was of a dear skull, still with it's velvety antlers.
His trophy shaped background is more of a window, that he's looking through, rather than a plaque.
See on website
Conclusion
I didn't know that dear had velvety antlers, I thought they would have been more bone like in texture. Seeing the skulls, up close, on the glass shelves of the museum, I couldn't stop thinking about the idea of fury antlers. Thus, I just had to follow through with my inspiration and create this

painting.