EMMA PLUNKETT ART
NOVEMBER NEWSLETTER
Contemporary Fine Art, Video & Design
Warning – Voluptuous Mermaid Painting!
Dear Art Lover

I wanted to give you something interesting to hang on your wall, than just plain canvas. My friends have eucalyptus trees growing on their land, they had the wood made into planks and gave me these two pieces. I prepared only the parts I would be painting on and oiled the bare wood with linseed oil to bring out the natural redness. When hung, the panels are slightly lifted away from the walls.

Her expression was looking quite stern at one point during the painting process but I managed to turn the corners of her mouth upwards into a soft smile. Now she seems to have the right kind of attitude and expression.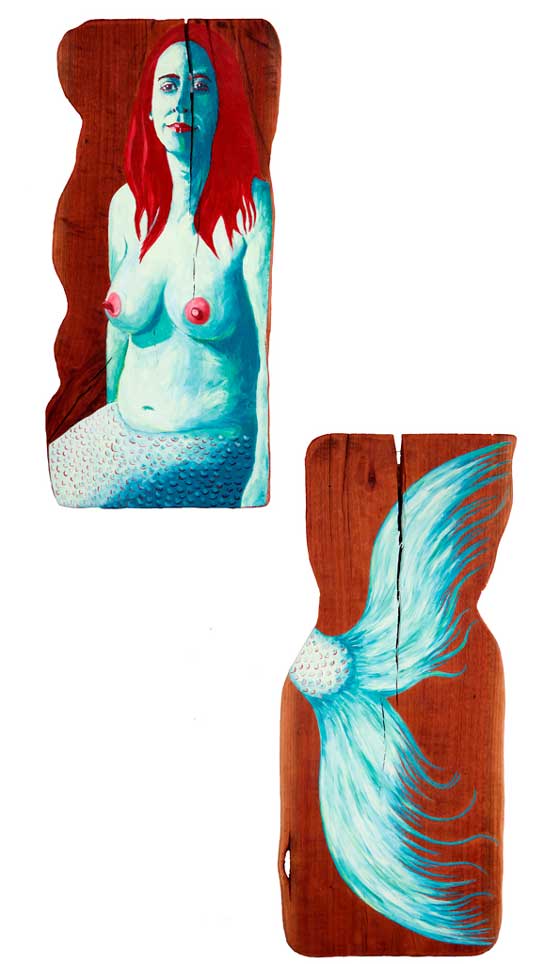 Desires
The title of the piece, Desires, is influenced by how I perceive the life of the model. How she has risen to the task of motherhood, whilst taking a break from her life as a professional performer. I placed her face right in the middle of the natural split in the wood, to emphasise this divide in her desires, to be herself and to serve her family.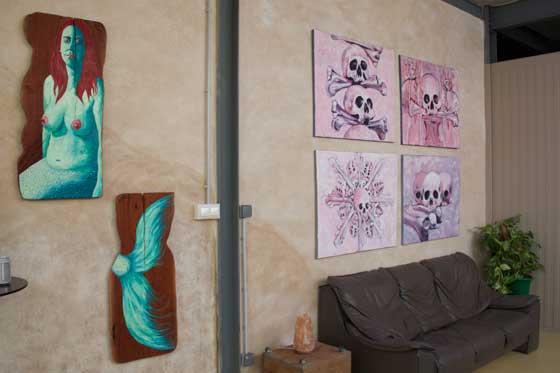 Here you can see the piece in the setting of an exhibition, to give you more of an idea of scale. I think she would look lovely hung down a long wall, maybe on a stairwell.
Visit her on my webshop
Conclusion
At the end of the day, what you see before you is quite a subdued mermaid. Her pose is quite withheld because her body is already so voluptuous and real. With her full bare breasts and bright red nipples, she doesn't have to do anything more to lure you, though I do wonder who will be seduced enough to buy her?