EMMA PLUNKETT ART
APRIL NEWSLETTER
Contemporary Fine Art, Video & Design
All About Eve
Dear Art Lover

This piece is about the journey of all women. It's about our body rights, our sense of self worth. It's about how our sexuality is represented and perceived, it's about how we hold ourselves and consider our work as we get on later in life.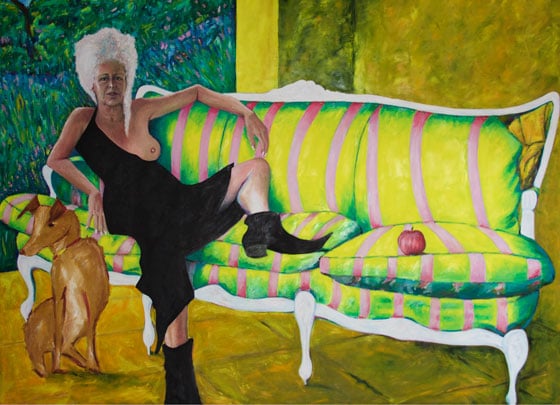 Eve
This painting presents Eve as an older woman. She is beautiful, vulnerable and sexy. She is at ease with herself and is not looking for any type of approval. In fact, if anything, she is the one who assigns you her approval.

She is without Adam and that's ok. We can only wonder about what happened to him?
Dog
She made a fleeting appearance in my preliminary sketches, I worked fast and painted mostly from memory.
Portrait
I spent hours on the face and eventually my style came out similar to that of the portraits I did when I was young.
Flowers
Painting this part was a wonderful indulgence once I'd got the shapes in, as the garden of Eden is full of lavender.
Title: Eve
Size: 190cm x 130cm
Medium: Oil paint on linen canvas
Date: 2016
Here is an animated gif of the work in progress
Conclusion
For me this piece is not erotic, even though it is a semi nude and so can be deemed as such. The intention from me is to be just a little provocative and by showing you what I see in real life. This piece is also not a commission, I had an urge to paint it.

It's also all about that splendid couch!

Buy the art that you love, buy the art that moves you.