EMMA PLUNKETT ART
JULY NEWSLETTER
Contemporary Fine Art, Video & Design
Collographic Printmaking
Dear Art Lover

This is a new skill that I am learning from master printmaker and artist John Wragg. I had no idea what to do with the blank piece of printing block when he gave it to me. I don't usually like printmaking because you have to think in reverse and it's hard to imagine what will catch the ink and what will not.

The name collograph comes from the word collage. I spent hours cutting tiny strands of paper and laying them down to build layers to create the relief. I worked directly from the sketches I'd made of the performers at the ariel drawing retreat I previously attended. I had to persevere with grasping the technicalities of this style of working.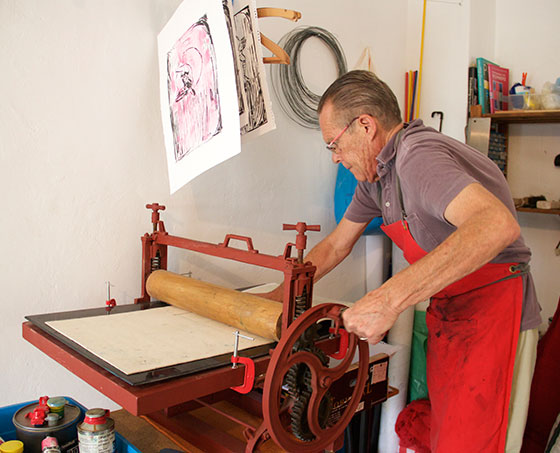 I didn't know if my print print blocks would even work? I was apprehensive every time I rolled the 100 year old wheel of the printing press. Each time I lifted the blanket off the paper and carefully lifted the paper off the printing block, it was a treat for the eyes to see how each print came out. John and I worked well together, getting into a rhythm of inking and printing until we had 8 or so viable editions.
Beyond The Frontier I
1/25 Limited edition collographic print over pink ink
Relaxing at The Frontier II
2/25 Limited edition collographic print over turquoise ink
Conclusion
I am very pleased with the results and now my mind is thinking in more ways in which I can incorporate printing into my art work. Watch this space, there will be more prints to come!