Coming to an End
It is so hard to believe that this year is coming to an end soon and that the holidays are upon us. I think the older I get, the faster it flies...I could use a slower pace for awhile. This month is

Ivy Scraps 6th Birthday.

..WOW, I've made some really amazing friends at Ivy Scraps and together we are filling our forum with wonderful gifts for all of you. Our theme is "Home for the Holidays," there is a mixture of Fall and Christmas and a ton of beautiful and fun digital files. So, make some room on your hard drive, pour yourself the beverage of your choice, pull up a comfy chair, and click away. We would love to have you join in a challenge or 10 if you have time as well....more amazing freebies there for you.

Our Download-a-Day kits can be found HERE

Our Special Birthday Challenges can be found HERE

Our Everyday Challenges can be found HERE

Our Store, where everything is on SALE can be found HERE

As the year nears an end and the holidays draw near, all of us at Ivy Scraps wish you and your family a Wonderful and Blessed holiday season and pray you and your family remain safe through all of the festivities.

A scrapper always
keeps that camera ready for every photo op moment and memory to be captured...smiles and tears!
May you always be Blessed with all you need and may you Bless others by your presence!

Gloria Val Verde
Ivy Scraps Admin Member

FIND THEM HERE
In November, our designers have combined all of their Mini Pixel kits in a Download-a-Day format and are giving them away...if you don't have time to play, they will be available for just $1 beginning in November in the Ivy Scraps Store
:
. Here's a sample of what our designers have made for you.
DOWNLOAD A MINI A DAY HERE
Layout of the Week, September Week 4
Member: Bernie

Comment:
"Love the effect of the split photo and all the stripes--great layout Bernie, Congratulations!"
Layout of the Week, September Week 5,
LAYOUT OF THE MONTH FOR SEPTEMBER
Member: Nelleke

Comment: "This is so warm and inviting, makes me want to sit outside with a hot beverage and reflect."
Layout of the Week, October Week 2
Member: Janytime
Comment:
"This is such a delightful layout---all the elements fit in perfectly with the theme! It truly looks like a garden patch with the visit from the critters! Congrats Jan(ytime)"
At Ivy Scraps we have such a Variety of challenges...there is something for everyone. Our ladies are not only FUN, but they truly enjoy each other, help is always there for the asking! We encourage each other to grow as a scrapper and designer, and would love to have you inspire us!
WE WILL HAVE 5 EXTRA CHALLENGES IN NOVEMBER TO CELEBRATE OUR BIRTHDAY, HERE.
Tina is our Creative Team Manager and is going to inspire you with scriptures or quotes to add to your layouts each month. These are some of the most meaningful pages you will scrap and she will give you a very special gift for participating.
BINGO Challenge
hosted by Jan
This not your ordinary BINGO game..is there anything ordinary at Ivy Scraps? You can get this FREE template in the forum if you'd like to make a BINGO card to go along with the game (not required). There is seriously much more than BINGO going on in this challenge.
Download Here
Bingo Prize provided by Gloria this month! Come join the fun and add these lovely bows to your scrapping stash! The BINGO winner will receive a set of lovely quick pages created by Joanne.
Come play with us in November as we create Birthday Layouts using only the free kits from this months Download-a-Day kits or other Home for the Holidays gifts found around the site.
All who participate with Gloria this month will earn Part 5 of her Home for the Holidays, which coordinates in color and theme with the November Download-a-Day minis, that altogether make a huge and wonderful collab kit.
Create-an-ATC Challenge
hosted by Bernie
ATC's are soooo quick and easy to scrap and Bernie always makes it fun, because isn't that what this crazy addiction is all about? The more FUN, the better the forum
. Bernie will appreciate you and hopes to see you there. For your participation, Fay made this gorgeous mini, which coordinates with this month's Download-a-Day gifts.
Create-a-Calendar Challenge
hosted by Bernie
Join our own Bernie each month for the calendar challenge. If you participate each month, by the end of 2015 you will have a beautiful calendar all set to print for a wonderful calendar gift for 2016. To celebrate our birthday month, Fay made these GORGEOUS clusters for participating in November.
Create-a-Card Challenge
hosted by Nelleke
The girls just love Nelleke's fun challenge, using WordArt, Greeting Cards, and Fonts. A bonus is provided
each month for those that participate, so come on over and share and inspire us each month, Nelleke and the girls are waiting on you.
You will need to come to the challenge to see what Nelleke has in store for you in November, but this is how she used her "words."
These are your bonuses for participating in the FUN; since it is our birthday, you earn an extra bonus.
Join Jemima in the fun Combi Challenge. We will work with 5 folders of different designers, you will get directions to pick one item from each folder. With those 5 items, a photo and title/journaling you have to make a LO! E
arn a great gift that coordinates with this month's Mini Pixel kits for joining in on the fun.
Join KatLen to create layouts that your family will cherish for years to come...a history of your family. Or start the history with your immediate family.
Joanne K always helps us scrap our goodies.

This month the Recipe Challenge will be an old fashioned Christmas Cookie Exchange. We want you to share one of your favorite cookie recipes. It can be a bar cookie, a decorated cut-out, or a drop cookie.

There is a starter mini, with 4 x 6 cards, or you can use any kit you may have to create your recipe card. Everyone who completes the challenge before November 30 will receive a prize which will include the full size papers, as well as a few more elements.
Create-a-Signature Challenge
hosted by Jemima


Jemima hosts this challenge that will help you create some very fun siggies. She always makes a gift for you that coordinates with our monthly Mini Pixel kits.
Creating With Color Challenge
hosted by Jan
Jan has picked a set of colors totally outside of the range that we normally associate with this time of year. How will you use these colors? A layout, a kit, papers, tags, ribbons? I'm thinking winter snow fun! Come on over and share your creations while we share ours. I
t's always your choice if you want to scrap or design.
Join the Quick Page Challenge this month. Sign up in the forum before the 15th of the month and our sponsor will provide you with links to download so that you can create quick pages to share. At the end of the month, you will have collected a nice set of matching pages to use with your photos. Stop by and pick up this month's kit and join the fun! This is how last month's kit was used....all who stopped by to play ended up with a great fall album...FREE!
Digital Dishes Challenge
hosted by Jemima
Come and join us in cooking up something fun using the recipe given! This is an all-time favorite of mine, I always think that the "ingredients" are overwhelming and then...BAM, I LOVE the layout, I'm sure you will to, come join the fun. Her posting bonus coordinates with this month's Mini Pixel kits.
Dawn inspires us to do something different each month and provides a very awesome gift for your hard work. You will sure want to check out this challenge and snag this beauty.
Mask Challenge
hosted by Eileen
Eileen hosts a fun fun challenge, providing you with a great mask each month to use as you like, and then a fun for showing us how creating you are with the mask. She will send you this very musical mini for sharing your memories with us in November.
Ayla provides us wonderful templates to make our memories come alive in print. She would love to have you join in and show her how creative you can be with this month's template. She will also send participants a pretty mini for sharing their memories with us.
Use It All Challenge
hosted by Marniejo
A kit will be provided a mini kit to create your masterpiece. As a reward for entering, you will receive a matching mini kit with the month's color palette.
NEWSLETTER GIFTS


DOWNLOAD (Rectangle Landscape format)
http://bit.ly/1KxeQBz

DOWNLOAD (Rectangle Portrait format)
http://bit.ly/1MhZ4lE

DOWNLOAD (Square format)
http://bit.ly/1NZVLjd
Download HERE
Wowzers, More Gorgeous QPs from LilyBelle Designs just for "Liking" Ivy Scraps on Facebook
FREEBIE
BLOG GIFTS
This beautiful WordArt can be found on the Ivy Scraps Blog
Gloria would like to share a complimentary element pack to her Home for the Holidays kits with you on her blog!
Download from her Blog
Fay has made this gorgeous mini as part of her Home for the Holidays gifts. You can grab in on her blog...so many Awesome Goodies on there all of the time!

Download from her Blog

Are you a prayer warrior, or in need of prayer? I don't like to mix business with politics or religion, but I do believe in standing up for what you do believe in. We have a Prayer Place Thread in our forum that we'd love to have you join or drop a prayer request if needed.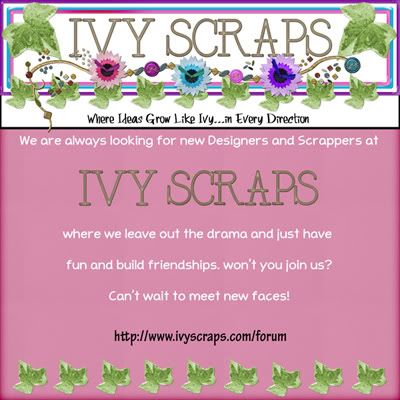 Of course we can, but in order to do so, we need your help. Your feedback about our newsletter is very important to us. We welcome your questions, comments, criticisms, and/or ideas. You can either post them in the forum, or PM Jan or Gloria, or send via email to admin@ivyscraps.com. We really want you to enjoy reading our newsletter and appreciate you sending us ways to improve.
Our Designers have Blogs!


You can visit our Designers' Blogs by clicking on the blinkie below.