What? No pictures! Here is the browser version of our latest newsletter.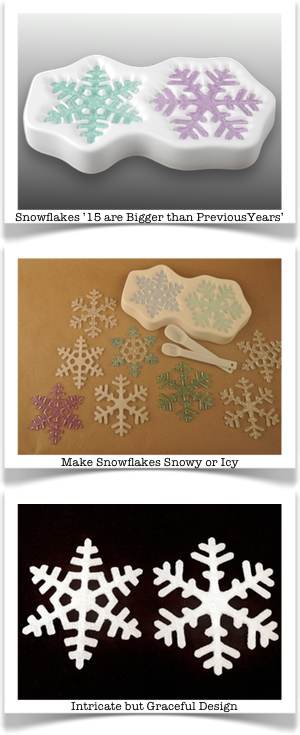 Hello everybody,
The first of our 2015 holiday designs is ready. Snowflakes '15 is a bit larger and even more intricate than previous years' snowflake designs. Your initial reaction might be, "Isn't it a bit early to be talking about the holidays?" Well we might have to agree, but people have been asking us for earlier releases so they can get ready for holiday bazaars and art fairs.
Creating perfect snowflakes with our molds is really easy. First, spray with ZYP BN Lubricoat. Next, fill each snowflake with 20 grams of frit. Finally, fire. For detailed instructions, download our project sheet. The project sheet has two low-temperature firing schedules. One is for icy snowflakes. A second; for snowy snowflakes. You great results in just one firing. We've created a video - a short one - showing the molds in action.
Keep your eyes open for more new Colour de Verre designs including some additional holiday designs.
Best wishes,
Larry
| | |
| --- | --- |
| PS | Check our previous years' snowflake designs and our Icicles in our website's Plants & Nature section. |

---
Sent by Colour de Verre to beadbrains@sbcglobal.net. The last thing we want to do is send email to anybody who doesn't want to receive it. To remove your email address from our mailing list, please follow this link. Color de Verre, 3216 SE 8th Avenue, Portland, OR 97202 USA