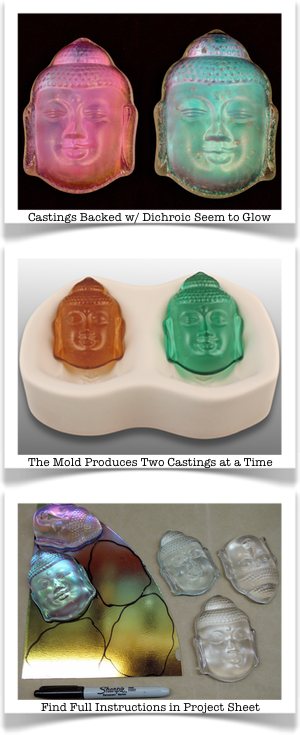 Hello everybody,
Serene. Tranquil. Contemplative. These words immediately come to mind upon seeing our new Buddha Faces. They are a wonderful gift for a friend or relative. They're elegant and beautiful, but are still easy to make. Just like our other molds, you can fill this design with frit. However, filling them with casting rocks or billet chunks produces exceptionally clear castings with a minimal number of bubbles. We've also had great results with broken-up, double-thick, clear glass.
The Buddha Faces project sheet includes instructions for creating remarkable pieces by backing the castings with dichroic sheet glass. The results seem to glow from within. Samples are featured on our website's home page.
Finally, watch for a change. MR-97 is being replaced by ZYP BN Lubricoat. Don't worry: Same product, new label. You can check out our new ZYP video here.
Have a nice summer,
Larry