What? No pictures! Here is the browser version of our latest newsletter.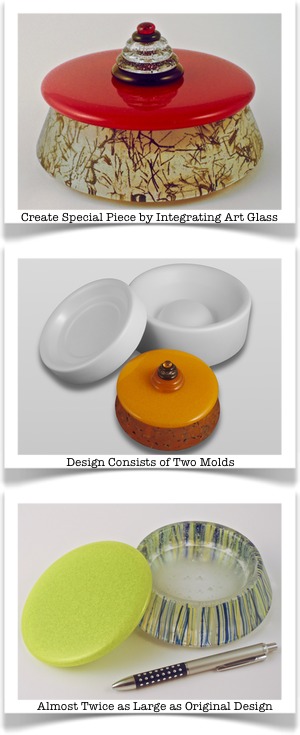 Happy New Year!
Our cast boxes molds are one of Colour de Verre most popular lines. But, people have often asked us for larger versions. They want a larger interior for storing trinkets and treasures, and a bigger lid to embellish and decorate. We now have a design that addresses those needs: Our new Large Round Box. It is almost twice as large as the original version.
Like our other box designs they are easy to make. Yet, there are plenty of creative possibilities for advanced casters to explore. Moreover, it is the answer to that question often asked by glass artists: What do I do with my scrap sheet glass?
Download our new project sheet. It has complete priming, filling, and firing instructions. We've also included a new technique so you can incorporate some of those beautiful art glass sheets into your castings.
Best wishes,
Larry
| | |
| --- | --- |
| PS | If you ever have questions about our company, our designs, or how to use them, don't hestiate to give us a call or drop us a note. Complete contact information is on our website. |

---
Sent by Colour de Verre to beadbrains@sbcglobal.net. The last thing we want to do is send email to anybody who doesn't want to receive it. To remove your email address from our mailing list, please follow this link. Color de Verre, 3216 SE 8th Avenue, Portland, OR 97202 USA