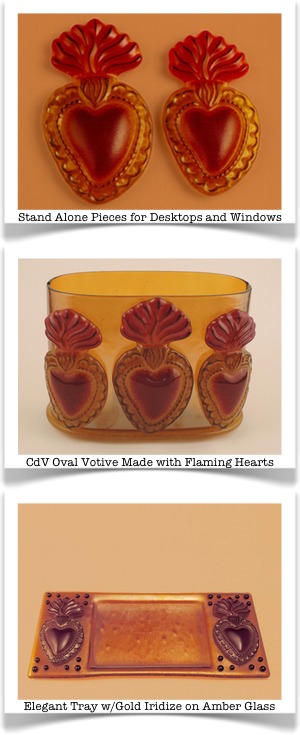 Hello everybody,
Visit a church in Mexico, Spain, or Italy and you are sure to see a painting, mosaic, or statue featuring a flaming heart. In recent years, this imagery has moved from the holy into popular culture. Dolce & Gabbanna stores featured them in their Spring windows. And the thirty-somethings here in Portland, Oregon sport them on their tattooed shoulders and biceps.
Our latest design, Flaming Hearts, creates two hearts 4.25 and 3.75 inches (95 and 108mm) tall. The design can stand alone as objets d'art to sit on a desk or hang in a window. They can also be used to embellish votives, platters, and mosaics. Like our Skulls design, these are perfect little gifts to sell at craft fairs and studio sales.
Our new project sheet shows how to prime, fill, and fire this mold. The document also has instructions for creating larger projects including a great votive using our Oval Votive design.
Finally, if you aren't following us on Facebook, you should. It is a great way to see work created by us and others using our molds.
Keep your eyes open. More designs coming soon.
Best,
Larry
| | |
| --- | --- |
| PS | Check out our website's Learn section. We have tons of project sheet that will inspire you. |

---
Sent by Colour de Verre to beadbrains@sbcglobal.net. The last thing we want to do is send email to anybody who doesn't want to receive it. To remove your email address from our mailing list, please follow this link. Color de Verre, 3216 SE 8th Avenue, Portland, OR 97202 USA