Friends,

With all of the ceremony yesterday around the attacks of 9/11, I'm sure we all did a bit of reflection on the past ten years. For me (and I'm sure I'm not totally unique in this either) it led into some pretty deep stuff, and a piece of art that I hadn't engaged with in years.

In 2001 I had just graduated from High School and was preparing to take a year off and spend time in Brasil when the towers fell (I flew through New York on a totally empty passenger plane 2 weeks after 9/11). I had solidified my persona as an outgoing, active Young Friend but had yet to go through the painful convincement experience at Guilford College. I certainly had no clue what we were in for as a country.

There's a Spirit in Iraq
Fast forward 5 years, and I'm in my senior year at Guilford in the middle of said convincement, writing a song about James Nayler, a Quaker who, in the 17th century, was persecuted for (arguably) his faithfulness.

…and Tom Fox was taken hostage. Tom was an elder of mine (Friendly Adult Presence) from my Young Friends days who had been working for the Christian Peacemaker Teams in Iraq, doing work to reconnect Iraqi prisoners with their families. Tom was kidnapped with 3 other Christian Peacemakers and, after a 5 month ordeal, was found dead.

We were holding regular candlelight vigils at Guilford, and I was suddenly reconnected with all of my old Young Friends buddies, who wanted to stay in touch to know what was happening with Tom. We were talking to the press and seeking ways to advocate for peace in such a hurt country seeking vengeance.
When I finished the song about Nayler, I got a clear message that I would write one about Tom. That I would. It was the first time I got a leading that I wasn't supposed to do immediately. I waited until my next year, living at Pendle Hill, when I had processed some of the experiences and emotions, and allowed the Spirit to come through. It was a painful, difficult song to write and is equally difficult to perform, though it continues to be one of my most requested songs.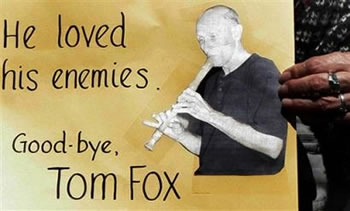 New Music Video
As I prepare for the release of my upcoming album (two weeks away!), I've been systematically sifting through some of my music from the past couple of projects, and posting them on youtube… as much for my own reflection as for yours (though you are more than welcome to come along!) and when I came to the song that I wrote about Tom Fox, I knew I had to do something special.

A few hours into working on a video of newsreels and images of Tom, I remembered that my brother I had taken a bunch of footage a few years ago with the intention of making "There's a Spirit in Iraq" into a music video. Alas, my video editing skills were lacking, and my vision was too weak (we should all be grateful here, that my artistic career has thus far been driven by faithfulness and not by ego or necessity… if for nothing else, all of the crap art that we've been spared from!) and it got shelved.

So two nights ago I dug it out, put it together, and lo and behold! A music video! (thanks, God… it's not like I had anything else on my plate right now) My second ever! Funny, because I'm about the release one (the third, I suppose) in another two weeks… but this one stands alone, I think!

The video is an attempt to capture that feeing of being led to make a piece of art, trying to rise to the task, but it also is the story of my relationship with Tom Fox, which is my relationship to Quakerism, elders, the Iraq war, and nonviolence. An ambitious group of topics to cover! I think I did OK… Let me know if you agree:
Click Here for the Music Video About Tom Fox

(the best way to let me know you liked it is by sharing this email with your friends, or sharing the video on Facebook and twitter)

thanks and
peace
Jon