Holiday Greetings!




All sorts of things happening at Quimby's this holiday season. Read on for details.


Holiday Hours at Quimby's


Just so you know...
Fri, Dec 24th, noon-5pm
Sat, Dec 25th, closed
Fri, Dec 31st, noon-5pm
Sat, Jan 1st, closed



Free Totebag with $100 Purchase
Spend $100 or more in one trip to Quimby's Bookstore, and you'll get a free Quimby's totebag! That's a $12.99 value! While supplies last. Limit one per customer per day. In-store only. Offer lasts until Jan 1st, 2011. Or perhaps you want to order just a Quimby's totebag or Quimby's t-shirt? They make great gifts!


2011: The Revenge of Print! Yeah, you!
We're tired of all the END OF PAPER, the END OF PUBLISHING AS WE KNOW IT stories. We've been hearing and reading about it ever since we've been open (which is going on almost 20 years now). So for 2011, we're throwing a challenge out there. If you've ever made a zine or mini comic MAKE ONE MORE ISSUE.

Free In-Store Events at Quimby's
For more information about events at Quimby's, see http://www.quimbys.com/blog/store-events/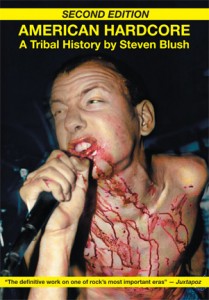 Fri, Dec 3rd, 7pm
Steven Blush Celebrates American Hardcore: A Tribal History 2nd Edition
In 2001, Steven Blush's book led the way to the creation of the acclaimed documentary American Hardcore: The History of American Punk Rock 1980-1986. With the resurgence of punk rock and continued interest in the significant American DIY movement, Blush has expanded the book and into a second edition. Have you read the part about Chicago? No? Guess you'll just have to come in to Quimby's!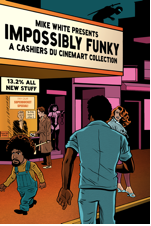 Sat, Dec 4th, 7pm
Mike White Reads From Impossibly Funky: A Cashiers du Cinemart Collection
Harangue for Hollywood! Enfant terrible Mike White will celebrate the release of his treasure trove of writing on film and popular culture, which collects the best articles from the fifteen year history of Cashiers du Cinemart magazine, with sections dedicated to Quentin Tarantino, Star Wars, Black Shampoo, unproduced screenplays, celebrity interviews, and much more. Everything has been refreshed, polished, and improved for this volume of movie mayhem.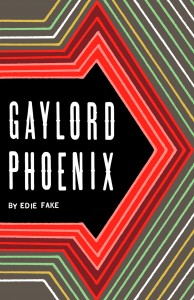 Thurs, Dec 9th, 7pm
Edie Fake Celebrates the Release of Gaylord Phoenix
Gaylord Phoenix collects all of Edie Fake's raunchy queer comics serial in one volume. Perverse and surreal, Gaylord Phoenix follows the danger-fraught journeys of the Gaylord Phoenix, a creature willing to sacrifice anything for lost love and hidden memories. In an ever-shifting landscape full of ever-shifting genders, Gaylord Phoenix plunges head-first into a realm full of murderous psychedelic smut and intense magical beauty. Shenanigans are planned for this one fun and epic release night. Fake will be on hand to crack bad jokes and sign books, along with homemade penis-shaped cookies and special limited-edition mix tapes and objets-de-arte available for free with each Gaylord book and comic purchase.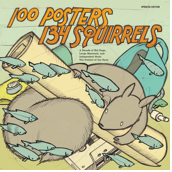 Fri, Dec 10th, 7pm
Jay Ryan Celebrates 100 Posters/134 Squirrels Second Edition
Quimby's is proud to welcome Chicago-based poster artist Jay Ryan, celebrating the release of AN UPDATED AND REVISED GREATEST-HITS COLLECTION of Jay Ryan's first decade of compelling posters, 100 Posters/134 Squirrels. Known for his hand-drawn type, humorous animal subjects, and muted color selections, Jay Ryan has been making screen-printed concert posters in Chicago since 1995 in his shop called the Bird Machine for bands such as the Melvins, the Shins, Modest Mouse, Andrew Bird, Shellac, My Morning Jacket, and hundreds of others.

Off-site Event:
December 12th, 10am to 10pm
Indie Lit Roadshow:
The Last Annual Midwest Pop-Up Bookshop
The Green Lantern Gallery/The Paper Cave
2542 W. Chicago Ave., Storefront
This is not at Quimby's, but Quimby's will be tabling at this curatorial pop-up bookshop at the Green Lantern Gallery/The Paper Cave space. Besides book shopping, this event will feature sporadic performances, some of which will be in Artifice Magazine's papier-mâché cave, you can crawl into to hear some of the best in Chicago readings. Lots of different types of book stores, presses and magazines will be present besides Quimby's, including Featherproof Books, Knee-Jerk Magazine, The Book Cellar, Another Chicago Magazine and much, much more!

The weekend of December 10-12 is the The Indie Lit Roadshow, a cross-country celebration of the best in independent literature. It represents a coming-together of independent bookstores, presses, journals, magazines, reading series and pop-up bookshops, all rooted in the home-grown literary scenes blossoming in the following places besides Chicago including Austin, Baltimore, Brooklyn, Portland, Seattle and more!
New Stuff
For new items posted weekly, see
quimbys.com/blog
ZINES & ZINE-RELATED BOOKS!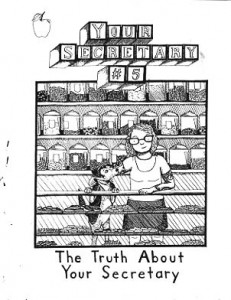 Your Secretary #5 The Truth About Your Secretary by Jami Sailor $1.00 – Jami's 'betes issue, all about how to be a young queerdo punk with wildly fluctuating glucose and still thrash hard.

Listening to the Lower Frequencies – Parking Block by Tim Pigott $4.00
Ultimate Worrier #2 Twice as Many Colors Twice as Many Pages, Oh Geez – Never Trust Anyone Who Really Enjoyed High School by Ben Chlapek $6.00
Sex Industry Apologist #1 $3.00
Reality Mom vol 7 #4 Fall 10 $3.00
Map #3 Archive Manual of Architectural Possibilities $6.50
Zinesters Guide to NYC by Ayun Halliday (Microcosm) $9.99 – The last wholly analog guide to NYC. Weird World of Eerie Publications: Comic Gore that Warped Millions of Young Minds by Mike Howlett (Feral House) $32.95
Serial Killers Unite #5 $2.00
Homocats #1 Fight the Power by J. Morrison $5.00 – Kitties! Gay kitties! Cutest gay kitties ever.
FAQNP #2 Computer Camp Fall 10 Queer Nerd Publication $7.00
JD Samson From the Life and Times of Butch Dykes vol 1 #2 2009 (B & D Press) $6.00
Agggresssive School Book – Trash Garbage Rubbish Zine by Mark Pawson $8.00
' Za the Pizza Zine by Nicki Yowell $4.00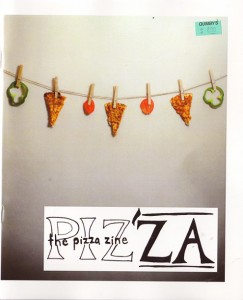 35th and Kind Drive – Bad Ass and Rides of Als Chicago South Side $6.00
Dumb Magazine #1 Random Music Issue Hot Sum 10 (First Edition) by Noah Lyon $5.00
Lowbrow Reader #8 $3.00
East Village Inky #45 by Ayun Halliday $3.00
Broken Pencil #49 $5.95
Community in Transition 40 Years of Struggle by The Transgender Oral History Project $3.00
Roctober #48 $4.00
Seripop New Mutantes – Floating World Comics $5.00
Brilliant Mistake #2 by Carrie $1.00
Scam #7 The Return of Miami Spr 10 $3.25
Guide to Picking Locks #2 by CrimethInc $4.50

COMICS & MINICOMICS!
Gaylord Phoenix #5 by Edie Fake $4.00 – New issue from our famed Edie Fake! Who will be celebrating the release of his Gaylord Poenix book Dec 9th!
Trubble Club vol 4 $3.00 – New issue from Chicago's mini-comics allstars!
Berlin #17 by Jason LUtes (D+Q) $4.95
Rambo 3.5 by Jim Rugg (Sparkplug) $2.00
Piece Meal #2 by Nate Beaty $4.00
Salvaged Parts by Lucy Knisley $10.00
Baba Yaga and the Wolf by Tin Can Forest, Marek Colek and Pat Shewchuk (Koyama Press) $15.00 – The story of Katerina, the journey she takes to the edge of the Underworld to save her husband from a terrible fate, and its gatekeeper, Baba Yaga.
I Swallowed the Key to My Heart #2 by Liz Prince $6.00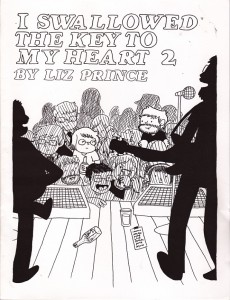 Wowee Zonk #3 (Koyama Press) $8.00 – With Michael Deforge, Jan Avendano, Selena Wong, Patrick Kyle and more.
You Don't Get There From Here #17 by Carrie McNinch $2.00
M. Sauters Guide to Douchebaggery vol 2 $3.00

GRAPHIC NOVELS & TRADE PAPERBACKS!
Acme Novelty Library #20 by Chris Ware (D+Q) $23.95
If N Oof BY Brian Chippendale (Picturebox) $29.95
H Day by Renee French (Picturebox) $30.00
Bent by Dave Cooper (Skyhorse) $22.99
Mome vol 20 Fall 10 (Fantagraphics) $14.99
My New New York Diary a Film Book by Julie Doucet with Michel Gondry (Picturebox) $24.95
Graphic Women: Life Narrative and Contemporary Comics (Gender and Culture Series) by Hillary L. Chute (Columbia University Press) $26.50
Little Maakies on the Prairie by Tony Millionaire (Fantagraphics) $19.99
Walking Dead TPB vol 13 Too Far Gone by Robert Kirkman (Image) $14.99
Sophie Crumb: Evolution of a Crazy Artist by Sophie Crumb (Norton) $27.95 – Don't need any introduction here!
Powr Mastrs #3 by CF (Picturebox) $18.00 – The third volume in C.F.'s Dune-like science fiction/fantasy epic.
What I Did by Jason (Fantagraphics) $24.99

ART & DESIGN BOOKS!
Art of Rebellion 3: The Book About Street Art ed. by C100 (Gingko) $29.95
Dark Inspiration: Grotesque Illustrations, Art and Design (Victionary) $29.95
EMEK The Thinking Mans Poster Artist Collected Works of AaarghT (Gingko) $39.95
Dream Spectres: Extreme Ukiyo E Sex Blood and the Supernatural by Jack Hunter (Shinbaku) $29.95
Dot Dot Dot #20 $16.95
Kaws by Monica Ramirez-Montagut (Skira) $45.00 – A vibrant look at the celebrated New York-based artist and designer KAWS.
Hi Fructose Collected Edition vol 2: Under-the-Counter Culture (Last Gasp) $39.95 – This hardcover collect issues 5-8 of the magazine and feature emerging and established artists such as Camille Rose Garcia, Femke Hiemstra, Jordan Crane, Marion Peck, Paul Pope, KRK Ryden and more. Or get the Deluxe Box Set version for $60.00, which comes with prints, stickers and a poster!
Celebrate Peoples History: The Poster Book of Resistance and Revolution by Josh MacPhee (Feminist) $24.95
Self Reliance Library by Temporary Services $4.00


DIY & CONSUMPTION!
The Vegan Girl's Guide to Life: Cruelty Free Crafts, Recipes, Beauty Secrets and More by Melisser Elliott (Skyhorse) $16.95
Big Book of Buds vol 4 Marijuana Varieties from the Worlds Great Seed Breeders by Ed Rosenthal (Quick) $24.95
Simple Times: Crafts For Poor People by Amy Sedaris (Grand Central) $27.99 – Easy to make stuff, and very silly! Got an old rake? Use it to roast sausages in the fireplace! With the usual clever and hilariousness expected from Amy Sedaris.
How to Cook the Perfect Day by Nikki McClure (Sasquatch) $15.95 – Poetic wood cuts from the famed artist.
Yuck: The Things People Eat by Neil Setchfield (Merell) $16.95 – With pictures! Wann a gross your friends out? Use this book as your guide. With pictures for your pleasure.
High Society: The Central Role of Mind-Altering Drugs In History Science and Culture by Mike Jay (Park Street) $19.95
Aunt Sandys Medical Marijuana Coolbook Comfort Food For Body and Mind: Official Course Book Oaksterdam University by Sandy Moriarty (Quick) $18.95
Vegan Cookie Connoisseur: Over 140 Simply Delectable Recipes to Treat the Eyes by Kelly Peloza (Skyhorse) $17.95
Baked 35 Marijuana Munchies to Make and Bake by var. (Ten Speed) $12.99

FICTION!
Universe In Miniature In Miniature by Patrick Somerville (Featherproof) $14.95
Sunset Park by Paul Auster (Holt) $25.00
Complete Stories of JG Ballard SC (Norton)
The Petting Zoo by Jim Carroll (Viking) $24.95
SteampunkD by var. (Daw) $7.99 – An anthology of all-original works of the genre.
Collected Stories of Lydia Davis (Picador) $19.00
Undivided Self HC Selected Stories by Will Self (Bloomsbury) $30.00

MAGAZINES!
Bitch #49 $5.95
Bust Dec 10 Jan 11 $4.99
Randy #1 by AK Burns and Sophie Morner $8.00
Maximumrocknroll #331 Dec 10 $4.00
Tape Op #80 Nov Dec 10 $4.95
Infamous #2 $7.99 – Second issue of the graffiti lifestyle mag.
Juxtapoz #119 Dec 10 $5.99
Bizarre #169 10 $10.50
Cabinet #39 Learning $12.00
Taps paraMagazine vol 6 #6 $5.95
Blood and Thunder #15 $5.95
Ready Made #50 Dec10 Jan 11 $4.99
Razorcake #59 $4.00
XLR8R #136 $4.99
Harpers Magazine Dec 10 $6.99
Adbusters #93 vol 19 #1 Jan Feb 11 $8.95
Giant Robot #68 $4.99
UFO Magazine #154 vol 24 #1 $5.99
Skunk vol 6 #5 $5.99
Treating Yourself #25 $7.99
High Times Jan 11 $5.99
Fortean Times #268 Dec 10 $11.99
Girls and Corpses #4 Win 10 $8.95
Monocle vol 4 #38 Nov 10 $10.00

LITERARY JOURNALS & CHAP BOOKS!
Nuance Literary Arts Magazine $5.00
Fugue #39 Sum Fall 10 by Ilya Kaminsky and Junot Diaz $8.00
N+1 #10 Fall 10 Self Improvement #13.95
Logan Square Literary Review #4 Fall 10 $5.00
Slake Los Angeles Sum 10 Still Life A City and Its Stories $18.00
Concisely #4 Stories Under 500 Words $3.00
The Believer #76 Nov Dec 10 Art Issue $10.00

POLTICS & REVOLUTION!
Dancing With Dynamite Social Movement and States In Latin America by Benjamin Dangl (AK) $15.95
Gaza In Crisis: Reflections On Israel's War Against the Palestinians by Noam Chomsky and Ilan Pappe (Haymarket) $16.00
Modern Utopian Alternative Communities of the 60s and 70s – Nick Tosches and the Underground Press Syndicate by var. (Process) $19.95
Cointelpro: The FBI's Secret War on Political Freedom by Nelson Blackstock (Pathfinder) $15.00
Piss 'Em All Off and Other Practices of the Effective Citizen by Don Gordon $14.95
Constitution for the New Socialist Republic in North America Draft Proposal by Revolutionary Communist Party USA $8.00

MUSIC BOOKS!
Very Irregular Head: The Life of Syd Barrett by Rob Chapman (Da Capo) $28.00
Decoded by Jay-Z (Spiegel) $35.00 – Lyrics, musings, photos and more.
Death Cab For Cutie by Autumn de Wilde (Chronicle) $29.95 - Over 200 candid on- and off-stage images, along with personal ephemera and more.
I'm In The Band: Backstage Notes from the Chick In White Zombie by Sean Yseult (Underwood) $22.95
Tao of Wu by RZA (Riverhead) $15.00 - Now in soft cover.
Mr. Manchester and the Factory Girl The Story of Tony and Lindsay Wilson by Lindsay Reade (Plexus) $19.95



MAYHEM & MISCELLANY!
Fate, Time and Language: An Essay on Free Will by David Foster Wallace (Columbia) $19.95
Weimar Cinema: 1919 to 1933
I Only Mark The Hours That Shine: Little Edie's 1929 Diary by Eva Beale Eva Marie (Grey Gardens Collections) – Most people know of "Little Edie" through the 1975 documentary, Grey Gardens, by Albert and David Maysles. This book is a transcript of the handwritten diary which she kept at the age of eleven. Limited print run and shipped to Quimby's directly from the The Grey Gardens Collections, founded by family member Eva Marie Beale!
Destroy All Movies: The Complete Guide to Punks on Film by var. (Fantagraphics) $35.00
Cult People: Tales from Hollywoods Exploitation A List by Nicanor Loreti (Headpress) $16.95
Cannibal Killers: Monsters with an Appetitie For Murder and a Taste for Human Flesh by Chloe Castleden (Skyhorse) $12.95 – Who are you having over for dinner?
Sexual Outlaw, Erotic Mystic: The Essential Ida Craddock by Vere Chappell (Weiser) $21.95
The Mystery of U33: Hitler's Secret Envoy -The Incredible Story of the Mystery Uboats by Nigel Graddon (AdvUnlmtd) $19.95 – From the author of Otto Rahn and the Quest for the Holy Grail.
Armageddon Survival Handbook: How to Prepare Yourself for Any Possible Scenario by Rainer Stahlberg (Skyhorse) $12.95
Discombobulated Dispatches From the Wrong Side by Simon A Morrison (Headpress) $16.95
Thee Psychick Bible: Thee Apocryphal Scriptures ov Genesis Breyer P-Orridge and Thee Third Mind ov Thee Temple ov Psychick Youth (Feral House)$29.95 – According to author Genesis Breyer P-Orridge, "This is the most profound new manual on practical magick, taking it from its Crowleyan empowerment of the Individual to a next level of realization to evolve our species."
Listverse.com's Ultimate Book of Bizarre Lists: Fascinating Facts and Shocking Trivia On Movies, Music, Crime, Celebrities History and More by Jamie Frater (Ulysses) $14.95
Complete Book of Spells Curses and Magical Recipes by Dr. Leonard Ashley RN (Skyhorse) $14.95
Cigarette Book the History and Culture of Smoking by var. (Skyhorse) $22.95
Changing my Mind: Occasional Essays by Zadie Smith (Penguin) $16.00

SEX & SEXY!
Pinups #13 Chuck by Christopher Schulz $14.00
Contemporary Pin-Up Photography by Tom Denlick (Schiffer) $39.99
Burlesque Exotic Dancers of the 50s and 60s by Judson Rosebush (Schiffer) $24.99
Ariane Arborene's Classic FemDom Stories by Ariane Arborene $15.00
Best Erotic Fantasy and Science Fiction ed. by Cecilia Tan and Bethany Zaiatz (Circlet) $19.95
Quaintance: The Art of George Quaintance by Reed Massengill (Taschen) $99.99
SPS #7 Sad People Sex by Heather Benjamin $3.00
Naked In the Gallery 2010 by Christian Gfeller $28.00
Lickety Split #7 Smut Zine Beyond Human $8.70

OTHER STUFF!
Heart Gelatin Mold, Just Like Moms $6.00 – No really. Like a real heart. Say it with love this holidays.
Calendario Bestiaro Bestiary Calendar 2011 by Dave Buchen $25.00 – Wood block animal screen prints, with a different adorable beast for every month.
Cthulhu Mints $2.50
Bacon Soap $6.00 – Is this kosher with you if I use it in your shower?