Transition US Newsletter - October 2009
Greetings!
Over the past three years the Transition Movement has grown to 234 Transition Initiatives worldwide with 45 of those across 19 states in the USA. There is obviously more fruiting than the nut trees planted three years ago by the first Transition Initiative in Totnes, England!
On the Transition US front: We have launched our webinar series to provide more tools and training to Initiatives and "Mullers". In the few days after announcing our first one, the 100 spaces were filled! The webinars will all be recorded so no one will miss out. We intend to offer as many as needed and as frequently as is achievable. Send us your ideas and stay tuned!
There has been a growing discussion about designing for maximum community resilience (we will provide a webinar on this topic). Here are some tips from the field: First observe and discover the elements already active in your community. As many new Transition Initiatives have found, there are numerous groups already engaged in generative activities on a local scale. The main task of a new Initiative might be to help galvanize these into a connected whole. Sometimes, the Initiative provides a revitalizing spark to flagging efforts or begins anew to shape the community with inspiration and energy. Either way, Transition Initiatives continue to emerge and ignite our imaginations.
Our call this month is to artists: What is your vision of a resilient community, town, city, region? Please let us know in song, story, picture, movie….or in some other imaginative means that you create. We will showcase a collection of these "renaissance" works on our website in the coming months to further inspire, encourage and sustain the emerging Transition Movement.
---
Transition Initiatives
Transition Initiatives are continuing to emerge in communities around the world. This month, we welcome three new Official Transition Initiatives:
If you've been mulling it over and feel you're ready for the next step, check out the initiatives map and learn more about becoming an Official Transition Initiative.
Throughout the month, we post stories from Transition Initiatives about some of the wonderful projects they are working on. Here are some highlights:
An inspiring day of climate action
We had to recap some of the wonderful events that took place across the globe on Saturday, October 24, 2009. These events continue to inspire an ever growing community people calling for action on climate change. Transition Initiatives in the US answered the call to action... (more)
How can we create a resilient, sustainable local economy that we would love to work and live in?
In September, Sustainable NE Seattle featured the theme "Local Economy." The series included speakers at our monthly general meeting, two movies, an Open Space event, and a Barter Faire. (more)
---
Economic Advisory Council

To help develop strategies and plans to address these critical issues, the Transition US board has invited four distinguished individuals to form an Economic Advisory Council. Members who have stepped up to the task include: Vicki Robin, Judy Wicks, Michael Shuman and Woody Tasch.
The new Economic Transition Advisory Council will be convening in the near future to consider economic priorities for local communities and Transition Initiatives. (read more)
---
Transition Training
There are a number of trainings coming up, so if you're interested in taking the Training for Trainsition (T4T) workshop, do check the listing and see if there's something in your area. If not, why not explore hosting a training? Download our guidelines and find out what it takes to host a Training course.
Upcoming Training for Transition (T4T) courses are scheduled in:
Photo: Photo from T4T in Los Angeles on October 11, 2009 by Janaka1965 (original)
Webinars:
---
News from the Transition Network
Resilience Thinking: an article for the latest 'Resurgence'
The latest edition of Resurgence is timed to coincide with the Copenhagen talks, and looks at resilience as a key aspect of the climate change debates. This edition features an an excellent article by Rob Hopkins exploring resilience thinking: "Why 'resilience thinking' is a crucial missing piece of the climate-change jigsaw and why resilience is a more useful concept than sustainability." (read more)
Totnes Nut Trees Begin to Bear Fruit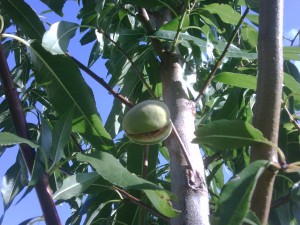 "Over 100 trees have now been planted, most of them having a 'guardian', whose job it is to keep an eye on them. In one park, a line of 3 almond trees, it turned out, have begun to bear fruit! Nestled on a south facing slope at the end of the park on raised ground away from the flying footballs that had damaged a couple of other trees planted there, the trees had grown well, and now here were the first actual nuts! Well it felt like a moment of history to me," writes Rob Hopkins. (read more)
James Samuel's 6 Steps of Community Engagement
"Regular readers will be familiar with James Samuel by now, a founder of Transition in New Zealand, and publisher of the blog Yesterday's Future...He was recently asked to give a talk to a local CSA project, giving them some ideas for how to manage their project. He developed a 6 stage process which looks like a good way of looking at creating successful projects. You can see his presentation below, and read a transcript of it here." (read more)
If you're interested in receiving updates from the Transition Network in the UK, where it all began, you can sign up for their newsletter here.
---
Transition Resources
Public screenings of 'In Transition' the movie now starting

The fabulous 50 minute-long documentary about Transition, is now available for public screenings! The film is the work of director Emma Goude, with production by Smith and Watson, and with input from Transition communities around the world (for the story of the film, click here). 'In Transition' is the perfect sequel to 'The Age of Stupid'. It tells the story of the generation that looked peak oil and climate change square in the face, and responded with creativity, compassion and genius. (read more)
10 things you can do to fight climate change (PDF)
A one-page guide to taking action on climate change: including starting a Transition Initative!
Transition US Blog
In case you missed them, Joanne Poyourow and Myrto Ashe have been busy blogging this month (subscribe via RSS)!
ACTION TIP: Consider holding regular orientations
Transtion OKC has been holding Transition Town Orientations which give new members and those curious about Transiton, the opportunity to: find out how a Transition Initative works, see the work of Transition Town OKC, ask questions, meet other people concerned about the energy challenges we are facing, and find opportunities to work on projects that you care about. Contact Transition OKC to learn more.
---
Related Events, Workshops, Things to Do
COP15 Conference - Copenhagen, Denmark (Dec 7-18, 2009)
The COP15 conference is the fifteenth Conference of the Parties under the United Nations' Climate Change Convention. "The ambition of the Danish government is that the COP15 conference in Copenhagen will result in an ambitious global agreement including all the countries of the world" (read more). Take action leading up to this event; add your name to the tcktcktck campaign and make sure your local government representatives know that you support strong action on climate change.
ResilientCITY- The End of Suburbia is Just the Beginning
END of SUBURBIA director Greg Greene is calling on all Transitioners to be part of the third film in the END trilogy! "ResilientCITY- The End of Suburbia is Just the Beginning" is looking for stories on how the Transition Movement is scaling up for the big challenge of preparing cities for a post carbon future. He is posing the challenge: Can the Transition Model be scaled to help large cities; can the Model be more inclusive of ethnic diversity and local social justice interests?
As inclusivity is a principal of the Transition Model and several Transition Initiatives in the U.S. are conducting this experiment on a city scale many of you will be able to contribute insights and stories. Please contact Greg Greene at greg@endofsuburbia.com with your story leads and keep us at Transition US posted.
Stay tuned for Greene's new media portal into resilience around the world: www.resilientplanet.com will be launching soon!
---
Get involved
What you can do - contact us for more details
Learn more
Transition US // Transition Network // Transition Culture
Follow Transition US on twitter, facebook, WiserEarth, flickr and youtube and invite your friends!