Dear supporter,
I am delighted to tell you that this morning (28 July) five judges of the Supreme Court unanimously ruled that the Scottish Government's Named Person scheme is unlawful.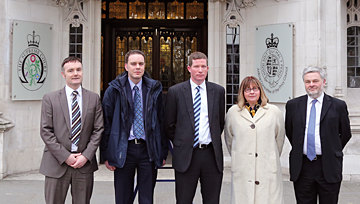 The Christian Institute's Duputy Director Simon Calvert (left) and Solicitor Advocate Sam Webster (centre), with friends from the NO2NP campaign, outside the UK Supreme Court for the hearing in March 2016.
Judgment in the case of The Christian Institute and others v The Lord Advocate (Scotland) was written by two Scottish Justices and the Deputy President of the Supreme Court. Another two judges agreed. The Scottish Government has no opportunity to appeal.
This is a historic judgment. It is the first time the Supreme Court has prevented a major piece of legislation passed by the Scottish Parliament from coming into force. The Court has acted to stop a major conflict with our data protection laws.
Under the proposals, every child in Scotland was to be assigned a state guardian to monitor their 'wellbeing'. This constituted a state-sponsored intrusion into family life – directly undermining the parent-child relationship. It was due to come into force on 31 August.
Vindicating what we have been saying for years, the Court stated that the data sharing provisions of the Children and Young People (Scotland) Act breach the right to a private and family life under article 8 of the European Convention on Human Rights (ECHR).
These provisions, which are central to the scheme, have today been struck down. It was a David and Goliath battle, but we give praise and thanks to our sovereign God who has given us this resounding victory on behalf of families in Scotland.
Key points
The Named Person law was found to be "defective" for breaching the ECHR "right to a private and family life".
The lack of safeguards meant it was likely that family confidentiality would frequently be overridden.
Holyrood exceeded its powers by making a law which allowed public bodies to share sensitive private information about children and parents without their knowledge or consent.
Consequently the Named Person scheme cannot be brought into force.
Legal challenges to any unlawful sharing of data under the Named Person pilot schemes may now be possible.
In a warning to UK legislators for years to come, the Supreme Court judgment even noted that:
"The first thing that a totalitarian regime tries to do is to get to the children, to distance them from the subversive, varied influences of their families, and indoctrinate them in their rulers' view of the world. Within limits, families must be left to bring up their children in their own way."
Answered prayer
Christian parents would have faced severe difficulties from the scheme, but our gracious God has acted powerfully to preserve the freedom of Christians to bring up their children in the Christian faith.
We are profoundly grateful to our supporters, who have stood with us throughout this long campaign. Thank you for all your prayers, and for your encouragements. Your prayers have been answered!
Our legal bills ran to £270,000. We expect to try and recover a substantial part of the legal costs, but this has yet to be resolved. We will not get back the additional £130,000 we spent on the NO2NP campaign which helped gather crucial evidence from Scottish parents for the case.
If you are in a position to help with our financial needs, you can support our vital work by making a donation.