SSCV Inspires Challenge Update
Scholarship Fundraiser
Now Extended through

March 15th



Please join us by participating in the SSCV Inspires Challenge. We are 29% closer to our goal! Thank you to all who have participated and donated! Make a difference and participate today.



1. It's easy to get involved! Click

here

for basic set up steps.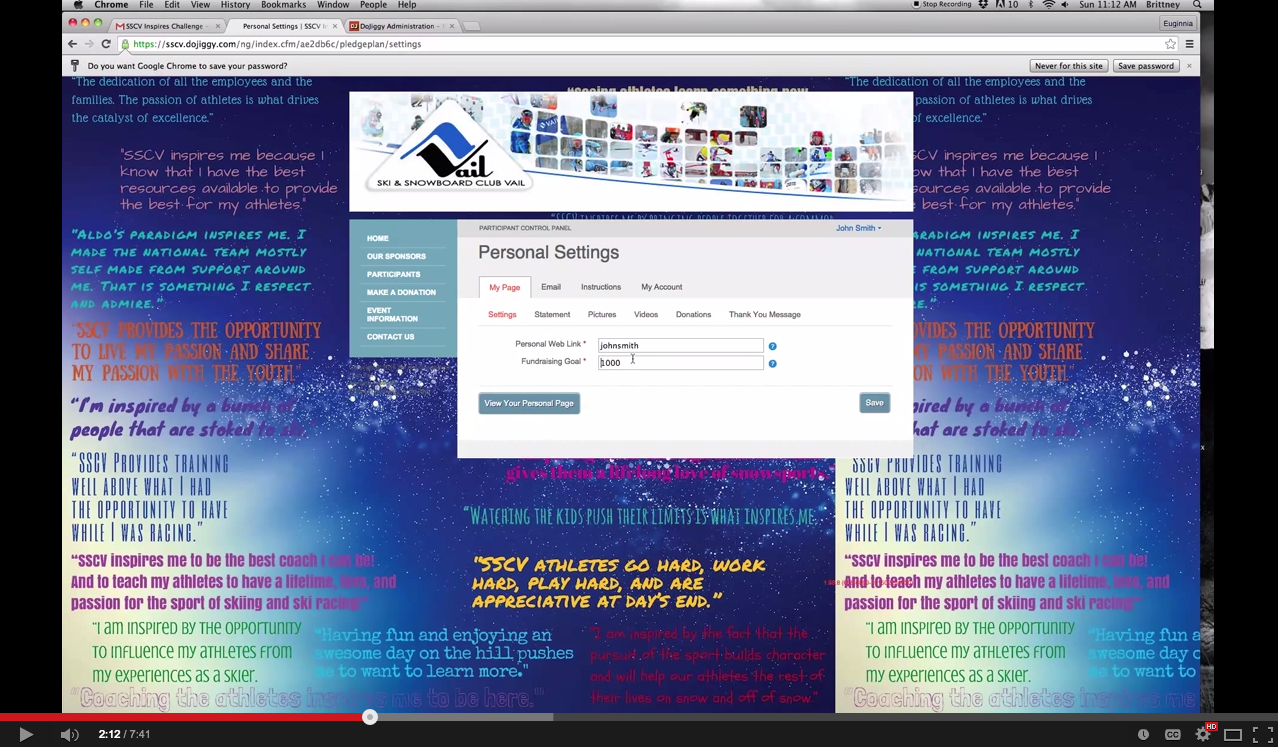 Click

here

for our Step by Step, SSCV Inspires video tutorial

2. Friends and family near and far can see what SSCV athletes do, and donate
to their inspirational stories!
3. All donations will go towards our Scholarship Fund, allowing our sport to
be accessible and affordable to all!
4. Prizes awarded for every step of the way! For those of you that reached the
Participation and $100 level, you can claim your prizes at the
SSCV Front Office.


$100 raised from EVERY athlete =
$60,000+ in Scholarships!
Click here for fundraising prizes, a list of the top 10 fundraisers, Moe Kelly's U8 Speedquest Inspires Video and a list of our sponsors.
---

SSCV Full-Time Athlete Admissions Process and Academic Partners
SSCV Current Full-Time Athlete Re-enrollment Update
Admissions
Any athletes interested in--
(i) applying to become a full-time athlete at SSCV for the first time (regardless of where they attend school) which is a pre-requisite to attending Vail Ski & Snowboard Academy or Winter Tutorial,
(ii) returning to full-time athlete status or to Vail Ski & Snowboard Academy or SSCV
Winter Tutorial
after a gap in participation at either, or
(iii) attending Vail Ski & Snowboard Academy or SSCV Winter Tutorial for the first time even though they are already a full-time athlete--
please discuss this with your primary coach and contact Sharon Schmidt at
sschmidt@skiclubvail.org
or 978-621-8738 to learn more about the admissions application process.
The rolling admissions process ends March 31 so please start this process
now. If spots remain available after March 31, the Admissions Committee will continue to review applications through April 30 on a rolling basis and thereafter on a case by case basis.
Click
here
for details on the full-time athlete admissions process. For more information on the full-time program and SSCV's Academic Partners please click on the links below:
Ski & Snowboard Club Vail Admissions Brochure
Vail Ski & Snowboard Academy Admissions Brochure
SSCV Winter Tutorial Admissions Brochure

Vail Mountain School

Current Full-Time Athlete Re-enrollment Update
Re-enrollment Agreements for current SSCV full-time athletes eligible for re-enrollment were
not
emailed out yesterday. Details and timing as to when they will be emailed out will be provided shortly.
---
Aldo Radamus Perspectives Column-Vail Daily
World Alpine Ski Championships Reflections
From the first DH training run to the thrilling final run of Slalom the 2015 World Alpine Ski Championships in Vail/Beaver Creek were an extraordinary success. The quality of the competitions, the venues, the images broadcast around the world to, by some estimates as many as one billion viewers, have represented ski racing, our community and the United States in the best light imaginable.
The Vail Valley Foundation demonstrated its incredible service to our community by organizing an Alpine World Championships of unparalleled professionalism, beauty, drama, entertainment and excitement. The combined efforts of Vail Resorts, the Town of Vail and Beaver Creek Resort where competitions were hosted and the towns up and down the valley that welcomed the world established a new standard by which such ski events will be measured in the future.
More than 2,200 volunteers, mostly from Eagle County but also hailing from nearly every corner of the world, along with the professional race crews from Beaver Creek and Vail and the coaches, athletes and parents from Ski & Snowboard Club Vail created an environment for the athletes, support staff, media and visitors where sport and sportsmanship could be celebrated leaving all of us inspired.
We have truly been able to "Dream it, Live it, Share it" for these full and fulfilling 2 weeks.
Among the amazing displays of athleticism were the medal performances of two of our own. Mikaela Shiffrin's clutch Gold Medal in the Women's SL brought down the house nearly in sight of her childhood home and Lindsey Vonn's kick-off Bronze Medal in the Super G set the stage for the US Ski Team's 5 medal haul. One who took her first turns here on Colorado snow and honed her turning skills on the hard ice of New Hampshire and Vermont, the other who started on a little bump in the suburbs of Minneapolis and came to Vail as a nine year old to learn to glide. Both were here in 1999; Mikaela 3 years old and soon to start out in Ski Club Vail, Lindsey already 14 and inspired by the athletes of the championships to become a champion herself.
Lindsey became the most winning woman World Cup skier of all time last month notching her 64
th
win in Cortina d' Ampezzo and Mikaela defended her World Championship from Schladming in 2013 last Saturday. Both are Olympic Champions. More importantly, both are exceptional role models for the thousands of young boys and girls who worship them and follow their every move.
One can only wonder which young boy or girl, slipping the course or watching from the grandstands committed to their own dream of a championship… maybe to be fulfilled at the next World Championships to be contested in their own back yard and in front of their family, friends and community. I can't wait to see.
Ski & Snowboard Club Vail conducts "Try the club free" days for prospective members on March 8 for Freestyle (moguls), March 14 for Alpine and March 22 for Freeski and Snowboard. SSCV's Opportunity Fund provides financial assistance to insure that any child from the community is able to pursue their dream in snow sports regardless of means. For enrollment information please contact Sharon Schmidt at
sschmidt@skiclubvail.org
---

---

Second Survey was e-mailed February 15- and will close March 1 at midnight
Third Survey being e-mailed April 15
SSCV's second parent and athlete membership survey was emailed out on February 15 to all current parents and SSCV athletes YOB 2002 and older and will close March 1 at midnight. You can complete one survey per SSCV child in the program. The survey only takes a minute (literally) to complete. Thank you in advance for your feedback.
If you did not receive the survey link e-mailed out on February 15, please email us at
info@skiclubvail.org
letting us know so we can send a survey to you. Thank you in advance for your future participation.
---
Volunteer:
Have you met your volunteer requirement this season?
Sign up now to ensure you get your "points" completed or you will not be eligible for a Eagle County or Colorado Discount next year.
Log into your "My SSCV Account" and go to the Volunteer tab to sign up or email
volunteers@skiclubvail.org
Ski & Snowboard Club Vail cannot exist without the incredible support and dedication of all OF our members and friends! An invaluable way to support is through volunteering for events, competitions and fundraisers throughout the year.
Eagle County and Colorado families are fortunate to benefit from discounts which help offset the real cost of SSCV programs. In exchange for this privilege, SSCV requires each family to complete a predetermined amount of volunteering through various jobs. There are numerous opportunities, both on and off the snow, throughout the year.
---
SSCV January C3 Award Winner Maddox Gayer
Congratulations Maddox!

U14 athlete Maddox Gayer epitomizes the SSCV motto of "Character, Courage, and Commitment" both on and off the mountain! Maddox is a leader of the U14 program, leading by example. Maddox's commitment to the sport is evident by her near perfect attendance record at SSCV U14 full-time training sessions. Whether it's an early season dryland training session, May skiing at A-Basin or a freeski session at Vail Mountain you can count on Maddox being there with a smile, and a positive ready to work hard attitude!
This summer while attending camp at Mt. Bachelor, Maddox was coping with some pretty gnarly bone-spurs, but she kept on skiing with no complaints. When she developed an open wound on one of her bone spurs coaches asked that she take a day off to let it heal. (She reluctantly agreed.) To simply say that Maddox is a 'tough cookie' would be a huge understatement! She attended every prep period ski session, other than the above day, including Spring training days at A-Basin, the full Birds of Prey Camp, the full Mt. Bachelor Camp and all SSCV early season sessions. Maddox's "highest in program participation level" really shows commitment, particularly since she lives near Keystone in Summit County, but can be counted on to always be at training.
As a second-year U14 athlete Maddox is a great role model for the first-year athletes to emulate. She clearly loves skiing and all of the hard work that goes into it. Maddox is an athlete who is always giving 100% effort, no matter the task at hand. Although Maddox has a fairly quiet demeanor, she asks extremely intelligent, poignant questions and is a student of the sport. As a teammate Maddox is kind, helpful, and supportive.
Last year Maddox was injured on the first day of racing at the Prater Cup, the qualifier race for the U14 Championships and taken to the hospital in Gunnison. She was unable to race in or train for any other events after that in the series. She was however able to enter the make-up qualifier, the Council Cup, where she succeeded in qualifying. This was a courageous feat given her injury status. At this event Maddox was one of the lone representatives from SSCV at the awards banquet, where she stood up to accept all of the awards for her missing teammates (U16 and U14). She was seeded last at the U14 Championships due to her qualifying status, but went on to perform courageously in that event too. This year at Prater Cup Maddox took 1
st
place in one of the slalom runs amidst a huge field of U14 women.
Maddox personifies Character, Courage and Commitment.
---


Seeking March and April SSCV Athlete C3 Award Nominations
Both March and April Nominations Due March 14
The core values of Ski & Snowboard Club Vail are CHARACTER, COURAGE AND COMMITMENT. The C3 Awards were established several years ago to recognize outstanding displays of these character traits by our athletes both on snow and off. A total of six C3 winners will be awarded this season (one winner for each month from November through April).

The Walter Kirsch Character, Courage and Commitment Overall Season winner will be selected in April from among the C3 monthly award winners.

Anyone can nominate any SSCV athlete who displays the traits of character, courage and commitment for a C3 award. March and April nominations are due in hand on March 14 via email to sschmidt@skiclubvail.org. If you have questions please call 978-621-8738. Click here for details and
a copy of the nomination form.
---

Snowsports Highlights
Some scenes from the past few weeks at SSCV
Alpine
U18 Alpine Nationals
Congratulations to the following SSCV U18 athletes who qualified to compete in the U18 Nationals taking place in Copper Mountain from February 27 through March 3. They will compete in slalom, giant slalom, super G and downhill. We wish them the best of luck in this nationwide competition!
Men
Ryan Collins
Jack Keane
Riley Kilgore
Kaison Lavicka
Logan Martin
Tagert Mueller
Kyle Negomir
River Radamus
Ryan Schmidt
Luke Vickerman

Women
Luci Bailey
Skylar Chaney
Heidi Livran
Abbie Murer
Freeski and Snowboard
Good luck to those freeski and snowboard athletes who are finishing out their USASA series in the next few weeks and are looking ahead to qualifying for USASA Nationals!
Freestyle
It's been a great few weeks for the SSCV Freestyle Team. Among their accomplishments, check out the press release below. Click
here
for the Vail Daily's coverage of the team.
Tegan Large (far left) of SSCV took 3rd overall at at the Rocky Mountain
Division RQS competition hosted by SSCV on Cookshack last Saturday.


SSCV's Nash Lucas (far right) sporting a 1st place ribbon, taking 1st
overall in last Saturday's Rocky Mountain Division RQS competition in Vail.
Ski & Snowboard Club Vail Freestyle Athletes Compete in RQS and Devo Freestyle Competitions on Vail Mountain
Vail, CO, February 22, 2015 –
Over the weekend, Ski & Snowboard Club Vail (SSCV) freestyle skiers competed in the Rocky Mountain Freestyle RQS and Devo competitions at Vail Mountain, performing well on their home-turf!
Saturday's RQS Competition
On Saturday, 73 skiers, ages 10-14 from throughout the Rocky Mountain region, competed on the moguls at Vail Mountain's Cookshack course at the RQS competition. These athletes must compete in at least two of the RQS competitions in order to qualify for the Rocky Mountain Division RQS Series Championships in Steamboat.
John Grigsby, SSCV Freestyle Development Director said, "Our SSCV athletes skied extremely well today on the most difficult moguls course in the Rocky Mountain Freestyle division qualifier series. The new snowfall made for excellent conditions."
Nash Lucas, a SSCV full-time freestyle skier and Vail Ski & Snowboard Academy student, finished almost 4 points ahead of the field in 1
st
place among the boys on Saturday. When asked about his strong first place finish, Nash replied, "It was fun. I tried as hard as I could. The course was difficult. "
The SSCV girls took 4 out of the top 10 spots on Saturday, led by Tegan Large on the podium in third. When asked how she felt after her runs on Saturday, Tegan replied, "Relieved. When I got in the start today I thought about doing well and staying focused on a clean exit on my tricks." Tegan was also quick to congratulate her teammates on their successes on Saturday. "My teammates and I give each other hugs, high fives and tell each other "great job" when we are out there."
SSCV skiers Evan Sapp, Ryan Stockton and Blake Roberts were among the youngest of the competitors in Saturday's competition, their very first RQS event, a memorable milestone in their young freestyle careers.
Sunday's Devo Competition
The youngest of the Rocky Mountain Division Freestyle athletes had their own event on Sunday on Black Forest in Vail, an age 12 and under Rocky Mountain Freestyle Devo Series competition. These young competitors must participate in at least two events in that series to qualify for the Rocky Mountain Freestyle Devo Championships in Steamboat. SSCV's Cameron Collins finished third overall for the women and SSCV's Ryan Stockton and Evan Sapp finished 1
st
and 2
nd
, respectively, in the M09 division for the men.
SSCV Moguls Athletes in Telluride Last Weekend
This past weekend's competition came on the heels of the Rocky Mountain Freestyle USSA event in Telluride last weekend where SSCV's women dominated the field in two days of moguls competitions, sweeping 1
st
through 4
th
place both days, with Anna Park on top on day one and Taryn Baker on top on day two, and one day of dual moguls competitions sweeping 1
st
through 3
rd
place with Katie Coyne on top. Even the youngest of SSCV male competitors in Telluride enjoyed top 10 finishes in moguls and dual moguls, with John Leseur on the podium in 2
nd
in dual moguls.
Results in Vail this Weekend
Men's Top 3 Results-RQS Moguls Competition-Saturday, February 21
1
st
-Nash Lucas-Ski & Snowboard Club Vail
2
nd
-Ricky Casals-Winter Park
3
rd
-Jackson Harvey-Winter Park
All SSCV Men's Results -RQS Moguls Competition-Saturday, February 21
1
st
-Nash Lucas
7
th
-Tanner Roberts
11
th
-Aaron Kust
16
th
-Anders Schmidt
25
th
-Beck Sapp
26
th
-Benjamin Kust
28
th
-Jameson Kust
36
th
-Evan Sapp
37
th
-Ryan Stockton
42
nd
-Steven Kelso
43
rd
-Timothy Soulakis
44
th
-Blake Roberts
Women's Top 3 Results-RQS Moguls Competition-Saturday, February 21
1
st
-Isabelle Currat-Winter Park
2
nd
-Sage Michel-Winter Park
3
rd
-Tegan Large-Ski & Snowboard Club Vail
All SSCV Women's Results-RQS Moguls Competition-Saturday, February 21
3
rd
-Tegan Large
4
th
-Emma Reeder
8
th
-Kai Owens
9
th
-Julia Harty
11
th
-Tessa Chelain
12
th
-Margo Miller
Men's Top 3 Results-Devo Moguls Competition-Sunday, February 22
1
st
-Oliver Smith-Aspen
2
nd
-Tyler Larson-Winter Park
3
rd
-Asher Michel-Winter Park
All SSCV Men's Results -Devo Moguls Competition- Sunday, February 22
13
th
-Landon Cunningham
15
th
-Ryan Stockton
17
th
-Evan Sapp
26
th
-Steven Kelso
31
st
-Blake Roberts
32
nd
-Joseph Cleary
33
rd
-Leo Soulakis
Women's Top 3 Results-Devo Moguls Competition- Sunday, February 22
1
st
-Alexandra Goluba-Aspen
2
nd
-Cameron Collins-Ski & Snowboard Club Vail
3
rd
-Lindsay Cook-Team Summit
All SSCV Women's Results-Devo Moguls Competition- Sunday, February 22
1
st
-Cameron Collins
13
th
-Skye Karsh
A full list of results can be found at
www.rockymountainfreestyle.com
.
Nordic
SSCV Nordic Team clinches the Colorado Cup Title and qualifies 11 of its
athletes for Junior Nationals in Truckee, California. They head out next week!
Congratulations to all!
Check out a press release on the SSCV Nordic Team below which includes a list of the SSCV athletes qualifying for Junior Nationals.
Ski & Snowboard Club Vail Nordic Team wins Colorado Cup; 11 of its athletes off to Junior Nationals
It's been an exciting couple weeks for the Nordic Team at Ski & Snowboard Club Vail (SSCV). They have worked hard all season in preparing for and competing in the Rocky Mountain Junior National Qualifier Series.
SSCV Clinches Colorado Cup Title
That hard work paid off as they clinched the Colorado Cup title, taking first place out of 11 teams, over 1300 points ahead of 2
nd
place Steamboat Springs Winter Sports Club. Fifty-two SSCV Nordic competitors were on hand at the final qualifier event that earned them the Cup.
Dan Weiland, SSCV Nordic Program Director, shared, "I am thrilled for the depth of our team with athletes anywhere from 7 years old to 19 years old getting great results throughout the season to enable Ski & Snowboard Club Vail to capture the coveted Colorado Cup competing against teams from throughout Colorado."
Hannah Hardenbergh, SSCV post graduate Nordic athlete, shared, "Our SSCV coaches have worked unbelievably hard to help us achieve our goals both on and off snow during the entire season. All they have asked from us in return is to race fast and push ourselves to our limits. I think the Colorado Cup win is a great representation of how hard we are willing to work for our coaches and for the sport. I also think it is our special way of saying thanks for all of the hard work they have put in."
The final points list and ranking for the Colorado Cup is listed below.
RMN Colorado Cup 2015
SMR 1
SMR 2
DNSC 1
DNSC 2
SoHo 1
SoHo 2
AVSC 1
AVSC 2
Total
1
SSCV
11085
1428
1125
1325
1498
1493
1242
1376
1598
2
SSWSC XC
9736
1393
1202
1017
966
1218
1543
1215
1182
3
BNJRT
9431
1380
1547
1124
1042
967
1061
1147
1163
4
DNSC
5829
523
596
1046
854
715
720
680
695
5
SNSC
5347
707
709
587
608
551
544
808
833
6
AVSC
3098
216
237
324
324
501
467
504
525
7
GNT
1333
158
165
193
188
69
145
203
212
8
CBNT
1207
112
95
158
235
106
134
171
196
9
Grand Nordic
515
106
73
101
79
57
72
14
13
10
GMNJRT
268
32
45
40
24
22
29
50
26
11
Independent
167
38
35
40
54
Nordic Junior Nationals
Approximately 300 of the top Nordic athletes from across the country in the U16, U18 and U20 age classes will gather in Truckee, California in the second week of March for Nordic Junior Nationals based on their qualifier points from their region's Junior Qualifier Series. Another exciting outcome for SSCV of the Rocky Mountain Junior National Nordic Qualifier Series was the qualification of 11 of its athletes to compete in Nordic Junior Nationals, 10 representing the Rocky Mountain Region and 1 representing the Mid-Atlantic Region.
The following SSCV athletes achieved this status, representing almost 50% of the team from the Rocky Mountain Region.
Hannah Hardenbergh
Cameron Bobb
Cameron Moore
Anna Martin
Maddie Donovan
Christian Wilson
Nolan Herzog
Lyle Shipp
Emma Blakslee
Gracie Shanley
Madi Schriefer–representing the Mid Atlantic region
Hannah Hardenbergh, who has competed in four previous Junior Nationals, stated, "Junior Nationals is a great way for young and upcoming athletes to ski at a higher level and be exposed to different venues and snow conditions, something very beneficial for junior skiers like us. It is also a really nice way to connect with other skiers your age from around the US who share the same passion for the sport. It is a really nice gateway experience to the higher level of the sport."
Gracie Shanley, a freshman at Vail Christian High School who joined the SSCV Nordic Team in 5
th
grade and is a first year U16 competitor (the youngest of competitors to qualify for Junior Nationals) said, "My goal for the season was to qualify for and compete in Junior Nationals. The support of my team, my family and my coaches really helped me accomplish my goal. I am really lucky to have the people around me along with the support of the Club to get me to where I am, and am really happy to have gotten there." When asked for her goals for Junior Nationals she said, "I am expecting to be in the top thirty."
Nordic Junior Nationals can serve as a stepping off point for its competitors to US Cross Country Team sponsored camps, and for U18 competitors, the Scando Cup, a US Cross Country Team cup. It is also a great way for these athletes to showcase themselves to colleges.
SSCV athletes head out March 5 to Junior Nationals in Truckee, CA. The recent performances of US Cross Country Team athletes across the globe in the World Championships have certainly been a source of excitement and inspiration to SSCV's 91 Nordic athletes, including its 42 Future Stars led by Sylvan Ellefson, SSCV Nordic alumnus, former World Cup competitor, and 2014 US Nationals 10K Winner. Dan Weiland was pretty excited in sharing "I am excited for what is in store for the SSCV Nordic Team in the coming years. These young Future Stars athletes are truly the future of the Club."
Coming back from injury Noah Hoffman, SSCV athlete and US Cross
Country Team member, leads the US men at World Championships in
the 15K freestyle.
---


The Steadman Clinic Vail Cup
Complimentary competition series open to athletes U16 and younger!
Click below for details.


---

Alpine Town Series
Join in on the fun!
Click below for details.
---

Nordic Town Series
You too can participate! No experience necessary!
Click below for details.
---