Trolley problems
Hi there,

Uber's 2017 debacles seem neverending, as the company continues to stumble from crisis to crisis. After the departure of right-hand man Emil Michael, CEO Travis Kalanick also announced a leave of absence this week, following a series of internal scandals and Waymo's lawsuit (on top of his mother's recent passing).

Given that LiDAR is at the heart of Waymo's case against Uber, it's always interesting to dive into IP on either side. Today, the USPTO published several Uber patent applications pertaining to the sensor technology and its applications (see all of the relevant patents on our platform).




One application covered a LiDAR controller capable of working in tandem with an adjustable-beam sensor to adapt to changing road conditions. Carnegie Mellon alum Scott Boehmke is listed as the inventor; Uber has referred to Boehmke as the head of its LiDAR efforts, not the recently-fired Anthony Levandowski.

Incredibly, Uber also managed to add to its self-manufactured debacles this week, as board member David Bonderman resigned after making a sexist joke at the company's all-hands meeting on sexism. All the while, regional competitors continue adding to their war chests (much more below).

Flying high

In our auto tech report last July, noise surrounding flying cars was just one of many weak signals within the broader auto tech startup ecosystem. These days, flying car headlines are coming rapid-fire as more startups secure financing and begin test flights.




We looked at 6 investor-backed companies developing flying car concepts ranging from light flying frames to autonomous flying taxis and full-bodied aircraft.




Besides VCs, automakers are getting involved too, with the Toyota-backed project Cartivator hoping to make a splash by lighting the Olympic torch for the 2020 games hosted in Tokyo.

Worst case scenario

With the advances made in autonomous driving technology, much fuss has been made over the infamous trolley problem. Though the ethical and legal uncertainties AVs face are very real, some have criticized the outlandishness of certain fringe scenarios.

If a car (self-driven or otherwise) finds itself like a situation like this, there are bigger questions to answer.




Still, thought experiments aside, recent studies by JD Power and AAA have found undiminished or even rising anxiety over self-driven vehicles, even among younger demographics.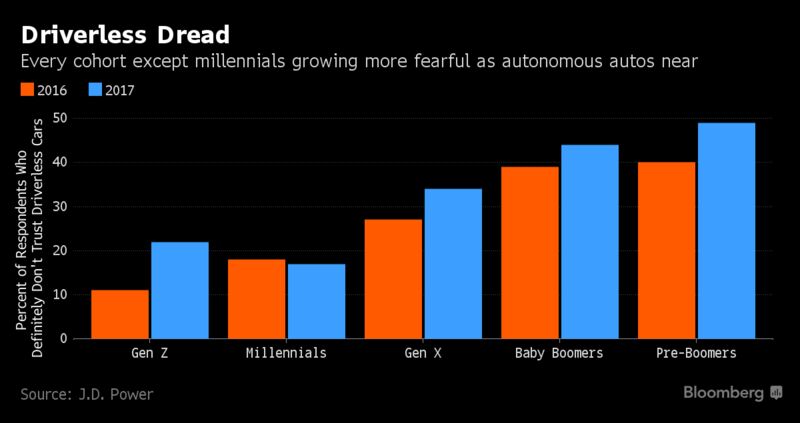 Have a great rest of the week.

Kerry
@kerrygwu
These half-dozen companies have secured investor funding to pursue a variety of flying car concepts
. See the list.
Interest in auto tech has risen dramatically in recent years. Here are the trends to understand
.
This Week in Auto Tech
A curated mix of recent articles on auto tech financings, exits, announcements, hirings, partnerships & perspectives.

Deals & Funds
Ofo looks for $500M. The Chinese smart bike startup is looking for new funds at a $3B valuation.
Bloomberg

Grab courts Alibaba co-founder. Jack Ma is considering joining the ride-hailing company's newest round, which has a $1.5B target.
Bloomberg

Daimler joins Careem round. The Middle Eastern ride-hailing startup has closed a $500M round, with Daimler participating in the financing.
TechCrunch
Ola picks up around $50M. Hedge fund Tekne Capital Management is the newest investor in Uber's Indian competitor.
ETtech

JLR invests $25M in Lyft. The Tata-owned automaker invested in Lyft through its InMotion arm. JLR also added two new startups to its Portland Tech Incubator.
CNBC (Lyft stake) / TechCrunch (incubator)

UCar invests in EV maker. Didi Chuxing's Chinese rival led a $320M investment in to EV company Xpeng Motors.
DealStreetAsia

Optimus Ride's new financing. A filing shows the Boston-based autonomous driving startup has raised just over $1M.
CB Insights

AEye grabs $16M. The LiDAR and computer vision tech startup's Series A was led by Kleiner Perkins, which was joined by Intel Capital and Airbus Ventures.
WSJ

Proterra raises $55M. BMW i Ventures and Al Gore's Generation Investment fund participated in the financing.
VentureBeat

Trucker Path gets $30M in debt. The startup will use the debt funding to provide truckers money to bridge lengthy payment periods, opening up a new revenue stream with interest premiums on the loans.
TechCrunch

Cognata raises $5M. The Israeli autonomous vehicle simulation engine was backed by firms including Maniv Mobility, Emerge, and Airbus Ventures.
FinSMEs

Toyota weighs more M&A. President Akio Toyoda said the automaker would be aggressive in expanding into self-driving and EV tech, and would consider all options (including M&A) to survive in the future.
Reuters
News
Uber turmoil. A committee will take charge as CEO Travis Kalanick takes a leave of absence. The company has pledged to embrace recommendations from Eric Holder's report, while SVP of business Emil Michael and board member David Bonderman have departed. Uber also faces a new FTC probe over its privacy practices.
Yahoo Finance (new management) / Recode (FTC probe)

Amazon wants to sell cars in Europe. The internet giant is investing heavily to build up its auto retail capabilities.
Automotive News

Apple's autonomous focus. Tim Cook has formally acknowledged the company's long-rumored AV project.
Bloomberg

Waymo retires Firefly. The company has retired its pod-like prototypes as it ramps up to 600 Pacifica minivans supplied by FCA.
Medium

Tesla begins gathering Autopilot 2.0 data. The EV maker's recent Autopilot 2.0 asked for authorization to begin collecting videos from equipped vehicles; bandwidth tests show that vehicles are now transmitting a significant volume of data.
Electrek

Japan wants self-piloted ships. The company's shipbuilders are aiming to make self-navigating ships a reality by 2025.
Nikkei Asian Review

Sokon opens Silicon Valley office. The Chinese truck and van manufacturer will focus its new office on EV and autonomous tech.
The Drive

Articles & Perspectives
Delphi's tech overhaul. A profile on the auto supplier, which is rapidly shedding its legacy businesses to focus on auto networking and software.
NY Times

From auto sales to mobility miles. Reilly Brennan of Trucks models out the required fleet sizes and costs required to move from auto sales to mobility service solutions.
Medium

IEA EV report. International Energy Agency data has more than 2 million EVs on global roads today, with China in the lead.
IEA

Hurdles to autonomous trucks. Daimler director of advanced engineering Derek Rotz weighs in on the obstacles on the road to fully autonomous trucks.
Trucks.com

Who owns this self-driving CT6? A mystery Cadillac CT6 was spotted in Pittsburgh outfitted with LIDAR and camera gear. Sources point to NextDroid, a robotics company, as the car's owner.
Gizmodo
If you loved this newsletter, send it to a friend.
If you hated it, send it to an enemy.
All the data in this newsletter comes from CB Insights. Join NEA, Cisco & hundreds of other clients and get access to the industry's best private company data.
Sign up for access.