EDITO

This week, the Minister of Forest Economy of the Republic of Congo announced the end of log exports on January 1, 2023. Our association welcomes this decision, which will allow for the long-term advancement of the country's wood processing industry.
Congo is now entering an important stage. 2023 will be a year of transition, not necessarily easy. For various reasons (covid, energy crisis, raw material crisis), companies have had difficulties over the past two years to prepare for this decision and to equip themselves with the new industrial means necessary to absorb the volumes of wood that are no longer exported. Discussions between the authorities and operators in the sector should take place in the short term and could facilitate the implementation of this policy, to clarify certain questions concerning, among other things, the export of heavy timber, or the future of commercial contracts currently in force.InCameroon, discussions between the authorities and the GFBC seem to indicate the opening of a 3-year transition period. 
Have a good week-end!


------------------------------------------


Cette semaine, Madame la Ministre de l'Economie Forestière de la République du Congo a annoncé la fin de l'exportation des grumes au 1er janvier 2023. Notre association salue cette décision qui permettra de faire progresser à long terme l'industrie de la transformation du bois dans le pays.
Le Congo aborde maintenant une étape importante. 2023 sera une année de transition pas forcément facile. Pour diverses raisons (covid, crise énergétique, crise des matières premières), les entreprises ont eu des difficultés ces dernières 2 années pour se préparer à cette décision et s'équiper en nouveaux moyens industriels nécessaires à absorber les volumes de bois désormais non exportés. Des échanges entre les Autorités et les opérateurs de la filière devraient avoir lieu à très court terme et pourront faciliter la mise en œuvre de cette politique, pour clarifier certaines interrogations concernant, entre autres, l'exportation des bois lourds, ou le devenir de contrats commerciaux actuellement en vigueur. Au Cameroun, des discussions entre Autorités et GFBC semblent indiquer l'ouverture d'une période de transition de 3 ans.
Bon week-end !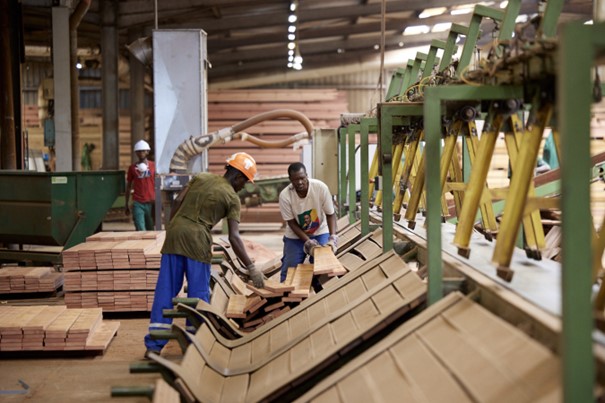 Industrial unit in the Republic of Congo / Unité industrielle en république du Congo - Imagéo