Sunday, March 5 - Daily Story
Anabaptist printer Thomas von Imbroek Lost His Head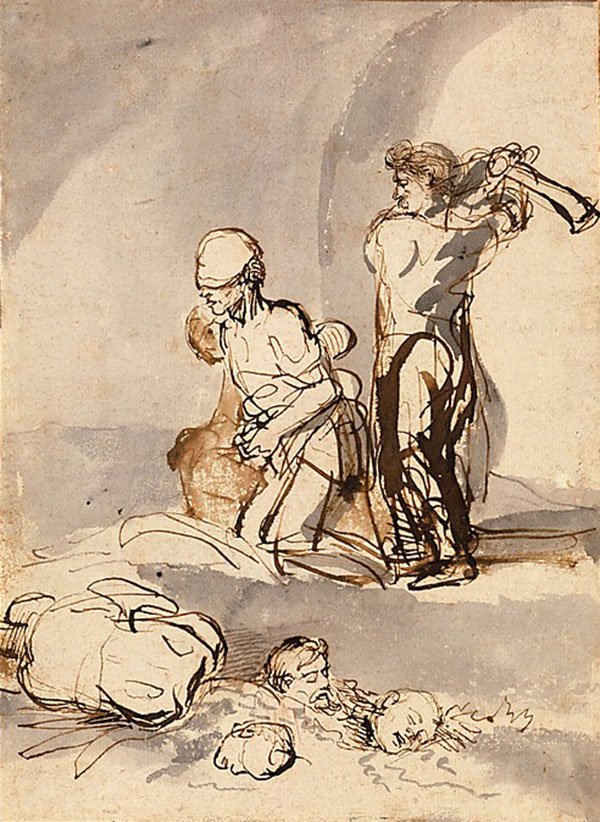 THOMAS VON IMBROEK was a printer at Cologne on the Rhine. He was also an Anabaptist—not of the revolutionary kind, such as John of Leiden had been, but a man of a peaceable, Christian spirit. He founded congregations of believers outside of the established church and wrote a confession of faith for them.
His failure to baptize his children, however, seems to be what brought him to the attention of authorities. After his arrest, a pair of priests questioned him closely on his rejection of infant baptism. When he insisted that only believers should be baptized, they pronounced him a heretic. He was brought to the rack, but was not tortured on it since the city's magistrates disagreed on how to deal with him. Days passed in which he was cruelly tortured by other means and pressured to convert to Catholicism.
Eventually he was taken to a landgrave's house (a noble equivalent to a count.) The landgrave would have released Imbroek had he not feared reprisal from the German emperor and the bishop. Therefore, Imbroek was eventually condemned to death as a heretic in his presence.
Meanwhile, his wife wrote him letters, encouraging him to stand firm. In reply, he assured her that the Lord "refreshes the afflicted souls that thirst for Him. He is a shadow from the heat of the sun," and quoted from Matthew and Isaiah to back up his hope.
He added, "Tell the brethren to take care of the novices (young believers) and to pray earnestly for me. I will also pray for them, as much as is in my power. Remember my bonds. The Lord be with your spirit. Amen."
To his persecutors he offered this speech:
"I am willing and ready, both to live or to die. I do not care what happens to me. God will not let me down. I am comforted and in good spirits while yet on the earth. God gives me friendly assurance, and my heart is encouraged through my brothers. Sword, water, fire...cannot frighten me...All the persecution in this world shall not be able to separate me from God."
Imbroek was just twenty-five when an executioner lopped off his head on this day, 5 March 1558.
—Dan Graves
— — — — —
For a true-life story of Anabaptists, watch The Radicals
Other Notable Events
310

Christian witness Adrianus is thrown to a lion in Palestine and afterwards slain with the sword.

493

Archbishop John sallies forth from Ravenna with crosses, the Gospels, and a retinue of monks, falling at the feet of Theodoric and suing for peace—which the invader grants.

1518

Erasmus sends a copy of Martin Luther's Ninety-Five Theses to Sir Thomas More, a vigorous opponent of the Protestant Reformation.

1526

Zurich authorities commence a trial which eventuates in sentences of life imprisonment for the Anabaptists Conrad Grebel, Felix Manz, and George Blaurock. Two weeks later the three manage to escape.

1687

Hungarian officials behead and quarter Sigmund Zimmermann, Caspar Rauscher, Andreas Keczer, and Franz Baranyay in Eperjes [Prešov, Slovakia]. In a complex political situation, animosity to oppressive Hapsburg policies had led to a revolt after which Catholic leaders of the Holy Roman Empire cracked down on all opposition, cruelly oppressing Protestants and their pastors and inspiring another revolt. These four are the first to die as martyrs when the second revolt was quelled in Eperjes.

1708

Death in London of Bishop William Beveridge. He had preached profoundly and lived peaceably amid the controversies of his day. He will be remembered for his book Private Thoughts upon Religion and a Christian Life (1713), published after his death. It sets forth resolutions such as, "I am resolved, by the grace of God, to be always exercising my thoughts upon good objects, that the devil may not exercise them upon bad."

1797

Henry Nott and a large missionary party, which includes artisans, arrive at Tahiti's Matavai Bay. Sponsored by the London Missionary Society, they are to settle on the islands of Tahiti, Tonga, and the Marquesas to teach the gospel and useful arts. While the others die, go mad, or desert, Nott remains steady. It will be twenty-two years before he sees his first convert.

1858

Death in Wiltshire, England, of Maria Grace Saffary, who had been a Baptist hymnwriter and wrote "God of the sunlight hours!" as well as hymns about baptism, including one that begins "'tis the great Father we adore in this baptismal sign."

1899

Evangelist Sam Jones opens a crusade in Toledo, Ohio, where the mayor is also named Sam Jones. The mayor welcomes the publicity until Jones says, "If the Devil were mayor of Toledo, he wouldn't change a thing." Nonetheless, Mayor Jones will be reelected by a wide margin.

1977

Death in Abeokuta, Nigeria, of James Tanimola Ayorinde, who had been a Baptist pastor, chairman of the Nigerian Broadcasting Corporation, and a respected and beloved leader of the Baptist World Aliance.