Volume #72
Thanks for reading my newsletter! Don't forget to check out the sidebar information to find out when and where I'll be available for office hours...
---
Book Review: The Creative Habit by Twyla Tharp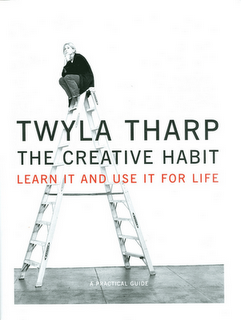 It's been years since I haven't finished a book. I felt a little guilty not making it through this book, but alas, my time was better spent elsewhere with this one…
The author maintains that, "All it takes to make creativity a part of your life is the willingness to make it a habit. It is the product of preparation and effort, and is within reach of everyone." This book provides the reader with 32 practical exercises on the lessons Twyla Tharp has learned during her long career.
---
Top 5 Social Media Blogs You Should Follow
I started my business 3 years ago and at that time, businesses were just beginning to get curious about social media and how to use it to create relationships with their clients and prospects. Today, most organizations incorporate at least SOME components of digital marketing in their overall marketing strategy. If you're not getting outside consulting/coaching, below are the top 5 social media blogs you should follow to stay up to date on best practices and trends:
---
Practical Ways to Protect Your Online Privacy
If you're careful and follow some simple rules for protecting your privacy, you can still win the war against cybercrime. Here are some things you absolutely should already be doing - or, failing that, start doing - today:
Never reply to emails with personal information.
Never click a link in an email to go to your banking web site.
Use a unique password on every site.
Use 2-factor authentication whenever possible.
Be careful what you say online.
Password protect your devices.
---
HOW TO GET THE MOST FROM THIS NEWSLETTER:
Let me know how I can help!

These newsletters are meant to be a resource to help you in your business. Between the publishing of these newsletters, I create and share content through blog posts, Twitter and Facebook. Connect with me here.
As a newsletter subscriber, what would you like to learn about? Where do you see the need for efficiencies within your organization? To whom will you forward this newsletter?
Email me your thoughts, tweet them or leave me a note on Facebook. Let me know how I can help you and your organization realize your potential.
Suzanne Hull
"Get It Done Girl"
Contemporary Business Solutions