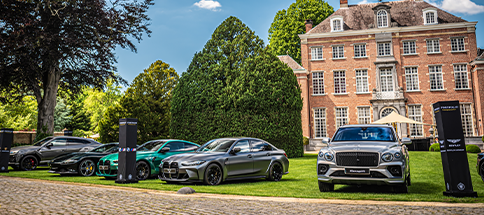 Curbstone is confirming the full programme for the last Portfolio event of the 2021 season in Brussels. The new driving programme launched in 2021 has revealed to be a success. Under the group of the Curbstone GT Tours, Portfolio is the new concept that combines a contemporary car show together with a roadbook rally.


The Portfolio concept focuses on connecting passionate owners and dealers of made-to-measure, one-off GT, sports, and luxury cars in the dealerships or behind the wheel on the open road. The Portfolio events have been planned in three meetings in 2021. The editions organised in the Flemish cities of Antwerp and Ghent saw very positive reactions and attracted both drivers and car dealers.

The upcoming and final edition of Portfolio will take place in Brussels during the last weekend of October. Spread over three days, Portfolio Brussels will have an interesting agenda that will involve the biggest luxury and sports car dealerships of the Belgian capital.


On Friday 29 October, the event will start with an evening cocktail at the car dealership locations. On Saturday 30 October, participants will be invited to one-on-one appointments and test drives at the dealerships. On Sunday 31 October, Portfolio Brussels will end with a full-day contemporary car show. All dealerships will bring their cars to a reserved area of a unique location in Brussels. From here, participants and luxury GT and sports cars dealerships will leave for a GT Tour: a roadbook rally around the Walloon Brabant and Brussels regions. A test drive is also planned at the RACB proving grounds in Nivelles to bring adrenaline and develop driver skills on this day.

Portfolio Brussels has already caught the attention of important car brands. Dealerships who have already confirmed their presence are Alpine, Aston Martin Brussels, Bentley Brussels, BMW Belux, Bugatti, Donkervoort, Ferrari Francorchamps Motors Brussels, Lamborghini Brussels, Lotus Brussels, McLaren Brussels, Pininfarina, Polestar Brussels, Rolls Royce, Porsche Centre Brussels, and Touring Superleggera. Curbstone expects other brands to participate.

The Curbstone team is now available to take bookings for Portfolio Brussels via the website or to assist in pre-booking at portfolio@curbstone.net.

For those interested in taking an appointment with a dealership or book a test drive, a dedicated virtual platform will be launched from Friday 08 October on Curbstone website.