EMMA PLUNKETT ART
DECEMBER NEWSLETTER
Contemporary Fine Art, Video & Design
Introducing A New Oil Painting
Dear Art Lover

I looked long and hard at this view, day after day and throughout the whole year before I attempted to paint it. The challenge arose around the fact that I executed it in my studio, working from memory, photos and watercolour studies that I did on location. BTW I wish I knew what to say to people when I'm sat outside with my watercolours spread about, something like, "I'm not a baby at nursery, honestly".

During the painting process, I struggled to create the perspective going into the distance because I wanted it to seem like an invitation to take a stroll down between the trees and then zig zag up the valley into the vista. I had to go out and stare at the view time and time again and come back and work from what reference material I had. The weather was just not good enough to take a one meter wide canvas outside, it would have blown away and I would have ended up all upset and covered in sticky paint.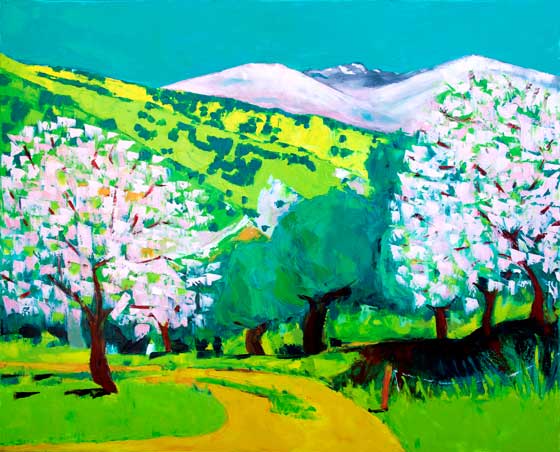 Pink Mountains
This painting depicts one of my favourite views, it's such a pretty pathway in the countryside. I like the way the steep sides of the mountain valley give way to the majestic Sierra Nevada mountain range in the distance. And then there is all that almond blossom, which is what this painting is really all about, the almond blossom and pink snowy mountains in February, in Andalucia.

See this painting on my web shop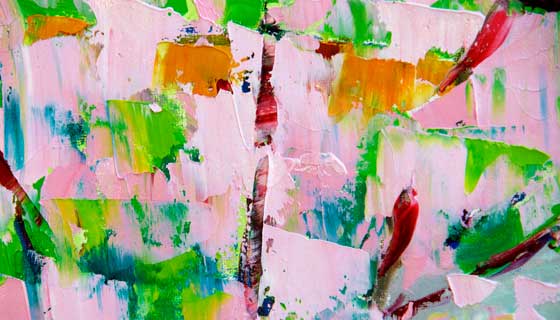 As one friend said, "I like the way the painting works up close as well as far away". I spread shades of thick pink oil paint on with my palette knife, painting wet on wet. I paint like I'm icing a cake or spreading butter, making the surface look nice and sumptuous.
Conclusion
At some point as an artist you just have to trust yourself to get it right, to let go, to depart from a primary vision, from what you think, to take a risk. So in the end I let the painting lead me until some kind of harmony prevailed.

What I really need is some kind of portable green house, to shelter me from the elements, so that I can go outside and paint the view right in front of me. Any ideas?